Christmas and new year is around the corner. It is a traditional holiday to send gift to express your affection to your beloved one or family. What gift are you going to give this year? A physical Sony Walkman, convert tickets or digital services that to download audio files from Amazon or iTunes?
If you have not made a decision yet, why not consider to send Spotify gift card this year?Spotify is a most popular streaming service that many music fans will really appreciate. Even if your friend is not a premium user, sending a Spotify premium subscription will help him get access to millions of streaming songs anywhere and remove the annoying ads. Now please read on to find the full tutorial.
See also: Redeem iTunes Gift Card on Android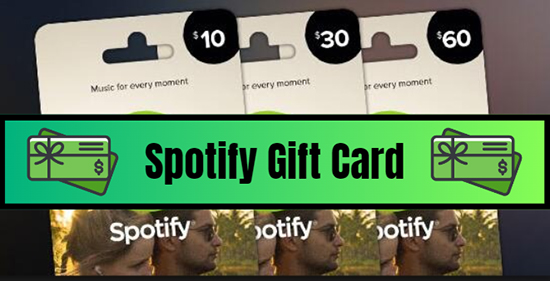 Part 1. How to Gift Spotify Premium Membership
Official Way to Buy and Give a Spotify eGift Card
There are a lot of retail outlets and online stores to buy the gift card, but the best place to go is the Spotify online store. It offers 1/3/6/12 months gift cards and you can easily customize it.
1. Visit Spotify online gift card page and login with your account and password.
2. Select the value of the card and customize it with the color themes you want.
3. Input your order details including your email address, your friend's email, personal message and click "Continue".
4. Input your payment details and click "BUY PREMIUM GIFT CARD".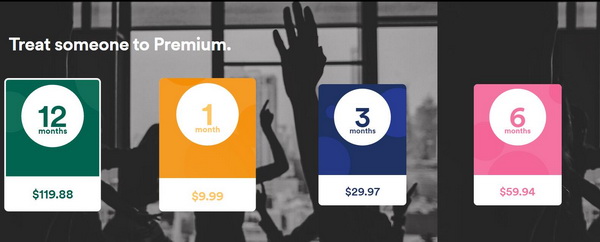 Other Methods to Get a Spotify Gift card
1. Authorized eGift card resellers. Many resellers offer gift code at a discount price such as PayPal, eBay, Amazon. If you'd like to save a little bit, why not take a look at these kinds of resellers?
2. Buy a physical Spotify gift card from local stores. These cards have the same value like the digital ones, but it is better if you'd like to deliver it to your loved one in person.
3. Free Spotify gift or coupon giveaway website. You can pay attention to the website like spotifycoupon.blogspot.com, sometimes you will get some surprise.
Part 2. Full Tips on Spotify Gift Card Redeem
Apply the Gift Card to Your Spotify Subscription
The Spotify gift card will be delivered to the recipient's email at the set time punctually. If you get one, you can redeem it from Spotify official website within 12 months.
1. Log into the the Spotify redeem page.
2. You can enter your premium code and postal code.
3. Click "ENTER CODE", the gift card will be applied to your subscription payments to extend the period.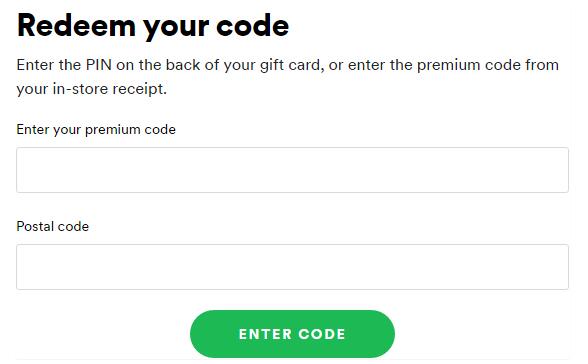 Spotify Gift Card Not Working
You can check the following things.
1. If the country registered to your subscription is same as where the gift card was purchased.
2. Make sure you have input the code correctly and it is not redeemed yet.
3. If it is a physical card from store, it may haven't been activated yet. You can contact after-sales team to activate it for you.
4. The card can't be used together with other special offers such as Spotify Family Premium, trial offers and so on.
5. Recipients need to agree to the Spotify privacy policy, terms and conditions.
Part 3. Get Spotify Premium Subscription without Gift Card
That is easy, right? By sending an awesome Spotify gift card, your beloved one or your family will surely be delighted in this holiday season. But please note you can only gift 1 year Spotify subscription at most. This means your friend or family has to update the service themselves if they want to continue to use the service after 1 year. This will cost a lot of money in the long run.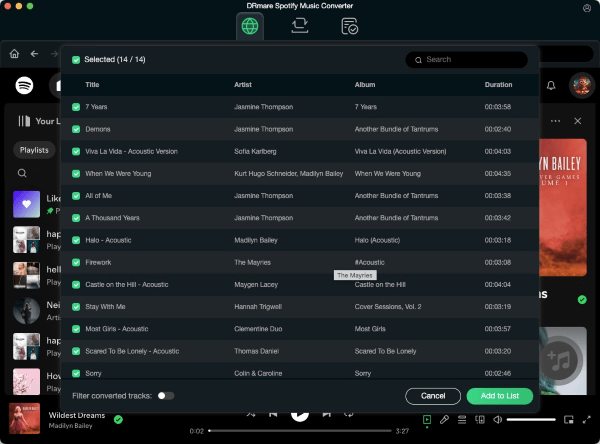 Fortunately, there is another better option. Why not use the a third party software to download the songs for offline listening as well as filter out all Spotify ads? DRmare Spotify Music Downloader for Windows/Mac is highly recommended. Compared to other software, this one has the advantages of lossless output quality and faster converting speed. With it, you can use Spotify forever just as if you have the lifetime subscription. If you are interested, you can click "Download" button to download it directly.