Spotify is a large and popular music streaming service. And it offers lots of great functions. Spotify will generate tracks you may like according to your listening habits. Also, you can check your previous listening history for a year via Spotify Wrapped. Besides, you can also check your monthly listening history via Spotify Pie Chart.
But what is Spotify Pie Chart? If you are new to this feature, then you can read this post and learn more about it. Here we will show you what is Spotify music pie chart and how to get it. Besides, you will learn how to download your top artists and genres in Spotify Pie Chart for offline listening. Let's start now.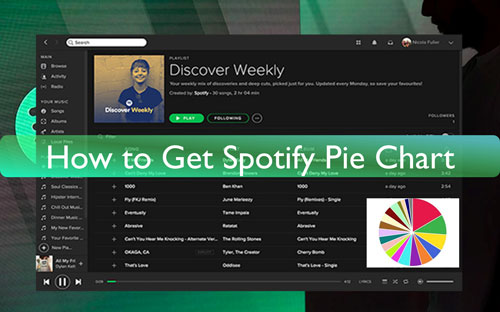 Part 1. What Is Spotify Pie Chart
Spotify Pie Chart is a third-party tool which was created by Darren Huang - a student from the University of California in Los Angeles (UCLA). You can use this tool on both desktop and mobile. You can go to the Spotify Pie Chart website and it will collect and analyse your Spotify listening history. And then it will show your monthly music tastes in a chart form visually. Your Spotify music pie chart will be divided into different kinds of colors and each color refers to a kind of genre like pop, rock, k-pop and so on.
Also, you will know your top artists on Spotify stats pie chart. Besides, you can update your pie chart Spotify every month. Moreover, you can share your Spotify music listening habits with your friends after getting the pie chart.
Part 2. How to Get Spotify Pie Chart
From the above, you know what is Spotify music pie chart. Then you may want to how to use it to see your Spotify stats. No worries. Here in this part, you will learn how to find Spotify Pie Chart step by step.
Step 1. Head to the Spotify Pie Chart website via a web browser on your device.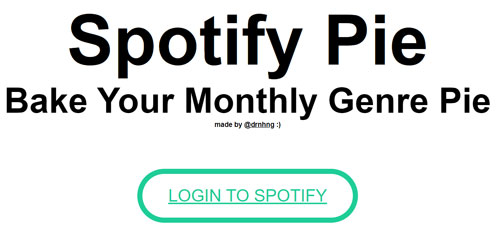 Step 2. Go to log in to your Spotify account by clicking on the 'Login to Spotify' button. Then enter your account info.
Step 3. Hit on the 'Agree' button to allow Spotify Pie access your Spotify account data includes listening history.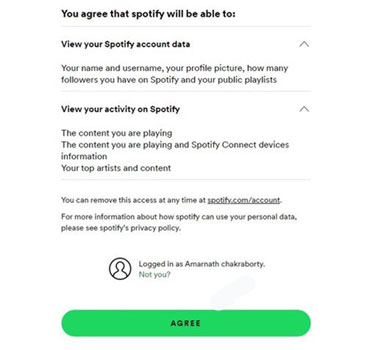 Step 4. After that, Spotify Pie Chart generator will create the pie chart for you and you can see it.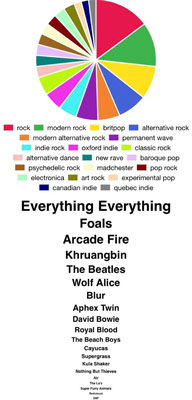 Note: If you want to share your Spotify Pie Charts with your friends, then you need to screenshot it for sharing. Currently, there is no a Spotify Pie Chart link provided for sharing.
Part 3. How to Download Songs in Spotify Pie Chart
After following the steps above, you can easily view your monthly top genres and artists in the Spotify music pie chart. Also, you can download tracks from the pie chart on Spotify if you have a Spotify Premium account. Yet, those Spotify music downloads have limits as they are protected. In this case, here we will share an effective way with you to download music from Spotify playlist pie chart.
That requires you use the DRmare Spotify Downloader. This tool can work with a Spotify Free or Premium account. You just need to get it on your Windows or Mac computer for use. With it, you can easily download songs from Pie Chart Spotify. And it can convert and change Spotify audio format to MP3, FLAC and more. Besides, you can customize the bit rate and more for the Spotify music tracks.
In addition, DRmare Spotify Music Converter will run the conversion at a fast rate. Moreover, it will still keep the original quality of Spotify music as well as the full ID3 tags. After the conversion, you will get your Spotify top genres in the pie chart as local audio files on your computer. Then you can use Spotify music tracks on any device offline.
DRmare Spotify Music Converter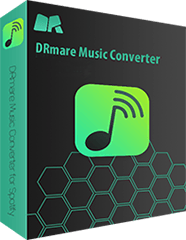 Convert Spotify music to multiple audio formats like MP3, etc.
Batch convert Spotify music tracks, save you time
Play Spotify audio files anywhere and anytime
Now, we will guide you on how to download music from Spotify Pie Chart via DRmare Spotify Music Converter. Here are the step-by-step tutorial for you. Please check and follow.

Step 1

Load Spotify tracks in Spotify Music Pie Chart to DRmare Music Converter

First, download and install DRmare Music Converter for Spotify on your computer. And then open it. Later, you will see the Spotify app show on the desktop. You can go to the Spotify app to locate the tracks from your pie chart. Then drag the track to the main screen of the DRmare tool. Or, you can find and copy the link to the track. And then paste it into the search box at the top of the DRmare program and click on the '+' button.
Step 2

Customize output audio parameters for Spotify audio

To set the output audio parameters, you can find the Preferences option in the DRmare tool. Then click on it and press 'Convert' in the new window. And then you can start to reset audio format, sample rate and more for Spotify songs from your pie chart. After that, click on 'OK' to save the change.
Step 3

Download Spotify songs offline

Now, touch the 'Convert' button to begin to download Spotify music from the pie chart. Later, you will find common Spotify music files on your computer via the 'Converted' section on the DRmare tool. At last, you can listen to Spotify songs offline without a Spotify Premium.
Part 4. FAQs about Spotify Pie Chart
Q1: Is Spotify Pie Chart Safe?
A: Yes. It is safe enough and trustworthy. To use it, you have to log in to your Spotify account. And it only collects your Spotify listening habits not other data.
Q2: Is Pie Chart Spotify Free?
A: Yes. You are free to use pie chart on Spotify. You can access Spotify music pie chart website on GitHub.
Q3: Does Spotify Pie Work with Apple Music?
A: No. Spotify Pie tool is only available for Spotify music now. And there is no one has create such a feature for Apple Music.
Q4: Can I Download Songs from Spotify Pie Chart for Offline Listening?
A: Yes. You can use a Spotify Premium account or the DRmare Spotify Music Converter to make it.
Part 5. The Verdict
In this post, you know more about Spotify music pie chart. And you know how to get and see your monthly listening habits in a chart form. Besides that, you get a tool DRmare Spotify Music Converter to help download tracks from Spotify Pie Chart as local files on your computer. Then you can move and enjoy Spotify music files on the device you like offline.