If you are a Spotify user, you may know that you can see your listening history via Spotify Wrapped on the Spotify platform. Besides that, you can also view your taste of music on Spotify via third-party tools or websites like Receiptify and so on.
In today's post, we will introduce Spotify Color Palette to you. This is also a tool to help Spotify users check their listening habits and share music with others. What is the meaning of Spotify Palette? Now, check out the following parts and you will know everything about it.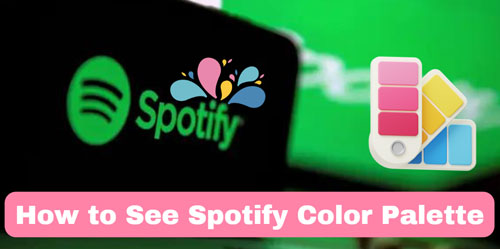 Part 1. Spotify Color Palette: Everything You Need to Know
Now, let's read the sections below and learn more about Spotify Palette.
What Is Spotify Color Palette Meaning?
Spotify Color Palette is a third-party tool and website developed by Israel Median from U.S. It will generate a color palette for each Spotify user according to their music listening habits over the past 6 months. And the user's music taste will be displayed in different colors. Within the tool, users can find their top 15 songs and artists from the past 6 months. Also, users can get a gallery of images and artworks that match their color palette for Spotify.
How Does Spotify Color Palette Work?
This tool is worked on API integration with Spotify. You only need to connect your Spotify account to the Spotify Palette website and then it will work based on music you had listened. And it will show you 4 color - Red, Orange, Pastel Palette and Yellow. Besides, each color has its own meaning. Let's check them out here.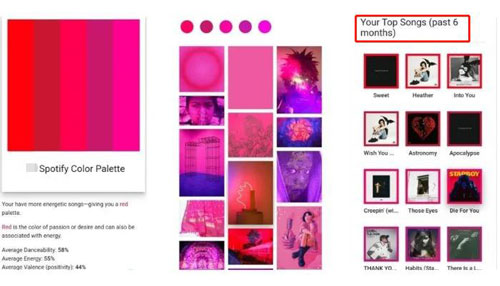 Red Color Palette: It refers that you liked to listen to the energetic songs.
Orange Color Palette: It shows that you liked to play danceable songs.
Pastel Color Palette: It reflects that you liked to listen to both danceable and energetic songs.
Yellow Color Palette: It means that you liked to play cheerful and happy songs.
How to Find Spotify Color Palette
Now, let's move on learning how to get your Spotify Color Palette step by step.
Step 1. Open a web browser on your computer or mobile device. Then head to the Spotify Color Palette official website.
Step 2. Click on the 'Sign in to Spotify to continue!' button to link your Spotify account with Spotify Palette platform. Also, you need to allow the website to access your Spotify listening data.

Step 3. Later, the tool will generate and create color palette for you and you will see your last 6 months listening history in different colors.
Step 4. Now, you can take a screenshot of color palette for Spotify. And then you can share it with your friends or others on your social media platforms.
How to Fix Spotify Color Palette Not Working
Is Spotify Palette not working? If you face this issue, then check the reasons and solutions here.
❓Reasons:
1. You Have No Enough Listening History: If you have insufficent listening data on Spotify, the tool won't work as it need to access users' past 6 months listening history.
2. You Are Using a VPN or Proxy Server: Spotify Color Palette needs to ensure where you are exactly.
3. Something Wrong with the Spotify Palette Website.
🛠Solutions:
As you know the reasons above, then try the fixes below and try again to see if Spotify Color Palette generator work or not.
Fix 1. You should listen to more music on Spotify for some months.
Fix 2. You need to disbale VPN or Proxy Server if you had them enabled while using Spotify Color Palette.
Fix 3. Open Spotify Palette website in a different web browser.
Fix 4. Switch to another device to enter the Spotify Palette website.
Fix 5. If you had turned on extensions on your browser, then please turn them off.
Fix 6. You can try to clear cache and cookies on your browser.
Fix 7. Try to update your browser to the latest version.
Fix 8. Try to launch Spotify Songs Color Palette website in a private or incognito browsing mode.
Part 2. How to Download Your Spotify Color Palette Most Played Songs
In the last part, you know what is Spotify Playlist Color Palette, how to get your color palette for Spotify songs, and how to solve the tool doesn't work issue. After that, you get your Spotify Palette for tops songs you played and you can share with others by taking a screenshot. Yet, you can't download the songs directly. So, here we will help you how to download your Spotify Color Palette top songs.
DRmare Spotify Downloader is the best program works on Windows and Mac computers to help you. It can download your most played songs, playlists, artists and so on without a Spotify Premium account. And it can download and convert Spotify content to plain audio formats like FLAC, MP3, AAC and so on.
By the way, you can alter output audio channel, bit rate and more for Spotify tracks. And this program can run at a fast rate and keep the original quality of Spotify audio files. With it, you can easily download your top color palette songs for Spotify to your local computer. After that, you can enjoy those music files offline on desktop or other devices with ease. You can also share Spotify music with your friends or families for listening.
DRmare Spotify Music Converter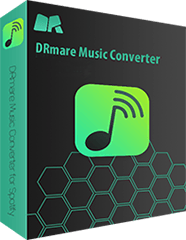 Download Spotify Color Palette playlists/songs without a Spotify premium
Batch convert Spotify songs at a rapid speed and keep original quality
Reset and output Spotify to FLAC, MP3, M4A and so on
Support to stream Spotify music offline anywhere and anytime
Here you can check the steps to see how to use DRmare Music Converter to download and convert Spotify Palette songs as local files.
Step 1

Load Spotify songs Color Palette into DRmare program

Install and run the DRmare Spotify Music Downloader from your computer. Then locate the Spotify Palette tracks in the Spotify platform. Next, drag and drop them one by one to the main screen of the DRmare tool. Or, copy the track's URL address and insert it into the search box on the DRmare program. And then tap on the 'plus' icon.
Step 2

Set output format/bit rate, etc. for Spotify tracks

Here you can reset the audio format and other parameters for Spotify Color Palette tracks. Please head to the Preferences section in the DRmare software. And then you can start to change audio format and else. After that, touch the big 'OK' button.
Step 3

Download Spotify Palette top songs

At last, hit the 'Convert' button to download and convert Spotify songs in color palette. Once done, go to the 'history' section to find and locate them on your computer. Later, you can play them offline. You can also move them to your desired device for keeping and playing.
Part 3. FAQs about Spotify Color Palette
Q1: Is Spotify Palette Safe?
A: Yes. It is safe to use Spotify Color Palette. It can only access and analyze your Spotify listening history and then create a color palette for your Spotify songs.
Q2: Is There Any Other Platform Like Spotify Color Palette?
A: Yes. Spotify Wrapped, Spotify Obscurity, Spotify Receiptify, Zodiac Affinity and more platforms can help you generate music tastes based on your listening habits.
Q3: Can I Get Color Palette for Apple Music?
A: Nope. Now, there is no such a tool for creating Apple Music color palette.
Part 4. The Verdict
It is an interesting, cool and colorful way to show your Spotify music tastes via Spotify Color Palette, right? Now, just follow the tutorial above and start to create your Spotify playlist color palette. What's more, you can get the best tool to download color palette songs from Spotify for free. That's to use DRmare Spotify Music Converter. With it, you can get local Spotify songs and enjoy them offline with ease.