In the ever-changing world of music consumption, Spotify has dominated and reshaped how we discover new music. Over the years, many artists have left an unforgettable mark on the music industry. Here, you can discover the top artists on Spotify in 2023 that have captured the listener's ears. From pop beats to indie sensations, no one has been left out. Keep reading to learn more about these artists and an effortless way to download your favorite artist's song on Spotify.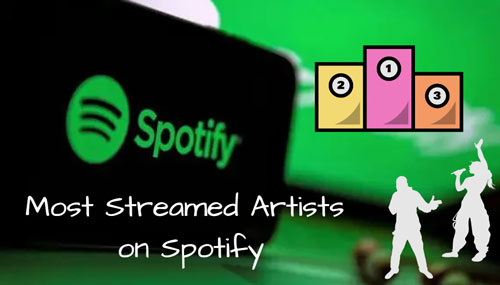 Part 1. Top 10 Most Streamed Artists on Spotify in 2023
Who is the most listened to artist on Spotify? Here is a list of the top 10 artists who dominated the Spotify charts in 2023. Coming from different backgrounds and producing diverse music, these artists have redefined the music industry. Check the following list to learn more about these top-grossing artists in today's age:
1. The Weeknd
The Canadian singer/songwriter Abel Tesfaye, popularly known as The Weeknd, is the most streamed artist on Spotify. With over 112 million monthly listeners, the music star is known for creating a unique mix of pop, hip-hop, and R&B in his songs. His top hits on Spotify include Starboy, Die for You, Blinding Lights, and more.
2. Taylor Swift
With over 98 million monthly listeners on Spotify, Taylor Swift remains one of the most influential artists of the 21st century. Rising to fame in the early to late-2000s, Taylor Swift has become a global sensation since then. With her ability to transform country music, she has reformed the genre in the music world.
View also: Taylor Swift New Album
3. Drake
The Canadian rapper and vocalist Drake rose to fame after hitting the scene in 2006. Since then, he has attained a high-level commercial presence, with his average monthly listeners on Spotify rising to more than 73 million. His song 'One Dance' has over 2 billion streams, and others have followed suit.
4. Ed Sheeran
The next artist to make the list of Spotify's top 10 artists is Ed Sheeran, a British singer and songwriter. Also acting as a record producer, Ed Sheeran's musical career kickstarted almost 20 years ago. Since then, he has produced notable songs going off the charts, including Shape of You, Perfect, Photograph, and more.
View also: Ed Sheeran Best Songs Download
5. Ariana Grande
The '7 Rings' singer started her career in 2008 through a Broadway musical. Ariana Grande has also starred on the famous Nickelodeon show "Victorious". The American singer has come a long way since her Nickelodeon days with hit songs like Positions, One Last Time, Thank U Next, and more.
View also: How to Download Ariana Grande Songs
6. Justin Bieber
Justin Bieber remains one of Spotify's most streamed artists in 2023, with over 72 million monthly listeners. The Canadian singer's hit single 'Baby' topped the charts in 2010, earning him his place as a mainstream artist. His top hits on Spotify include Stay, Intentions, Stuck with U, Peaches, and more.
7. Eminem
The rap icon Eminem certainly deserves a place on the list of top 10 Spotify artists. With almost 3 decades spent in the music industry, Eminem still dominates the charts while staying with his genre. With over 63 million monthly listeners, his top songs like Mockingbird, Without Me, Love the Way You Lie, and Lose Yourself have crossed the one billion streams benchmark.
8. Bad Bunny
The Puerto Rican singer and rapper Bad Bunny is a major name when it comes to the top 10 artists on Spotify. With over 83 million listeners on the top music streaming platform, Bad Bunny rose to fame in 2016 with his hit song 'Soy Peor'. Since then, he has released many successful albums and is credited for his work in the Latin Trap genre.
9. Billie Eilish
The American Gen-Z singer/songwriter Billie Eilish is certainly one of the Spotify top 10 artists in 2023. Debuting in 2015 with her popular single "Ocean Eyes", the artist has since become an acclaimed and multiple award-winning sensation across the globe. She currently has almost 69 million monthly listeners on Spotify, with most of her songs revolving around dark and emo pop.
View also: Billie Eilish New Music
10. BTS
The influential boy band group from South Korea has gained widespread fame over recent years. With around 36.5 million monthly listeners, BTS is among the most played artists on Spotify. From meeting Joe Biden to charting in the Times's 100 most influential people in the world, BTS has certainly come a long way.
Part 2. How to See Top Artists on Spotify
Now, you may wonder to know how to find your top artists on Spotify. If so, then you are at the right place. Spotify offers an easy way for users to see who is the number one artist on Spotify using the Spotify Wrapped feature. Wrapped is one of the most awaited events of the year, revealing the top artists you have streamed the previous year. It is an annual recap of the listening activities on Spotify, which gives you your top artists, genres, tracks, and more.
To see your top artists on Spotify, all you need is your smartphone as the Spotify Wrapped feature is currently not accessible on a computer. Here are the detailed steps on how you can see your most popular artist on Spotify using the Wrapped feature on your phone.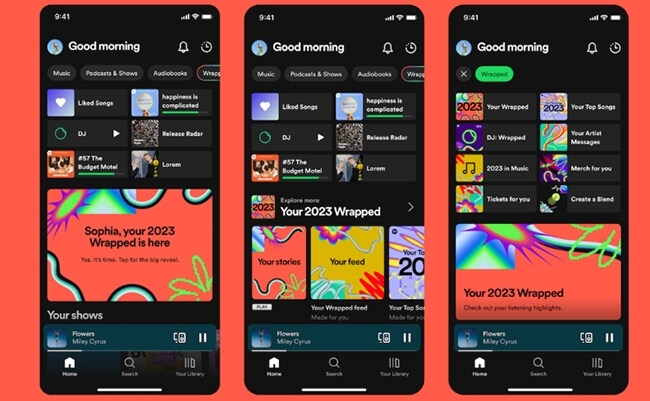 Step 1. Start by launching the Spotify app on your phone. On the main interface, tap on the Wrapped banner. You can also search for it on Spotify.
Step 2. On the screen, you can tap to go through the results and see your top items, including artists, songs, and more. You can also share your results or easily save your top songs to a playlist.
Part 3. How to Download All Artist Songs on Spotify
After getting your most played artist on Spotify, you may want to download their songs for offline listening. If you are a Premium user, you can do that with ease. Yet, Spotify free users can't do that. But there is still a way for you to make it. An easy way to do this is using DRmare Spotify Music Converter. It is a powerful converter tool that can help you download Spotify artists, playlists, albums, podcasts, and more without a Spotify Premium.
Available on Windows and Mac devices, it is easy for users to download all songs from an artist on Spotify. With it, you can alter new audio format, bit rate and more for Spotify audio tracks. And it will do the conversion at a fast speed. After converting, you can get local Spotify music files on the computer for listening offline.
DRmare Spotify Music Converter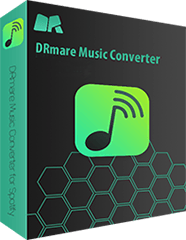 Ensures lossless quality and saves metadata information while downloading audio from Spotify
Converts audio from Spotify into multiple formats, including MP3, FLAC, WAV, M4A, and more
Users can customize various parameters of their downloaded audio, such as sample rate, etc.
Automatically removes ads from Spotify for free and stream music offline without interruptions
Step-by-Step Guide to Download Top Spotify Artists Tracks Using DRmare Spotify Music Converter
Here is a detailed tutorial on how to download all artists' songs on Spotify via DRmare Music Converter. Please check and follow below.
Step 1

Add the top Spotify artists' tracks

You can start your process by downloading and launching DRmare Spotify Music Converter on your computer. You can then go to Spotify, copy your desired track's URL, and paste it into the search box to add it. Or, directly drag and drop the track from Spotify to DRmare tool.
Step 2

Adjust the Spotify track features

Once you have added your songs to the interface, click on the menu bar and hit the 'Preferences' button. From the next pop-up window, you can customize the output formats and other parameters for your audio, such as the sample rate and channel, etc.
Step 3

Convert and save the Spotify tracks

Now, you can hit the 'Convert' button, and DRmare Spotify Music Converter will automatically download your songs and playlists from your top Spotify artist. Once the process is complete, you can find your files in the destination folder and listen to them whenever you want.
Part 4. Conclusion
These top Spotify artists represent more than just numbers or streams in the charts. They represent the blend of art with modern technology, which plays a significant role in shaping our culture. You can now easily check your top artists on Spotify and easily download your favorite songs to listen offline using DRmare Spotify Music Converter. Moreover, this tool consists of innovative algorithms to help you download Spotify tracks in the highest quality possible.