Tidal offers both free and paid services and is popular with streaming music lovers. With its free service, you can play over 100 million songs with ads and no download options. If you upgrade to HiFi for $10.99/month, or HiFi Plus for $19.99/month, you get unlimited ad-free listening and downloading songs for offline playback. However, if you always subscribe to it, it will be a big fee. So today we are going to show you how to get Tidal HiFi for free using Tidal BIN. You'll also learn an alternative way to use Tidal's Premium features without HiFi/HiFi Plus.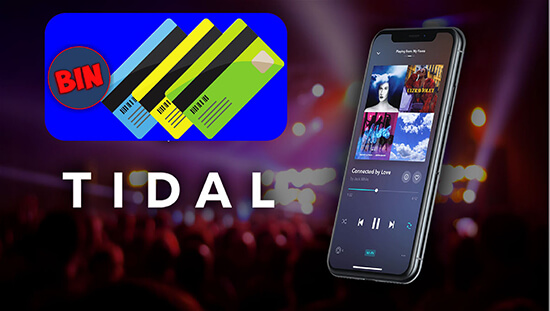 Part 1. Overview of Tidal BIN
BIN stands for Bank Identification Number and refers to the first four to six digits on a payment card. These numbers are used to identify individual banks and credit card issuers and are critical for matching transactions with charge card issuers. BINs are used in conjunction with other methods to verify the cardholder's identity and ensure safe, accurate payments.
BIN Tidal provides free access to Tidal HiFi and HiFi Plus. To use this BIN, all you need to do is generate a virtual credit card and then subscribe to Tidal HiFi/HiFi Plus with the live credit card. This allows you to enjoy all the benefits of Tidal HiFi and HiFi Plus without paying for a subscription.
Part 2. Recommended Tidal BINs 2023
After understanding what is BIN Tidal HiFi/HiFi Plus, let's look at some 100% working BINs that you can use to get Tidal subscription for free.
| BIN | FECHA | CVV | IP | ZIP |
| --- | --- | --- | --- | --- |
| 51546200xxxxxxxx | RND | RND | USA | 10080 |
| 424094003878xxxx | 02/28 | RND | USA | 14001 |
| 515942013401xxxx | 07/25 | RND | USA | 10080 |
| 51628900068xxxxx | RND | RND | USA | 10080 |
| 51546200230xxxxx | RND | RND | USA | 10080 |
| 559591000xxxxxxx | RND | RND | USA | 10080 |
| 5261105814xxxxxx | 12/23 | RND | USA | 10080 |
| 55249036037xxxxx | 06/2024 | RND | CANADA | 10080 |
| 424094003878xxxx | 02/28 | RND | USA | 14001 |
Part 3. How to Use Tidal BIN to Get Tidal HiFi for Free
How to use the above Tidal HiFi BINs to get Tidal Premium without paying? In this part, we will guide you. Before that, here are some tools you need:
A computer or mobile phone.
A web browser.
A good and stable internet connection.
A strong VPN.
A credit card number generator.
A live credit card check tool.
Step 1. Connect to a VPN using the dedicated IP address for the BIN.
Step 2. Go to a BIN generator (like https://myviptuto.com/cc-generator/) and paste the BIN in the required field. If the BIN has FETCHA and CVV, enter them as provided. If not, skip this part and hit 'Generate'.

Step 3. Copy all generated CCs and check if they are live CCs using a reliable CC checker (like https://myviptuto.com/cc-checker/).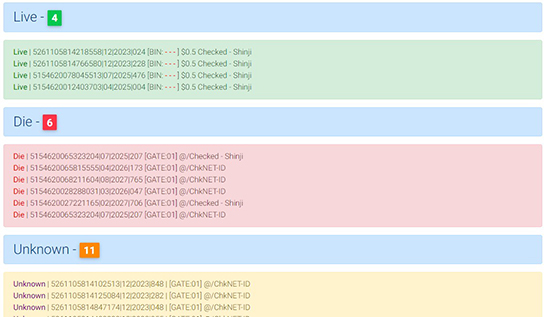 Step 4. Open a web browser and visit http://tidal.com/.
Step 5. Enter the Live CC you obtained in the required section and get your free trial of the Tidal Premium account.

Part 4. Alternative to BIN Tidal HiFi - Better Way to Get Tidal HiFi for Free
Tidal BIN gives you access to Tidal Premium features for free without paying. However, you'll find it a bit complicated as it requires several tools. Plus, it requires your email, so you could be at risk of having your information exposed. So here we would like to introduce you to a safer and easier way to enjoy Tidal HiFi/HiFi Plus.
All you need is DRmare Tidal Music Converter, which allows you to download music from Tidal without Premium and save it as MP3, AAC or other common formats. It maintains lossless audio quality and ID3 tags to ensure you a great listening experience. You can easily transfer the converted Tidal music files to other devices, such as MP3 players, smart watches, smart speakers, etc. Even better, you can keep your downloaded Tidal files forever so you can listen to them offline anytime. It's worth mentioning that you don't need a Tidal HiFi or HiFi Plus subscription.
Key Features of DRmare Tidal Music Converter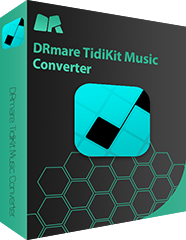 Download Tidal music for offline playing without Premium
Convert Tidal music to MP3, FLAC, M4A, M4B, WAV, AAC
Batch processing, work at a 5X faster speed
Preserve lossless audio quality, customize output parameters
Now, let's learn how to use DRmare Tidal Music Convert to download and convert Tidal to MP3 as an example. You can then listen to Tidal songs offline for free forever (no Premium required).
Step 1

Add Tidal songs to DRmare program

You can install DRmare Tidal Converter from DRmare's official website or from the above 'Download' button. Then launch it and you will see the Tidal app pop up. Simply drag and drop songs/playlists from the Tidal app to it. Or you can copy and paste the link to the song/playlist into the top search bar on DRmare. And then click on the '+' button.
Step 2

Customize Tidal output parameters

Click on the 'Menu' icon at the top right on the main screen and choose 'Preferences'. Then hit the 'Convert' tab in the pop-up window and you can set the audio format, channel, and more for Tidal music. After that, click on 'OK' to confirm the changes.
Step 3

Convert and download Tidal music

At last, click 'Convert' to download Tidal music to your computer. You will see the conversion process and when a song is converted, a red tip will occur on the 'History' icon. Click it to check the downloaded Tidal music files. You can also go to your computer's destination folder to find and listen to these Tidal songs offline. You are also allowed to move Tidal music to the device you like.
Part 5. The Verdict
This article shows you how to use BIN Tidal to create a Tidal HiFi/HiFi Plus account for free. Plus, you get to know how to enjoy Tidal music offline anywhere and anytime with DRmare Tidal Music Converter. Choose the method you prefer and enjoy your favorite Tidal songs without limits!