Famous for high-fidelity audio quality and special content, Tidal has attracted many audiophiles to explore music on this platform. Tidal is compatible with various devices and operating systems to help you access its music library via its desktop app and mobile app. Tidal also has introduced its web player, allowing users to stream music via a web browser directly to enhance the user experience.
Yet, some people may not be familiar with the Tidal Web Player. So, in this article, we will give a complete introduction to the Tidal music web player, including what it is, its features, audio quality, user guide, and troubleshooting. Don't miss the easy-to-use online music player to explore your HiFi streaming music service.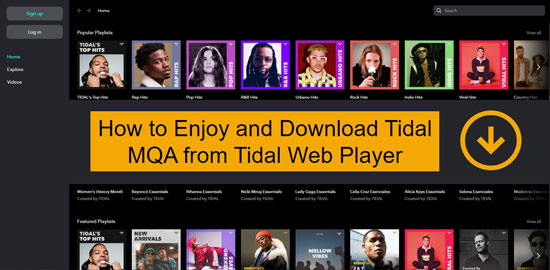 Part 1. What Is Tidal Web Player?
Tidal Web Player is a web browser-based platform provided by Tidal and it was launched in 2014. It has an intuitive and feature-rich user interface with a design of a dark theme. Users can listen to over 100 million Tidal music, playlists, albums, etc. online, instead of installing any additional apps on devices. It is a convenient option for users. As for the key features and quality Tidal music web player providing, please check them out below:
Key Features of Tidal Web Player
✨High-Quality Audio: No matter what you are using a Tidal app or its web player, it's able to stream music at HiFi sound quality.
✨Explore Large Music Quality: Tidal boasts over 100 million songs, 650,000 music videos, exclusive releases, and tons of interviews. With the web player, you can access this extensive library, making it easy to discover new music and enjoy your all-time favorites.
✨Seamless Streaming: This Tidal music player ensures smooth and uninterrupted streaming. You can enjoy your music without constant buffering interruptions, even on a slower internet connection.
✨Create Exclusive Playlists: It allows you to create new playlists and manage all playlists based on your taste to curate your music for various occasions. Additionally, you will get exclusive playlists with personalized recommendations based on your listening history.
✨High Compatibility: It is compatible with most popular web browsers, including Google Chrome, Mozilla Firefox, Safari, and Microsoft Edge.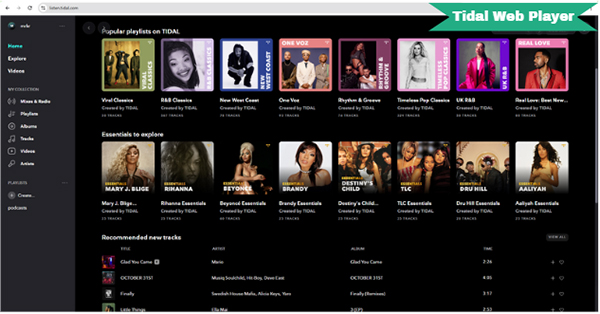 Tidal Web Player Quality for Different Plans
Tidal provides three kinds of subscriptions for users to play songs via this web player, including Tidal Free, Tidal HiFi, and Tidal HiFi Plus. Also, you can enjoy different audio quality with different subscription plans.
| Tidal Plan | Audio Quality | Bit rate | Codec |
| --- | --- | --- | --- |
| Tidal Free | AAC at 160kbps | 160kbps | AAC |
| Tidal HiFi | AAC at 320kbps, CD quality | 1411kbps, 320kbps | AAC or FLAC |
| Tidal HiFi Plus | AAC at 320kbps, CD quality | 1411kbps, 320kbps | AAC or FLAC |
Part 2. Tidal Web Player vs Desktop App
As a matter of fact, there are many common features provided by the Tidal Web Player and Tidal desktop app. But both options also have their own unique features and advantages. Let's explain them here.
Tidal Web Player
✅Support Linux system: Tidal Music Web Player is a browser-based service and it supports many well-known web browsers. Only if your device has an internet connection and installed a web browser, you can explore Tidal music without any problem. So, it's able to use Tidal on Linux computers via the web player. But there is no Tidal for Linux apps on computers.
✅No Installation Required: One of the primary advantages of the web player is that it doesn't require you to install any app on your device.
Tidal Desktop App:
✅Better Tidal Playback Control: Tidal desktop app provides system-wide media control shortcuts and notifications, allowing for a more integrated music experience. It also provides more advanced audio configuration options to get a better listening experience.
✅Master Audio: The highest quality provided by Tidal Web Player is only 1411 kbps CD quality even if you are subscribing to the HiFi Plus plan. But you can stream Tidal MQA songs at up to 9216 kbps on the desktop app.
Part 3. How to Login to and Use Tidal Music Web Player
Up to now, you have a full knowledge of this music player. Then, let's see how to use it, including how to login to it and how to listen to music on it. The process is easy. Please follow the steps here:
How to Login to Tidal Web Player
Step 1. Head to the https://tidal.com web player on the web browser, like Google Chrome on your computer or mobile devices.
Step 2. Touch the 'Log in' button from the top-right corner. Then choose the 'Web Player' option. It will then require you to log in with your existing Tidal account. If you don't have one, you can click the 'Sign up' to create a new one. Besides, you can also click the 'Start Free Trial' button to get Tidal free trial of HiFi or HiFi subscription for 1 month at no cost.

Step 3. Type your email address or username. Then enter your password. After logging in, you will see the interface of the Tidal music web player.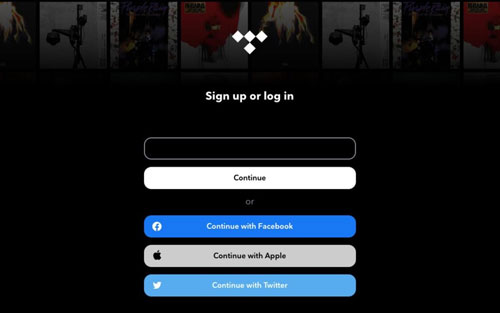 How to Use Tidal Web Player
✅Explore Music Library: You can click the 'Explore' button from the left toolbar to find your favorite songs according to genres, moods, and activities & events. Or type the artist name or song title in the 'Search' address bar to find music directly.
✅Visit Music Collection: Under the 'My Collection' section, you can get all songs by different categories, like Playlist, Album, Tracks, Videos, etc.
✅Create Special Playlists: Under the 'Playlists' section, you can choose to access your existing playlists, or click the 'Create' button to create a new one.
✅Listen to Music on Tidal Web Player: When you found a song you'd like to listen to, please open this item and click the 'Play' button to stream it.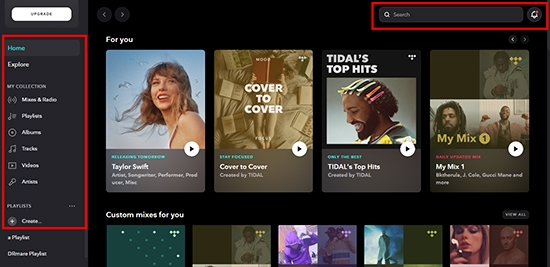 Part 4. How to Download Music from Tidal Web Player
Besides listening to music on Tidal online player, some users may want to download music from the web player. Yet, Tidal only allows users to download Tidal songs on its mobile app and it's available for premium users. Moreover, the download Tidal music can't be used outside the Tidal app as they are protected. In this case, you can use a third-party tool named DRmare Tidal Music Converter to download Tidal music on your computer for offline listening.
DRmare Tidal Music Converter is designed for Tidal music. With this powerful tool, you can download and convert Tidal to MP3, FLAC, WAV, and other common formats from Tidal Free, HiFi, and HiFi Plus. The converted Tidal audio files not only stay lossless quality but also keep in your local folder forever. Besides, it allows you to modify the output audio parameters. You can then change the audio channel, bit rate and more for the Tidal music as you want. After downloading, you can move Tidal music to any device to listen to with ease.
DRmare Tidal Music Converter
How to Download Tidal Music by DRmare Tidal Music Converter
This section will show you how to use DRmare Tidal Music Converter to download music from Tidal on computers. Here is the simple tutorial below. By the way, it needs to work with Tidal desktop app. You should install it in advance on your desktop.
Step 1

Install and open DRmare Tidal Music Converter

Click on the 'Download' button above to download and install DRmare Tidal Music Converter. Once installed, launch it and its main screen shows. You will then see the Tidal music app show at the same time.
Step 2

Change Tidal output settings in DRmare TidiKit

You can set its output audio parameters before downloading Tidal songs. Choose the way you need to open the settings page. Here is the way to get to the settings on PC: DRmare's menu icon > 'Preferences' > 'Convert'. For Mac users: Go to Mac's menu list > 'Preferences' > 'Convert'. Then you can reset the output configuration, such as format, bit depth, sample rate, and more.
Step 3

Import Tidal songs and playlists to download

Search for the song or playlist you want to download on the Tidal app. Then copy its link address and put it on the search bar on the DRmare TidiKit program. Next, press the plus icon. DRmare Tidal Music Converter will load the tracks for you. Or, you can drag and drop the track from the Tidal app to it directly.
Step 4

Download music from Tidal to computer

Now, hit the 'Convert' button to start downloading process. When the job is done, click the 'Converted' button to open the list. If you'd like to locate the local folder that saves the songs, tap one of the songs. Then click the magnifier icon to open the local folder on your computer.
Part 5. How to Fix Tidal Web Player Not Working
While using the Tidal music web player, users may meet some issues. For example, you can't load the Tidal Web Player page. Here, we will also introduce some tips to solve possible issues.
Solution 1. Check Your Internet Connection
Please try to open other websites on your web browser. If you can't open them, then go to restart your router. A few minutes later, try it out again to see whether it can work.
Solution 2. Disable Antivirus and Firewalls
You can try to disable your Antivirus and Firewall settings on your Windows or Mac computer.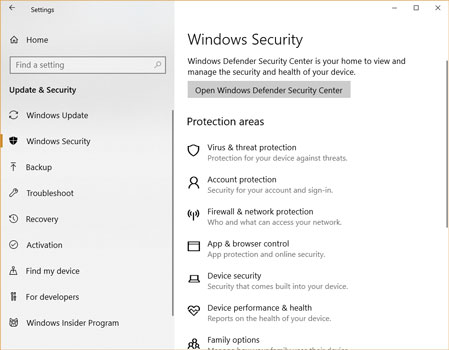 Go to the 'Control Panel' window on your Windows computer.
Head to the 'System and Security' section. Then select 'Windows Defender Firewall'.
Hit on the 'Turn Windows Defender Firewall on or off' to turn off the firewall.
Restart your Windows computer to keep the settings. Then check whether this problem is fixed or not.
Solution 3. Update Your Browser
Maybe the version of the web browser you use is too old or doesn't support the Tidal Web Player. If so, then you can try to remove it and re-install the latest version.
Solution 4. Delete Cookies on Browser
Try to delete cookies from your browser. The cookies are similar to the cache files. It can save and manage info that websites store on the computer. Here we will take the Chrome browser to show you how to clear cookies and cache.

Open your Chrome browser on your computer.
Click on the three dots icon at the upper top right corner. Then choose and hit on the 'Settings' option.
Select the 'Privacy and Security' option from the left side. Then choose and click on the 'Clear browsing data' option.
Switch to the 'Advanced' tab in the new window. Then choose the 'All time' option from the drop-down list of the Time range.
Then touch the 'Clear data' button to clear the cache and cookies of your browser.
Restart the browser and check whether it can be loaded.
Part 6. In Conclusion
In this post, you have learned what Tidal Web Player is, its features, audio quality, how to use it, the differences between a web player and a desktop app, how to download music from Tidal, and troubleshooting. It offers an easy and convenient way for music enthusiasts to enjoy high-quality songs online. Now, you can start to use Tidal Music Web Player to stream songs and playlists via any web browser on your device.