Amazon has recently rolls out a free giveaway of its Audible audiobooks on Echo. It is a new an most easiest way for Echo users to get a free Audible audiobook, who haven't signed up or used the Audible service before. The offer is available from all of the 400,000 titles in all Audible categories including best sellers, latest releases, award winners and so on. With this offer, Amazon wants to attract more new users to the Audible world.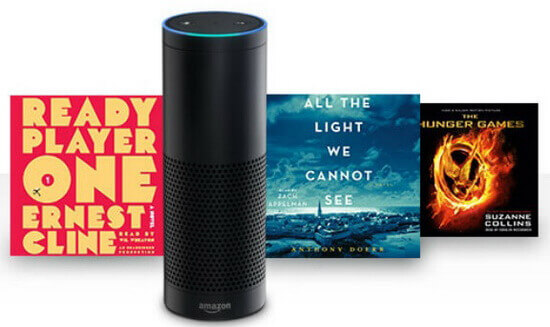 Part 1. Why Amazon Offers Free Books on Echo
Audiobook tends to be increasingly popular nowadays due to the fact that we are living in a more and more busy society. We prefer to listen to audibooks while doing other works instead of sitting down to read a book alone. That is a good news for Audible.com. Amazon spend much effort to popularize the Audible books in the past few years while many new competitors enter to increase their market share.
This free offer happens a few weeks after Google announced to sell audibooks on its Play Store at an relatively low price. So it is widely considered as a responsive to Google's competition. Anyway, this is a generous offer for Amazon Echo users who is new to Audible. If you are interested in the Audible books, don't miss this great chance to get it.
Part 2. Easiest Way to Get A Free Audiobook on Amazon Echo
When it comes to Audible free offer, this is not the first time that Amazon offers free Audible books to new users. Actually Audible also provides a 30 days free trial membership for all audiobook newbie users all the time. During the free trial, users will get a credit to buy one audiobook without spending a dime. For more details, you can visit: How to Download Free Audible Books. In addition, there is another much better offer for Amazon Prime subscription users to get 3 credits (one credit every month) if they keep the membership for up to 3 months.
This new giveaway for Echo is expected to be the easiest and best ever. You don't even need to sign up an account. Just turn on your Echo and say 'Alexa, read me...' plus the author and title of the book, Alexa will search and play the book for you within several seconds.
Part 3. More Tips about Playing Audible Books
Undoubtedly, It is the best way to play Audible Audibooks on Echo at home. But sometimes if you want to listen to books while you are waiting for a bus, taking a train or on a fight, it is better to use your Android/IOS/Windows phones or portable MP3 players. For a mobile phone, all you need to do is downloading and installing the Audible app.
For portable MP3 players which can't install any applications, I would recommend you to encode your audiobook AA/AAX to MP3 songs to enjoy freely. DRmare Audiobook Converter for Mac/Windows provides an ideal solution to enjoy any audio files freely. It has the features to break DRM protection and convert audio formats within 1 click. The best part of it is that the output quality is lossless, so you will still have high fidelity audiobooks after converting. If you want to find out how it works, you can simply click the following download button to try it out. It is totally free.