Hollywood movie studios, including 20th Century Fox, Warner Bros., Sony Pictures, and Universal Pictures now join Disney to launch Movies Anywhere service which promises to make streaming your favorite movie purchases more easier than ever. Using a single app, you can now connect Movies Anywhere to your iTunes, Amazon, Google or Vudu accounts and access all the eligible movies you've purchased through those retailers from various devices and operating systems.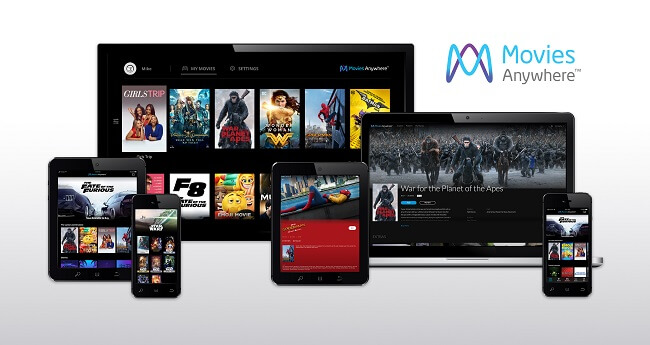 The Movies Anywhere app is available for iOS, Apple TV, Android, Android TV, Amazon Fire devices and Roku. The service also supports Chromecast and movies can also be watched on your personal computer or Mac. With Movies Anywhere, you'll not only break the hassles of jumping across four different services, but also eliminate some platform barriers. For instance, Roku users can now watch movies purchased from iTunes. Amazon Fire tablet owners can watch Google Play movies, and so on.
More about Movies Anywhere Digital Locker Service
In fact, Disney launched this movie streaming service in 2014, allowing users to get access to all of the company's titles in one place. The big difference between the previous version and the revamped Movies Anywhere is that five other Hollywood studios have all signed on to Movies Anywhere, meaning along with Disney's own films, this movie service is able to provide a launch library of more than 7,300 titles.
In addition to accessing and watching any purchased movies via Movies Anywhere, you'll also be able to purchase movies in the app. Before buying a movie, you'll see every connected retailer that offers it, allowing you to choose which services you want to purchase it from. Android users will have the ability to purchase movies from Google Play, Amazon, or Vudu and those with Apple devices will only be able to purchase from iTunes, unless they head to a browser to purchase from a competitor directly.
Movies Anywhere is a free app that provides you with a single place for entire digital film library. As an added bonus, if you link at least two of the movie retailer services to Movies Anywhere app, you'll get five free movies, including "Big Hero 6", "Ghostbusters (2016)", "Ice Age", "Jason Bourne" and "The Lego Movie".
How to Set Up Movies Anywhere Account
Step 1

Sign up for a Movies Anywhere account

Visit Movies Anywhere site to signup for an account. You can use an existing Facebook or Google account, or provide an email address and password.
Step 2

Connect retailers to Movies Anywhere account

Then follow the instructions to connect one or more retailers including iTunes, Amazon, Google Play and Vudu to Movies Anywhere app. Please note that if you use a desktop browser to set up your connection to iTunes, you'll need to have the desktop client installed.
Extra Tips for iTunes Users: If you used to purchasing digital movies from iTunes, then you may probably know that iTunes movies are DRM-protected. That means you can't watch your iTunes movies on any non-Apple device. In this case, you can try DRmare M4V Converter for Mac/Windows, which is an all-in-one iTunes DRM removal solution developed to help you completely remove DRM lock from purchased and rented iTunes movies for play on any device. See also: How to Remove DRM from iTunes Movies Losslessly.
Step 3

Start to watch your movies

Wait around an hour until all your movies appear in your "My Movies" library. Then you can access all the movies on all account libraries. That means you don't necessarily even need a Movies Anywhere app. You can simply continue with whatever app or platform you're already using.
Step 4

Update your video-data sharing settings

By default, Movies Anywhere will share various information with any retailers you've connected. It also give you the option of opting out of video-data sharing with participating studios and Movies Anywhere service providers. To get it done, just tap or click the Menu icon > select "Video Data Sharing" > update your preferences.