It is a truth that nowadays we use mobile devices more often than desktop computers. According to a survey, more than half users of the top 3 streaming services Apple Music, Spotify, Pandora listen to music through mobile phones and tablets.
As for the Apple Music, it makes sense that there are more mobile users. When Apple Music was first released in 2015, it only had the iOS version. After that, Apple extended the streaming music service to desktop and Android.
So the questions here is why do we need Apple Music on desktop and what is the best way to listen to Apple Music on your desktop computers including Mac and Windows? Keep reading on to find the answers.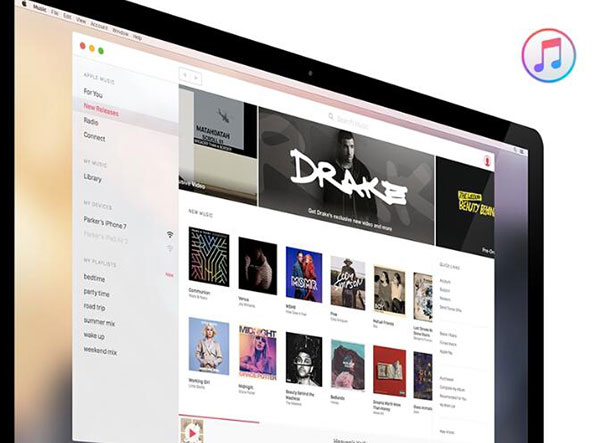 Part 1. Why You'd Like to Listen to Apple Music on Desktop
Apple has a great digital media ecosystem with music, audiobooks, movies, podcasts and so on. But it is a closed one. All the media files are only accessible from Apple's hardware devices or softwares like iOS and iTunes.
One of the obvious reason why Apple Music desktop app is required is that not everyone has an iPhone, iPad or iPod. If it is the same case for you, listening to Apple Music on desktop PC will be your best option.
This is more true if you are a person who works all day long tied to a Windows or Mac desktop.
Besides, if you'd like to get the most out of your Hifi speakers and so on, desktop computer makes it easier to connect Apple Music to that speakers effortlessly.
Part 2. Top 2 Best Ways to Play Apple Music on Desktop
How to Play Apple Music on Desktop with iTunes
There is not a specific Apple Music desktop player. But you can use Apple Music on Mac with the help of iTunes. It combines the features of digital media player, media file manager, digital store.
For Mac desktop computer, the iTunes is built-in the OSX system by default. Just go ahead to use Apple Music with iTunes.
Step 1. Double click "iTunes" icon from the application folder to launch it. We'd suggest you update to the latest version so that you won't run into any technical errors.
Step 2. Choose the category as "Music" from the top panel of iTunes. It may prompt you to login with your Apple ID and password if you haven't, please just do so.
Step 3. You can click the songs or playlists from the library to start playback.
Step 4. If you haven't downloaded any Apple Music, you can go to the "For You" tab to pick up the songs to download as you want.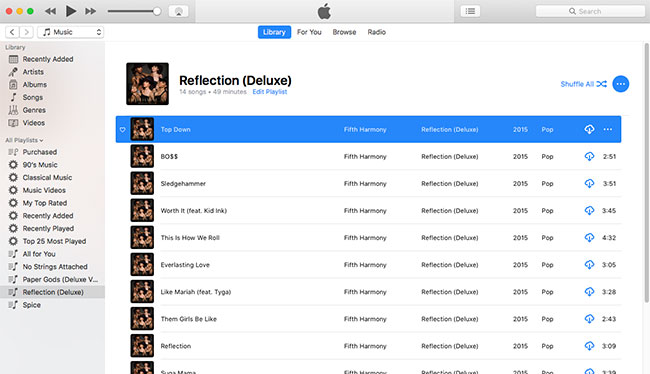 That is it. So easy for Mac computer, right?
What if you have a Windows PC? Well, that would be more complicated since iTunes is not there by default. Please don't worry either. You can simply download iTunes latest version to Windows PC from the Apple official website.
After that, just follow the similar steps to get Apple Music on Windows PC. If you'd like to play Apple Music on other players such as Windows Media Player, you can refer to the tips how to download Apple Music to PC which we created before.
How to Listen to Apple Music with Web Player on Desktop
Not every company, school, organization will allow employees to install third party softwares for securities. That is the same with iTunes.
Also, if you need to switch to several computers in a day, it is really not convenient to keep launching iTunes.
Fortunately, there is a best way to use the Apple Music web player on your browser directly.
Step 1. Visit Apple Music Marketing Tools page from your browser Chrome, Firefox and Safari.
Step 2. From the page, you can search the Apple Music song, album, playlist to play on the desktop computer directly.
Step 3. By default, you can only listen to 1 minute of each song. To listen to the full versions of the songs, please login with your Apple ID and password.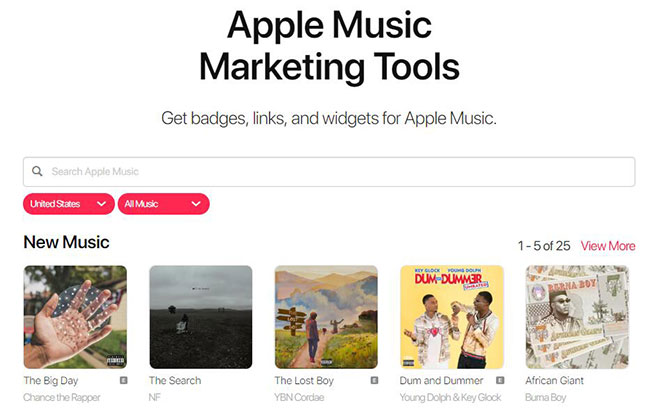 Part 3. To Summarize
Though mobile devices have become more and more powerful, they can't replace desktop computers.
Windows and Mac desktops still play an essential part in our daily life including work and entertainment.
As a music fan, I'd like to listen to Apple Music when I am at work. Playing Apple music on desktop is undoubtedly easier than using an extra mobile phone. Of course, when I am off work, if I want to continue to listen, switching to mobile phone is necessary.
I hope this tips is helpful for you to get the best out of music on your desktop computer. What do you think about this tips? Please do me a favor to share it to your friends if you find it is helpful. Enjoy your journey here!