Html5 is the fifth generation Html standard published by the W3C organization in 2014. After its establishment, Html5 has extended its support on many browsers including IE9, Chrome, Safari, Firefox, Opera etc quickly. It adds some syntactic features and improves the support of the media files, making it easiest ever to embed video into website without using Adobe flash.
Here I will take the chance to show you how to insert iTunes movies to Html5 website.
View also: How to Insert iTunes Movies to PPT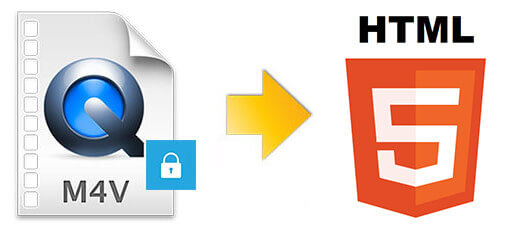 Part 1. Can You Play iTunes M4V Movies on Html5 Browser
In the first place, iTunes movies are specially designed for playback on Apple devices like iPhone, iPad and iPod or computers with iTunes. The general process to play iTunes video is to download and authorize it with the Apple ID and password on iTunes. Obviously, if you upload iTunes M4V movies to the online Html5 website, it is not possible to authorize them without iTunes. Consequently you will fail to play iTunes M4V movies uploaded on the Html5 website.
Moreover, it comes with an encrypted format M4V with FairPlay DRM protection which is not supported. Currently there are 3 standard Html5 compatible formats, OGG, MP4, WebM. OGG is a container format that use Vorbis encoding for audio and Theora encoding for video. MP4 uses H2.264 and AAC encoding. WebM is created by Google with the VP8 video encoding and Vorbis audio encoding.
So if you want to solve the playback issue, you have to disable the DRM copy protection and encode the iTunes movie to an Html5 compatible format. DRmare iTunes Video Converter for Mac/Windows is created to solve this kind of M4V movie playback issue specially. It has full support for Html5 formats of videos like MP4, WebM, OGG. And it can rip DRM protection from all iTunes movie purchases, rentals and TV shows.
View also: Play iTunes Videos through Projector
DRmare iTunes M4V Video Converter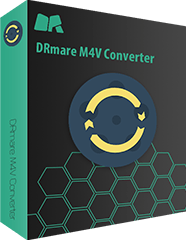 Easiest Way to Unlock DRM protection from iTunes movies, TV shows, Extras
Supports to convert DRM M4V to Html5 movies and other common formats
Outstanding performance with up to 20X faster converting speed
Customize the output video parameters like bit rate for smooth web streaming
Part 2. Unlock DRM and Convert iTunes Movies for Html5 Web Page
As an professional DRM provider, DRmare enables users to enjoy iTunes digital media files freely. Just download and install the M4V Converter trial version from the link above and follow the tutorial to convert your iTunes movies.
Step 1

Import iTunes DRM videos

You can go to the iTunes movie or TV show section to find the media files you want to convert, then drag and drop to import them to the DRmare iTunes Video Converter main screen. Alternatively, you can click 'Add Files' button if you want to batch import couples of videos.
Step 2

Choose an Html5 compatible format

DRmare has a wide selection of output formats such as H.264, HEVC, 3GP, DivX, DV, ASF, WMV, MOV, MKV, MP4 etc. Since you want to upload the videos to Html5, you can select the output format as OGV, WebM or MP4. Besides, you can also reduce the output parameters such as bit rate, frame rate to compress the output file size for faster streaming online.
Step 3

Convert DRM M4V files

Click 'Convert' button, the DRM removal process will be started. Generally it takes a only a few minutes for a standard movie to convert. As different browsers such as Safari, Firefox, Chrome, IE may supports different formats, it is advisable to embed all 3 versions of the same video to your website to get best compatibility. so you can repeat the step 2 and step 3 to convert your iTunes movies multiple times.
Part 3. Embed the Converted Movies to Html5 Website
By going through the 3 steps above, you can upload iTunes movies and you won't have the iTunes video playback issue on Html5 websites any more. In general, Many Html5 websites or blogs offer the user friendly interface to upload the videos within a few clicks. On the other hand, if you create the website by yourself, you may insert your videos by using the Html5 video element.
The most import part of this is to get rid of the DRM protection. With the well-designed DRmare M4V Converter, it will save you a lot of time on play iTunes DRM free videos on Html5 browser. Besides that, you can upload converted videos to social website such as YouTube too. For more tutorial, you can visit: How to Share iTunes Movies to YouTube. If you have any questions, please feel free to leave your comments below.