Q: I have received a nice Blu-ray player as a New Year gift and I have a couple of unwatched movies and TV episodes I purchased from iTunes store. I would like to make these iTunes videos possible to play smart TV via the new Blu-ray player just as the same thing that I do with Amazon apps on my smart TV. So I wonder to know is there a software I can download to help me to watch purchased iTunes digital files on the family television? By the way, this Blu-ray player can play both DVDs and Blu-ray discs and has an USB slot.
When I saw the question mentioned above, I know that it's time to write a relative tutorial to give readers some suggestions on how to play iTunes movies on Blu-ray player and let them learn more about Blu-ray player. If you are in the line of bothering about the above question, please read on this article and you will release yourself from this dilemma.
View also: Burn iTunes Movies to DVD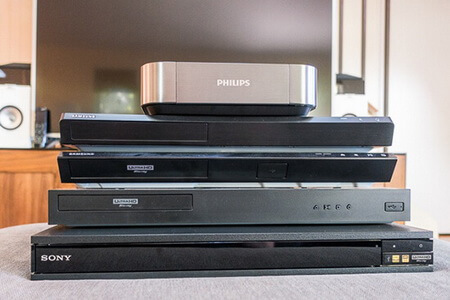 Part 1. Best Solution to Make iTunes Videos Available for Blu-ray Player
Videos purchased and rented from iTunes store are protected by FairPlay DRM technology and specially encoded with M4V container format. As a consequence, iTunes users couldn't play iTunes purchased DRM video files on other unauthorized devices. When it comes to play iTunes movies and TV show to Blu-ray player, the first you should do is to discover a good iTunes DRM M4V video converting tool. What is an exactly great iTunes M4V converter? A stunning iTunes DRM removal application is able to not only remove DRM protection and convert iTunes M4V to wanted formats, but also keep 100% original quality on converted iTunes files.
By comparison, DRmare M4V Converter for Mac/Windows could be the most professional software that meets my all requirement, such as the output quality, multiple output formats, conversion speed and other features. In order to understand whether this DRmare software is also the one you are looking for, you can download and install the trial version to test its performance before you purchased it.
DRmare iTunes M4V to Blu-ray Converter
Part 2. How to Remove DRM Protection from iTunes M4V with DRmare M4V Converter
Now, you must download and install DRmare M4V Converter for Mac or Windows on your computer successfully. So let's start to remove DRM limitation from iTunes protected and downloaded videos according to the following guide.
Step 1

Import downloaded iTunes Movies to DRmare

By clicking the "Add Files" option at the bottom left of the main interface. And all downloaded iTunes movies will show up automatically in the new Window, and you can choose iTunes movies that you want to convert from iTunes library directly. If you have only a few iTunes videos to convert, you can directly drag and drop them to the main interface.
Step 2

Set the output format for Blu-ray player

Once you have uploaded iTunes DRM M4V files that you desired to DRmare iTunes DRM cracker, you can touch the "Format" button that is near to the "Add Files" tab to define the output format for Blu-ray player. With the intention of watching iTunes movies on Blu-ray player, MP4 Lossless is highly recommended. Besides, you can enter into the gear icon to customize your converted iTunes files, such as bit rate, frame rate, video size, etc.
Step 3

Remove DRM & convert iTunes M4V videos for Blu-ray player

When everything is ready, the last thing is to click the conversion button at the bottom right of the main interface. Please wait for a while, and DRmare iTunes M4V converter will complete to remove DRM restriction from unloaded iTunes protected videos and convert them to MP4 format simultaneously.
Part 3. How to Transfer iTunes DRM-free Movies to Blu-ray Player
Once you have gotten iTunes DRM-free videos on your destination folder, you can convert these unprotected MP4 files to your USB flash drive, since almost all Blu-ray players have an USB port. And then you can plug the USB flash drive into Blu-ray device's port so that you can watch iTunes movies and TV shows on Blu-ray player freely. If there is Wi-Fi connection, you can share them to Blu-ray player via Wi-Fi networking directly.
If your Blu-ray player doesn't have an USB port and you can't use the solution mentioned-above, you can turn up to burn iTunes non-DRM files to Blu-ray disc for playing them on Blu-ray players with the help of some of Blu-ray creators, such as Tiny Burner, StarBurn, as well as True Burner. Plus, you can also burn iTunes movies to DVD for watching them on Blu-ray player. As for how to burn iTunes movies to DVD, you can visit this useful source page: How to Burn iTunes DRM Videos to DVD.
Part 4. What is Blu-ray Player
Blu-ray also known as Blu-ray Disc is a digital optical disc data storage format. As the name suggests, a Bul-ray player is a backwards-compatible device that is able to play both Blu-ray and DVD media files. The biggest advantage of Blu-ray players is the ability of storing high-resolution videos on a Blu-ray disc and providing a wide range of internet connectivity to video on demand streaming services. When you are hanging out on the Internet, you will find out there are so many popular Blu-ray player on the market, such as Sony UBP-X800, Samsung UBD- M7500, Xbox One X, as well as Magnavox MBP5630 smart. Generally speaking, there are two basic types of Blu-ray players.
Traditional Blu-ray Player
A conventional Blu-ray player can connect to smart TV and play both Blu-ray and DVD videos. Via the TV speakers, the traditional video player is also capable of reading CDs so that you can listen to music with it. Blu-ray discs are able to store hours of video in high-definition (HDTV 720p and 1098p). The HD resolution matches up well with a flat screen HDTV.
Ultra Blu-ray Player
In fact, an Ultra Blu-ray player is the same as a traditional Blu-ray player except from the supported video resolution, since Ultra Blu-ray player can play ultra high-definition resolution (up to 2160p). That's to say, this powerful ultra Blu-ray player support 4K (or UHD) video resolution. And even if you place a lower-resolution video disc stored in the Ultra Blu-ray player, it will adjust the videos to match the smart TV supported 4K resolution.