Audiobooks are the new favorites of people who like to read. The reason why audiobooks are becoming popular is that it sets your hands free. You just need to plug in your headphones or earphones and play the book you want to read and enjoy without making your hands feel tired. Amazon provides you with an audiobook service as well, which is called Audible. Audible has a massive library of books across genres. Whether you like romance, sci-fi, biographies, or other genres, we bet you will find something or the other here.
But have you ever wondered how to backup Audible books? Audible lets you create backups for audiobooks efficiently, but the only issue with the official backup process is that you will have to have Audible to listen to the backup files. So, to help you deal with this issue, we will share a way to enable you to listen to Audible audiobooks on different devices. So, let's find out how to backup Audible books.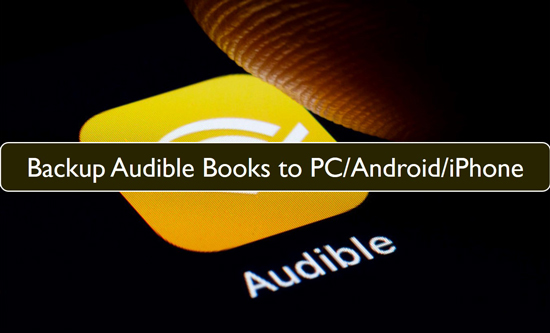 Part 1. Why Do You Need to Backup Audible Books?
Before explaining how to backup audible books on Android/iPhone/PC, we would like to tell you why you should back up Audible books from iPhone/Android/PC. The audiobooks that you see on Audible are protected. It means they can't be played on any other device apart from Audible. This means that an audiobook you purchased isn't entirely yours, unlike physical books. The rights are still with Audible.
Moreover, every audiobook has an audio format called AAX, which is an extremely uncommon audio format. As you know, the most common audio format accepted by most players and devices is MP3, which is why it becomes impossible to play these files on different players and devices.
The next reason for creating a backup for Audible audiobooks is that if Audible one day ceases to exist, so will your audiobooks, meaning all your investment will go in vain. These are some of the reasons why you should back up Audible files.
Part 2. How to Backup Audible Books to Android
Now that you have understood some of the reasons for backup, let's begin our guide with how to backup Audible books on Android. The process is simple, and there are just a few steps to follow. Here are the steps:
Step 1: If you don't have Audible already, please visit the Play Store and search for Audible. You will see the install tab. Please click that. After the program is installed, launch it.
Step 2: When you see the log-in page, please add your Audible premium account credentials. Go to the library section to find the books you have already purchased. Click on the book cover to backup Audible files on Android.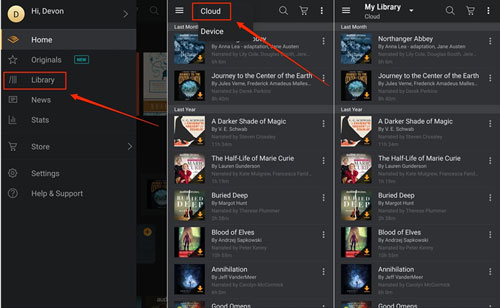 Part 3. How to Backup Audible Books to iPhone
Just like Android, you can backup Audible books from iPhone as well. Yet again, with just a couple of steps, you will be done. Read below.
Step 1: Download Audible on your iPhone and log in using your Audible credential. Now, go to "My Library" and check the audiobooks that you have purchased.
Step 2: To see whether you have downloaded a book or not, check if you can see an arrow in front of the book. The arrow will be in the bottom right. Just hit that arrow, and the downloading process will begin. The backup process for the same book will also start when you do this.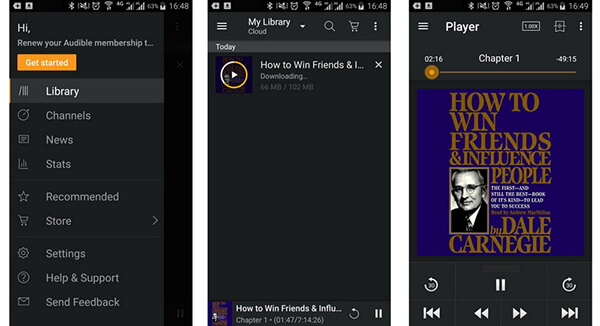 Part 4. How to Backup Audible Books to PC
We are now done with the backup process for iPhone and Android devices. But what if you wish to backup Audible books to PC? If this is what you are looking for, here are the steps you need to follow.
Step 1: Turn on your computer and open a browser. There type Audible.com. When you see the log-in page, use your credentials to log in.
Step 2: Locate the Library option and click on that. Search for an audiobook that you want to download and click on the download option. The app will download Audible books to PC in no time. Once done, click on the save option. This process will do two things - download and backup.

Part 5. Best Tool to Backup Audible Books on Computer
We have shared three official ways to backup Audible files. However, the only problem with the official way is that if Audible runs into some issues, you won't be able to play these audiobooks on any other player other than Audible. This means that you will need Audible to play your downloaded files even if you back up. This restriction often irritates Audible users. So, to tackle this issue, you can download Audible audiobooks forever and listen to them on any device and player you want.
To be able to do that, you will require an audio converter and downloader, and the recommended tool to go for is DRmare Audio Converter. This professional tool is an all-in-one converter and downloader for Audible, iTunes and common audio files. Not just this, you can convert the files to multiple audio formats, such as MP3, AAC, etc. Moreover, DRmare Audio Converter is available for both Mac and Windows users. With DRmare Audio Converter, you will never have to worry about encrypted files.
DRmare Audible Audiobooks Converter
How to Backup Audible Books by Using DRmare Audio Converter
Now, in this section, we will guide you on how to use DRmare Audio Converter to backup Audible books. Please check out the detail below.
Step 1

Download and launch DRmare Audio Converter

First, visit the official webpage of DRmare Audio Converter and download the right version depending on your computer's OS. Let it get installed and then launch it.
Step 2

Add Audible audiobooks to DRmare

You will see the "Add" button at the bottom left corner of DRmare program. Please click on that to start adding Audible files. You can add one or multiple audiobooks.
Step 3

Customize audio parameters for Audible books

After the audiobooks are added, you need to set the audio parameters for the files. You can choose an audio format for the files, such as MP3, WAV, AAC, FLAC, etc. Apart from this, you can also choose a channel, bit rate, sample rate, codec, etc. If you want to edit some of the information on ID3 tags, feel free to do so.
Step 4

Convert Audible files for backup

Lastly, move the cursor towards the bottom right and click on the "Convert" option to begin the conversion process of the Audible files. The files will be converted fast and will be saved automatically.
Now, you are able to backup Audible books to PC. And then you are free to transfer Audible files from the PC to any device you want and enjoy your time.
Part 6. Conclusion
Audible is one of the best platforms to find some of the best-selling, popular, and classic audiobooks. No matter which genre of books you like, Audible will definitely have it. And now that you have the answer for how do I backup my Audible books, why not try the best method to do it. You can surely go for the official ways, but if you want to get rid of restrictions, you must try DRmare Audio Converter. It removes every restriction and gives you the freedom to backup Audible books with you forever. So, go on and download DRmare Audio Converter today!