Game of Thrones is an American fantasy noval created by George R.R. Martin. It is the first book of A Song of Ice and Fire epic series. The noval has been prevalent for decades and it has been filmed TV series by David Benioff and D. B. Weiss. The 7 season ended on August 27, 2017 and its 8 season will premiere in 2019.
Have you read the book, watched the TV shows or listened to the audiobook of A Game of Thrones? Which way do you prefer?Actually listening to audiobook has a greater emotional impact than reading books or watching films. Here I will go ahead to do a quick review and offer the tips to download and listen to A Game of Thrones audiobook.
View also: Game of Thrones TV Shows Review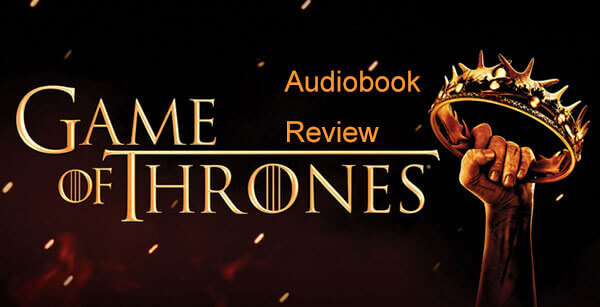 Part 1. A Game of Thrones Audiobook Review
A Game of Thrones audiobook is narrated by Roy Dotrice. The audiobook is 33 hrs and 26 min long. Summers span decades. Winter can last a lifetime. And the struggle for the Iron Throne has begun. It is cruel, violent but brilliant.
Set on the fictional contients of Westeros and Essos, Game of Thrones has multiple plot lines and complicated characters. In general, it contains three primary story arcs. The first story arc centers on the Iron Throne of the Seven Kindoms and the main character Tyrion Lannister. The second is the last descendant of the realm's deposed ruling dynasty, Daenerys Targaryen, exiled and plotting a return to the Throne. The third is about Jon Snow who, born in Winterfell, defends the realm against the ancient threats of the barbarians and dead creatures.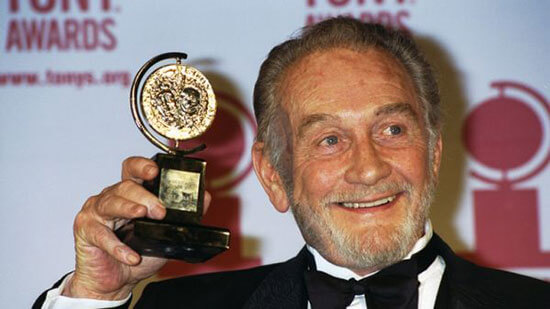 A Game of Thrones is undoubtedly the best audiobook in this fantasy genre. Roy Dotrice did an amazing job to read this book, bringing all the characters into life. Roy Dotrice appears on the TV series as well as Hallyne. Desipte hundreds of chapters in this book, Mr. Dotrice manages to isolate each one with his unique voice. When listening, we will come to love and hate for the characters: Tyrion Lannister, Gregor Clegane, Daenerys Targaryen. You will really has an immersing entertainment on the twists and turns in the storyline.
The only drawback is that it is a little slow going. But the pace is essential to set the scene and introduce the characters. If you are more interested in fantasy that focus on one perspective, perhaps this isn't for you. Anyway, A Game of Thrones is worth to listen to for its interesting characters and sub-plots.
View also: Top 10 Best Halloween Audiobooks
Part 2. Buy A Game of Thrones Audiobooks from Audible/iTunes
The audiobook is now available on most audiobook platforms. I personally love Roy Dotrice's narration of A Game of Thrones very much. To check if you like it or not, you can listen to the samples from iTunes Store, Audible. It is convenient. Take the iTunes for example. You can either do that on a computer or iOS device iPhone, iPad Pro, iPod Touch. Just locate the audiobook and click "Preview" button.
If you enjoy A Game of Thrones Audiobook, you can go ahead to buy it. Generally, it costs more bo buy it from iTunes than Audible. What's more, there is not a free offer for the new users. So it is highly recommend to buy it through Audible.

Step 1. Go to the Audible official website.
Step 2. Input "A Game of Thrones" on the search box and press "Enter" key.
Step 3. Click the cover of the book to go to the description page.
Step 4. You can click the "Buy" button or "CLICK TO START FREE TRIAL".
Step 5. Follow the steps to input and confirm the payment info to complete the order.
Step 6. Finally, you can download A Game of thrones audibook from iTunes on your Mac or the Audible app from other devices such as Windows computer, iOS gadgets, Android mobile phones.
View also: How to Download Free Audible Audiobooks
Part 3. Remove Protection from A Game of Thrones
A Game of Thrones audiobook is so long that you can't sit down for a full day to listen to it. So is there a way to transfer them to other devices like MP3 players for playback when you are doing exercise, walking outside?
With the DRM protection, both iTunes and Audible don't allow you to distribute the purchased audiobook elsewhere officially. The only way is to remove DRM encryption. Following are the top 2 recommended ways.
Free Streaming Audio Recorder - Totally Free Method
It uses the recording method to capture sound in real time. Just get a free audio recorder such as Audacity. It combines the basic editing tools too. The drawback is that it takes a long time and the output quality may contains occassional noise.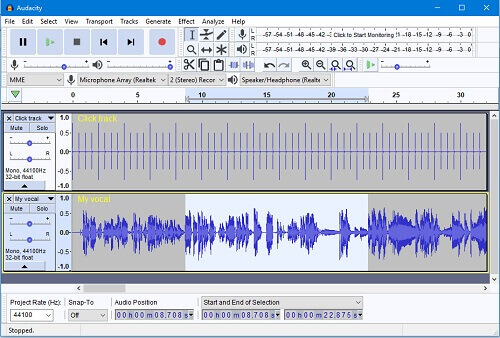 1. Play A Game of Thrones audiobook on your computer.
2. Launch Audacity and click the red record button.
3. Wait until the book is played completely.
4. Click the record button again to stop recording.
5. Do some trimming or editing. (optional)
6. Click "File" > "Export" > "Export Audio" to save the audiobook.
View also: Top 5 Free Streaming Audio Recorders
Professional Audible Audiobook Converter - Best Method to Save Your Time
If you are tired of waiting, you can also get a powerful Audible Converter DRmare Audio Converter for Windows/Mac. It supports to decryption Audible files with up to 100X speed. And the audio quaity will be kept originally. It costs you a few dolloars. But it will save you a lot of time and resources. What is more, it can be used forever with lifetime free update and support.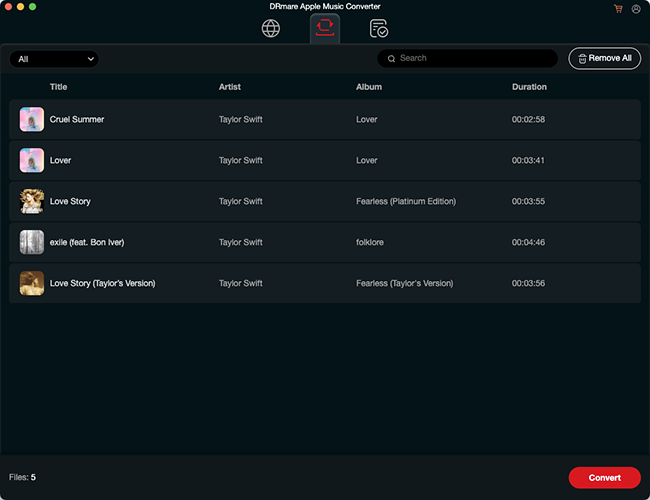 1. Drag and drop or click the "Add Files" butotn to Import Game of Thrones Audible files.
2. Customize the output audiobook such as format, bit rate, frame rate, speed, volume, pitch.
3. Click "Convert" to remove DRM from Audible audiobooks like a flash.
4. When it is done, you can copy A Game of Thrones audiobook to any players you want.