Scary stories have always been loved by many. In fact, these kinds of stories are full of imaginary situations which will dive you right into the heart of a spooky atmosphere. Ghostly tale ideas can only be found from the best scary audiobooks. However, this is an all-season affair; there is no better time to go into ghostly feeling like Halloween season. We have put together the top 10 audiobooks to look forward to this time around.
See also: Top 10 Best Halloween Movies in iTunes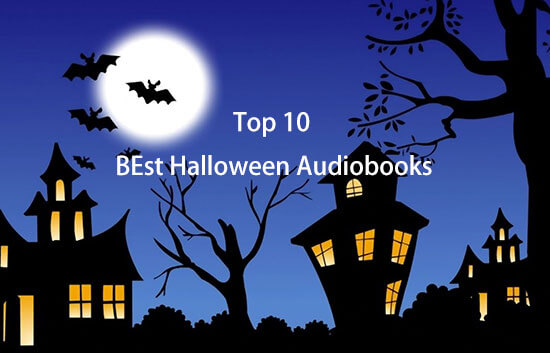 Part 1. Top 10 Best Scary Audiobooks You Should Get for This Halloween
No 1. It – Stephen King

This classic monster horror tale will keep you locked in for close to 45 hours. Being Stephen King's utmost national bestseller way back in 1986, this audiobook has what it takes to woe you to the perfect Halloween mood. Listen to the narrative of exploitation of seven children being terrorized by an eponymous creature. All that follows is phobias and fears from these victims as they try to camp for safety all through.
No 2. Carrie – Stephen King

Stephen King has mastered the art of good horror books. Carrie is about a high school girl who for a long time endured being bullied by other fellow girls. However, in a twist of time, she discovers her telekinetic powers which she then makes use of, to exact horrific revenge on all her bullies. This audiobook is a real scare especially when you finally learn of the kind of local disaster that Carrietta causes in the end.
No 3. North American Lake Monsters – Nathan Ballingrud

Monsters are a real scare but nothing beats the odd of those found at the lake. This audiobook narrates of a frightening werewolf story which will leave you shaken for the better part of the week. If anything to go by, better listen to this story while in the company of others as you might spend a whole day indoors because you are too frightened to walk out.
No 4. The Legend of Sleepy Hollow – Washington Irving

This famous supernatural wild chase will keep you entertained for one and a half hours. Being a story of speculative fiction, this halloween audiobook tale has been produced severally for horrific films and television shows. The gigantic wild chase will spin your mood, enabling you to move with speed as you drive along during Halloween.
No 5. My Life as a White Trash Zombie – Diana Rowland

This story of a teenaged dirtbag who lives in Louisiana is both a humor and a real scare. In the event of causing trouble by committing minor crimes, Angel suddenly turns into a zombie. This is actually among the best horror audiobooks suitable for all time Halloween season. The story tells of how she lands herself a job in a well-known morgue. The end result is a story of a zombie working on the dead. Get to the bottom of every unfolding detail for the next 9hrs and 5 minutes.
No 6. Broken Monsters – Lauren Beukes

Broken monsters runs for 13 hrs and 27 minutes. Lauren Beukes' thriller story is about broken dreams and people who are working towards bringing themselves back to the normal way of life. There is a killer in town who is busy mutilating bodies in a horrific manner. The first damage is to a little boy who's had his upper half cut and then sewn onto a deer's bottom half. However, all may not go on well for this killer being that a female detective is also on the hunt for him.
No 7. The Halloween Tree – Ray Bradbury

What do you do when you set to go out with your friends only to realize that one of you has mysteriously disappeared? Panic and fright will of cause hit you right away because it is a matter of life and death for this dear friend. Ray Bradbury incorporates imagery scenes which automatically send shivers when darkness falls. The title of this halloween audiobook puts it in its rightful place, leaving you speechless and feeling haunted during autumn.
No 8. The Good House – Tananarive Due

For 21 hours 58 minutes, you will walk through the dark valleys where Tananarive Due takes you. This story is of a woman who decides to look into the cause of her son's death. She thinks that it is from her grandmother's house where she can unfold the cause of the sudden death of her two-year-old. Things, however, turn bizarre when she walks to her grandmother's house and finds a wild creature living there. Get to learn of what happens within 'The Good House' that now appears ugly.
No 9. If You Find This – Matthew Baker

If you find a real treasure, what will you do with it? Mathew Baker's tale-tell story which goes for 7hrs and 25 minutes is all entertaining and lively. This is a story of real bravery of an 11-year old boy by the name Nicholas. He is out to prove whether his grandfather's lost treasure is real. He, however, faces many trials in the event. This is indeed one of the perfect halloween stories for kids of all ages. Besides not being scary, it narrates how to properly utilize a mathematical mind like that of Nicholas.
No 10. The Dark – Lemony Snicket

The Dark is another halloween stories for kids which tackles childhood's most fears. This audiobook enlightens on an empowering story on how to drive away fear. Lazlo, who is featured in this story, knows very well that darkness comes to stay. The story is full of amusements being that this kid believes that the 'dark' stays in his house. The only concern is for him to drive it away by preventing it from entering his bedroom. Lazlo then embarks on his journey to meet the dark and drive it away for good. Let your kids learn how to drive away fear during this Halloween by listening to this awesome audiobook.
Part 2. When to Download Best Halloween Audiobooks from Audible
All these best horror audiobooks can be accessed from Audible.com. However, you need to register as an Audible user to explore all the hidden treasures within. Nonetheless, you ought to have an audible-authorized device in order to listen to them. Even this being the case, you can still have the pleasure to listen to these wonderful tales from other devices. Simply use a third-party DRM removal tool to convert the audiobooks, enabling you to use any available device.
DRmare Audiobook Converter for Mac/Windows is of the fastest DRM removal tools in the market. It doesn't require iTunes to work. Just drag and drop to import your Audible audiobooks to the DRmare main screen and then click "Convert". It will help you convert Audible AA/AAX to MP3 like a flash with up to 100X faster speed. The trial version is free. Why not download and try it out yourself?