"Is there a simple way to play Audible audiobooks on Amazon Fire TV? When I am doing a sport, on a commute to work outside, I'd like listen to part of a book on my Android phone. But when I am back home, TV is always my first choice to relax. It is integrated with an Hifi speaker and extremely sharp screen. " - Question from Reddit forum
Amazon Fire TV is a series of digital set-top boxes including the Fire TV, Fire stick and the latest Fire TV Cube. It has the features to stream online media files from Netflix, Hulu, Prime Video, NBC , YouTube, Facebook, HGTV, SSPN, Fox and more just like the other streaming media players Roku, Chromecast. What's more, it is also an exquisite game console to meet your home entertainment requirement. It is not as powerful as PS4, Xbox One, but it is at a particularly low price. By the way, can it stream Audible books which is within Amazon's ecosystem? The answer maybe ambiguous to many users as we can't find it from its official page. Here I will explore the details for you in this post.
View also: How to Play Apple Music on Fire TV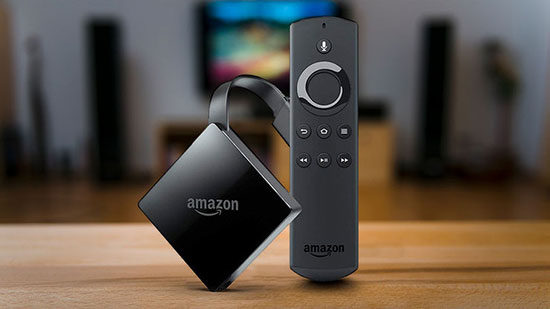 Part 1. The Official Ways to Play Audible Books on Fire Stick
When trying to search the solutions from Google, I have met some issues customers keep complaining like can't find Audible app for Fire TV and how to install Audible app etc. This is really confusing because all the questions are outdated. Actually Amazon have already solved these problems and offered pretty enough ways for users to enjoy listening to audiobooks.
Audible Cloud Player
This player is available for almost any kinds of computer devices with Internet access such as Windows PC, Mac computers, Kindle Fire, Fire TV. It enables you to listen to the Audible audiobooks without downloading. The problem is that sometimes it may redirect to the mobile version Audible website, making it difficult to work.
Step 1. Visit the Audible desktop website and log in with your account name and password.
Step 2. Click "Library" to locate the book you want to listen to.
Step 3. Simply tab the "PLAY" button below the cover of your book, it should start playing within a few seconds.
Enjoy Audiobooks by Installing the Audible App
This Audible audiobook app is not available until 2017. To use it, you can follow this tips to install it to your Fire TV devices.
Step 1. Power on your Fire TV and log on to the home screen of it.
Step 2. Click the "Search" box from the top of the screen and then type in "Audible" to locate the app. Or you can navigate to the Apps category and then check the apps one by one to find it.
Step 3. Open the "Audible" app description page and click the "Get" button to download it into your set-top box.
Step 4. When it is installed, you should be able to download and listen to any books you have bought already.
Ask Alexa to Play Audible Books
If you have Fire TV/Fire Stick, you can press and hold the "Voice" button on your Alexa Voice Remote. If you are a Fire TV Cube user, you can ask Alexa directly as it is already built-in the Alexa compatible device. Following is a list of the frequently used commands.
Listen to an audiobook "Alexa, read [The Hobbit] from Audible"
Pause your audiobook "Alexa, pause"
Go back or go forward "Alexa, go back", "Alexa, go forward"
Skip chapters "Alexa, next chapter"
Set a sleep timer "Alexa, set a [6 minute] sleep timer
View also: How to Play iTunes Movies on Fire TV
Part 2. Best Way to Play iTunes Audiobooks on Fire TV
These ways do work well for Audible audiobooks if you have the new model compatible Fire TV boxes. However, sometimes you may still encounter problems. For example, if you are having an audiobook party, you may not able to stream the books from the phones of your friends due to the digital rights management protection. In addition, audiobooks from other sources such as iTunes, Google Play, OverDrive etc. won't be able to play on Fire TV either. Among them, iTunes is the one which is closest to Audible in the audiobook area. It provides the second largest category for users and is also one of the popular choices of audiobook entertainment. Finally, the set up process can be tedious if you have multiple devices. Is there an once and for all solution to solve all these problems?
The answer is yes. You can use the free streaming media server app such as Plex and Kodi. These tools can host your media files on your local computer and enable your to access them from any other devices such as mobile phones, smart TVs, game consoles, streaming boxes which are connected to the same Wifi network. One thing you need to note is that all of the tools only support copyright free files. So you need to turn the DRM protected files into DRM free files.
DRmare Streaming Audio Converter for Windows/Mac is an all-in-one tool to strip DRM from multiple kinds DRM files such as Audible files, iTunes audiobooks/podcasts, Apple Music and so on. It is optimized with best converting logic, even if you convert hundreds of files, the process will still be pretty easy. For more info, you can visit the following features.
View also: Top 5 Streaming Audio Recorders
DRmare DRM Audiobook File Converter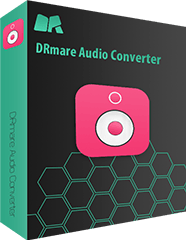 Strip DRM restriction from Audible AA/AAX audiobooks, iTunes M4B Files and so on.
Convert audiobook to MP3, AAC, M4A, M4B for any devices for Fire TV Stick
Support the premium features to split files, edit tag info, change playback parameters
Lossless output quality and 30X faster speed which are superior to any other rivals
Amazon Fire TV supports the streaming apps like Kodi and Plex perfectly. Now you can follow the tips get rid of DRM protection from your Audible audiobooks or iTunes audiobooks, then you can upload them to your Kodi/Plex streaming server. Here I will take iTunes M4B audiobook to show you how does it work.
Step 1

Add iTunes audiobooks to DRmare

To get started, please make sure you have already downloaded and authorized iTunes audiobooks on iTunes. Then you can click the two buttons from the bottom left of DRmare software to import your Audible audiobooks from iTunes library or computer folder depending on where you saved them before. Of course, you can also drag and drop the files from iTunes to DRmare software.
Step 2

Choose output formats and parameters

Although you can stream multiple different formats of audio files from your Kodi/Plex to the Amazon Fire TV, the format which we recommended highly is the MP3 because it is a best format which balances the compatibility and high quality. It will reduce any possible errors you may encounter during streaming.
Step 3

Convert DRM M4B to MP3

After that, you can click 'Convert' button to from the bottom right to transcode the iTunes M4B to MP3 files. With the batch converting feature, the output speed could reach 30X faster without sacrificing your audio quality. When it is done, you can move the files to any devices or players for playback.
Part 3. How to Stream Audiobooks to Fire TV
If you only need to stream the audiobook files on one smart TV, then it will be easiest to do that via USB. Just copy the files to your flash drive and plug it into the Fire TV box and it will be good to go. But if you need to stream to multiple devices, it is better to upload the media files to Plex or Kodi. Take Kodi for example, please follow the steps.
1. Log on the Kodi program from your computer. If you haven't set up a server for your Kodi, please simply install the app and sign up an account.
2. Click "Music" tap and then click "Enter files section" menu to choose your audiobooks file and upload them. It may take a few minutes.
3. Finally you can go to the Fire TV and log on the Kodi app with the same account name and password. You should choose any audiobook you want to stream there.