Does music affect our mood while driving? The answer is a big yes. Especially that we are on a long trip. Listening to the music not only helps us get more fun but also concentrate better when driving. This will ultimately lead to safer driving. Hence, many users want to listen to music in the car.
Spotify is the first choice for plenty of users to access music. Today I will show you the workable ways to play Spotify in the car. No matter what models of cars you have, old or new, you can find at least one way works perfectly for you.
View also: How to Play YouTube Music in Car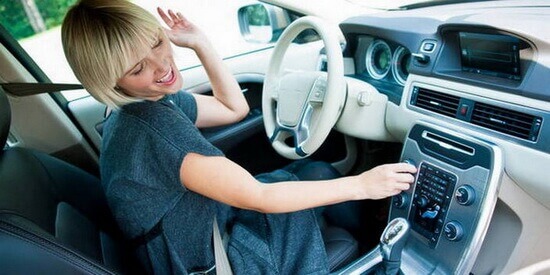 Top 1. Play Spotify in the Car via Android Auto or Apple CarPlay
Android Auto and CarPlay are mobile apps. They enable users to mirror the features from mobile to the car entertainment head unit. So you can imagine that you can use them to mirror Spotify music to your car audio system.
What's the difference between them? Android Auto is designed by Google for Android phones with Lollipop or above systems. While CarPlay is created by Apple for iPhone 5 and newer models with at least iOS 7.1. They both support GPS navigation, maps, telephony, messaging, and so on. It also supports music apps, like Google Play Music, Spotify, iHeartRadio, and much more.
This should be one of the best ways to make Spotify songs to sing in the car. The only problem is that not all kinds of aftermarket car stereos are compatible with them.
Step 1. Launch your Android phone and log into the Spotify app.
Step 2. Connect your mobile phone to the car stereo system which is compatible with Android Auto.
Step 3. You can launch Spotify on your stereo to start playing music.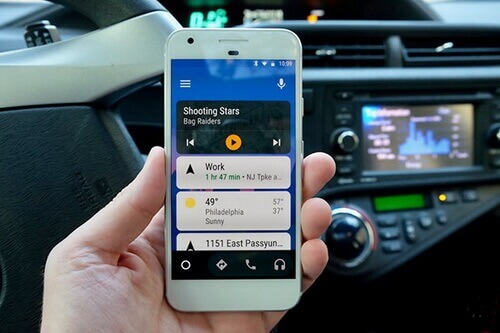 Spotify in the Car via Apple CarPlay
Step 1. Log into the Spotify app on your iPhone.
Step 2. Connect the iPhone to a compatible car infotainment system via USB cable.
Step 3. If Spotify is already playing, it will continue to play in the car. Else, you can open the Spotify app in the car stereo.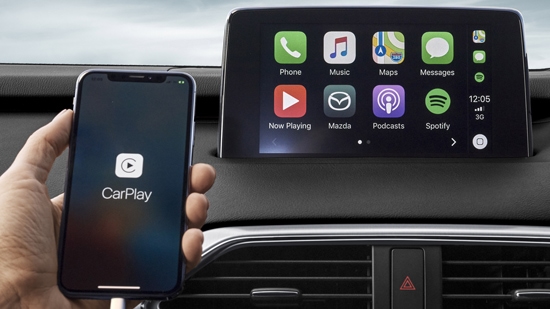 Top 2. Listen to Spotify in the Car Radio via Aux-In Cable
It's well known that almost all audio devices come with the Aux port. Such as MP3 players, mobile phones, portable speakers, car radio, and so on. With it, you can connect one audio source to play on another device with ease.
Until today, almost any car audio system still supports the Aux line-in connection. To play Spotify in your car, you can need to link your phone first. Then the songs playing on your phone will stream to the car.
But this way comes with a big disadvantage. With the development of mobile phones, Aux port doesn't exist on more and more new mobile devices. So honestly it may not work for some users.
Spotify in the Car via Aux Cable
Step 1. Connect your mobile phone to the car radio by the Aux cable. One end to the phone and the other to the car.
Step 2. Start launching Spotify app playing the music from your phone.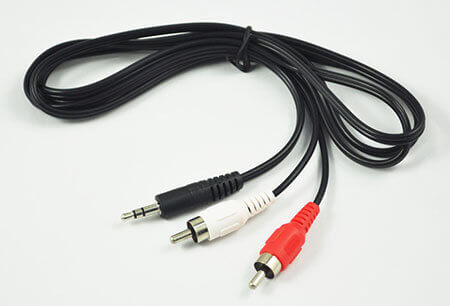 View also: How to Import Spotify to Apple Music
Top 3. Use Spotify in the Car through Bluetooth / FM Transmitter
Tired of connecting with so many cables? No worries. You can also connect your phone to your car via Bluetooth or FM Single.
Unlike Wifi connection which requires you to have internet access to work. Bluetooth and FM Transmitter don't need this to work yet the power consumption it requires is low. Technically, you can connect your phones/tablets/computers to the Car via Bluetooth. For FM the connection, you will have to use an FM Transmitter.
Spotify in the Car through Bluetooth
Step 1. Turn on the Bluetooth option on your car head unit.
Step 2. Go to the Bluetooth section of your phone/tablet/computer. And then you can start searching the available device. Then you can select the car stereo to set up the connection.
Step 3. After that, you need to launch Spotify on your device, the music will be mirrored to the car.
Spotify in the Car through FM Transmitter
Step 1. Turn on the Spotify songs you'd like to listen to from your device.
Step 2. Plugin the FM Transmitter into the Aux port of your device, and you can adjust the FM single to one which is not used.
Step 3. Go to your car sound system to search the FM radio with the same frequency to receive the Spotify streams.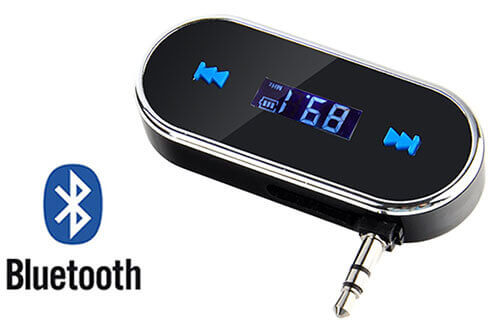 Top 4. Stream Spotify in the Car via USB Flash Drive
The 3 methods mentioned above all depend on an extra device to help you stream Spotify music in the car. Someone may ask is it possible to download Spotify music to the USB drive so that you can listen to it offline. Honestly, there is not an official way for this.
This is because all Spotify tracks are under protection. You need to subscribe to the Premium account before you can cache them for offline listening. You can't convert them to a universal format such as MP3. Because Spotify will lose control of the music in that way.
Well, that is not a good experience. It makes no sense that we can't get the most out of the Spotify songs after subscribing to the Premium. To solve this trouble, you may use DRmare Spotify to MP3 Converter to help you download the songs legally.
It is easy and the quality is 100% kept. To do this, you need to drag the Spotify music to the DRmare software. And then choose MP3 format, and click 'Convert', then you should download all the songs within a short time.
Spotify in the Car through USB
Step 1. Copy the converted MP3 files to the USB thumb drive.
Step 2. Insert the USB drive into the car stereo system.
Step 3. Open one audio player and browse the converted Spotify files to play.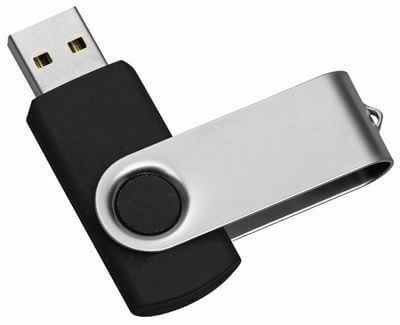 Top 5. How to Play Spotify in the Car from Stereo CD Player
Spotify officially doesn't allow users to burn CDs either. But you can also follow the same guide above to convert Spotify to MP3. And then import the Spotify MP3 files to iTunes library and burn the Spotify playlist to CD.
Although CDs are not as popular as it is still useful. It plays a big important role for all music lovers. Most car GPS infotainment systems still keep the feature to play CDs. Each CD has 700M space, please make sure the songs you want to burn are less than 700M. Otherwise, you will have to burn more than one CD.
Spotify in the Car from CD Player
Step 1. Burn the download Spotify MP3 files to CD in iTunes.
Step 2. Insert the CD into the Car CD system.
Step 3. Launch the audio player and start to play songs from the CD.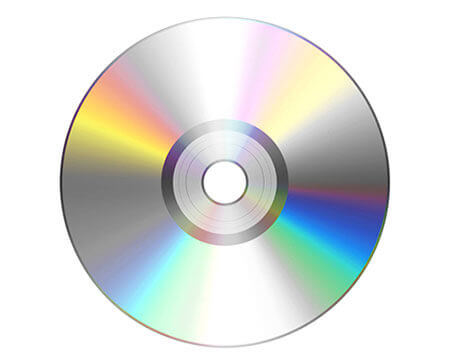 Sum Up: Best Way to Listen to Spotify in the Car
That is all for it. Usually, there is no big experience difference in listening to music through these 5 ways. Yet, the effort or energy it takes is different. Because not all the car stereos support all the features we noted above.
In my opinion, if you'd like to stream music through a phone, the ways to play Spotify in the car via Android Auto, Aux, CarPlay, or FM Transmitter. Else if you like to play Spotify music offline, you'd better copy Spotify music to a USB drive or burn them to a CD.
Do you have any more questions? You can comment below.