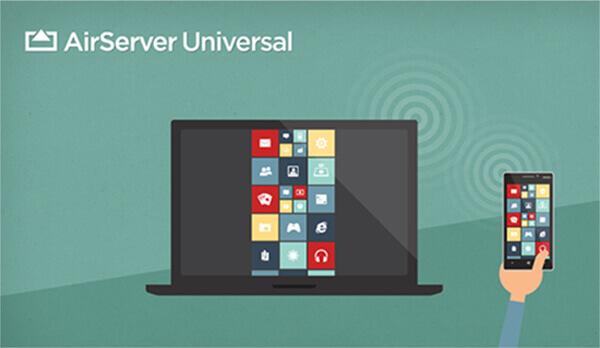 There are many scenarios that we need to cast our devices to big screen display in our daily routine. For instance if you a teacher, you may want to show contents to your class with your portable device of choice. When holding a meeting in the office, you'd like to get the freedom to direct your presentations. Or if you are watching movies, playing games, it is also a good idea to mirror it to a widescreen TV so that to enjoy them together with the entire families or friends.
Which ways do you use usually? AirPlay, Google Cast or Miracast or all of them? If you are tired of switching different devices to help you, now it is time to try the new way by using AirServer. With a Single AirServer app, it can turn your computer into a universal mirroring receiver. Here I will illustrate how to stream iTunes DRM movies via AirServer.
Part 1. What Is AirServer and How Does It Work
AirServer Introduction
AirServer is the most powerful screen casting software receiver for computers, Xbox, Surface Hub, Philips TV and so on. It supports to receive singles from any devices with Google Cast, Miracast streams, AirPlay features such as the iPhone, iPad, Mac, Chromebook, Windows 10, Android. It includes the AirServer app and the AirServer Connect. Currently there is still not an AirServer hardware, but it is coming soon.
How Does AirServer Work
AirServer app adds the features of AirPlay, Chrome Cast, Miracast to your destination compatible devices. All you need is to install the AirServer. Then you will be able to cast or mirror any devices to it. What's more, if your portable devices are in different networks, you don't need to worry either. You can install the AirServer Connect to the devices and then connect it by scanning the AirServer QR code in a easiest way. In addition, the AirServer Connect for Android can even add mirroring capabilities to your Android devices.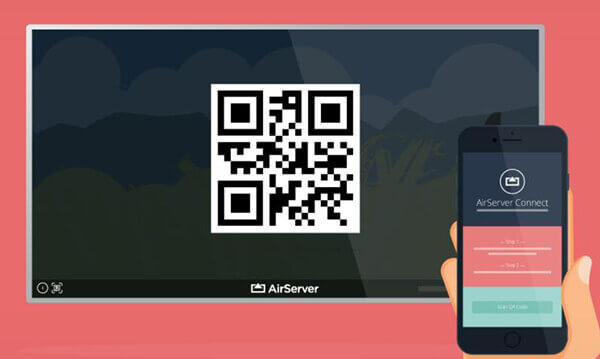 Part 2. Cast iTunes M4V Movies with AirServer from IOS Devices
The instruction for IOS 6/7/8/9/10/11 is more or less the same, I will take the latest IOS 11 for example.
1. Install AirServer. Just download and install the AirServer package from the official website, you can install it on Windows, Mac, Linux etc.
2. Connect to the same network. Turn on your IOS device and the device with the AirServer installed and make sure they are connected to the same networks like Wifi. If the IOS device is in a different network, then you can install the AirServer Connect to your IOS to help.
3. Connect IOS to the AirServer. Swipe up from the bottom of your iPhone/iPad/iPod to access the Control Center. It should prompt you the option 'AirPlay Mirroring', you can tap it and then choose the destination mirroring device you want.
4. Start playing iTunes videos. You might play the iTunes movies, TV shows, Extras or any other movies. Your videos will be cast to the big screen instantly without any lag.
Note: Currently AirServer only supports to stream purchased movies, it still doesn't support to stream rental content over AirPlay on IOS. In addition, since iTunes films are not playable on non-Apple devices, so you can't stream iTunes movies from mobile phones with Windows/Android or any other systems directly.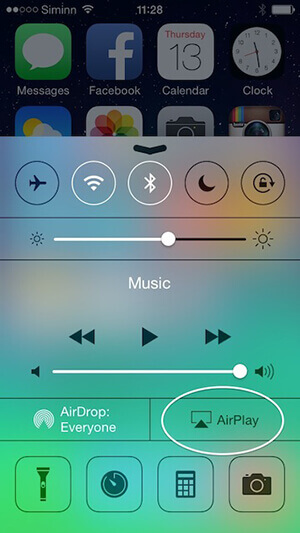 Part 3. Stream DRM Protected Movies to AirServer from Any Devices
AirServer provides an easy way for other non-Apple portable devices including Android, Windows, Linux to connect easily too and the steps are similar to connect an IOS device. The difference is that when using Android or Windows devices, you are connecting through the Google Cast or Miracast feature. For some Android device which don't support Google Cast, you don't need to worry either as you just need to install the AirServer connect, which can add the mirroring feature to your Android device.
But as iTunes movies are DRM protected, they are impossible to play from non-Apple mobile phones or tablets. If you really want to share your iTunes movies to others such as your students, workmates, friends or families via big screen device with AirServer from any devices, you can try this best solution to remove DRM with DRmare iTunes M4V Converter for Mac/Windows. It is easy to use as well as with high performance. After get rid of the copy protection, you will be able to stream them anywhere with AirServer. To learn more about the instruction, please visit: How to Remove DRM from iTunes M4V Movies.