"I am a teacher from the K12 school and I'd like to enjoy Spotify music when I am at work. I found that all the computers from my school are not allowed to install any third party streaming music programs. In addition, I tried the Spotify web player, it simply won't be connected either. Can I still listen to Spotify music at school?"
"My company has a high limitation on the work network policy settings. During the work hours, the computer can't be connected to any entertainment websites including video or audio websites which are blocked. This sucks, I need to listen to music during my work which makes me feel relaxed, comfortable and creative. Please help."
Music is an indispensable part of the daily life for most users. But many schools and companies don't want its staff to idle during working hours. Well, that makes no sense. While this maybe not a problem for common persons, it will surely frustrate the music fans. There is no evidence that listening to music will reduce the efficiency. And sometimes it can even boost the working productivity.
If you are a music fan who also faces the same problem, now you don't need to worry about it anymore. Here I will show you how to unblock Spotify and Apple Music to play anywhere.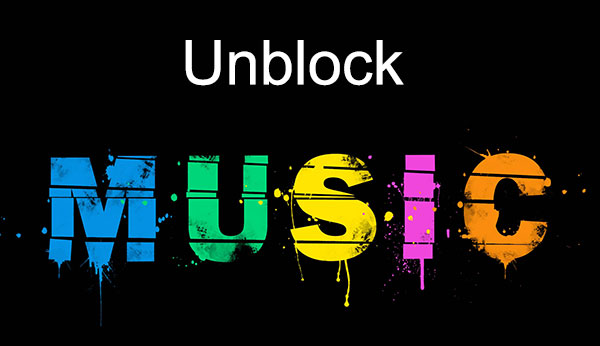 Part 1. How to Unblock Spotify Music at School
When it comes to streaming music services, the first one come up from my mind is Spotify. It is a Swedish audio streaming platform which provides DRM protected music and podcasts from media companies and record labels.
It was launched in 2008. After years of development, it is available from many countries. Music lovers can enjoy Spotify from Windows, MacOS, Linux, iOS and Android devices with either free plan or premium plan. However, as of now there are still over 79 countries don't have access to Spotify.
Yet, the education network and some company networks block Spotify too.
Generally to bypass the network policy barrier at school, usually you just need to buy an VPN service such as Express VPN. It is expensive in the long run though.
Another much better way is to use Spotify Song Converter for Mac from DRmare to export all Spotify songs offline. This software combines the DRM removal and audio encoding technology, which an quickly remove DRM protection from Spotify songs and convert the OGG Vorbis to MP3 in batch. You can convert the Spotify songs from your home computers first, then you can copy the MP3 songs to play at your school computers or any other devices freely. Compared to any other similar products in the market, it is not only faster but also with lossless quality. For more tips, please visit: How to Convert Spotify Songs to MP3.
The trial version is available for free. You can try it out to unblock Spotify music at school without spending any money.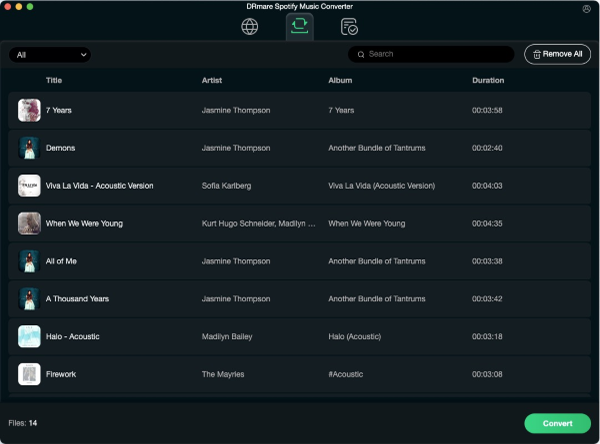 Part 2. How to Unblock Apple Music at School
Apple Music is a late participant in the streaming music industry. It was not launch until 2015. But due to it largest fans with the hardwares like Macbook, iPhone, iPad and iPod touch. It has been quickly boosted as the second most popular streaming music sites just following Spotify. In the US, it also supersedes Spotify as the largest music platform.
Unfortunately, as a hot music source, Apple Music is also blocked in many schools and companies. In addition, due to the DRM protection, they are only playable on Apple devices, computer with iTunes and Android phones with the Apple Music app.
If you'd like to unblock Apple Music to play at school, office or any places, you can try the similar way to convert Apple Music to MP3 at home first by using DRmare Apple Music Converter for Mac.
It is an all-in-one tool which supports Apple Music, iTunes songs/podcasts/audiobooks and Audible audiobooks. With the background acceleration technology and advanced DRM removal technology, the converting performance is highly above any other rival products. It supports the latest Windows and Mac systems, you can click "Download" button to download the free trial version to your computer. Note: DRmare software is only for personal use, so please don't try to sell the converted songs for making money.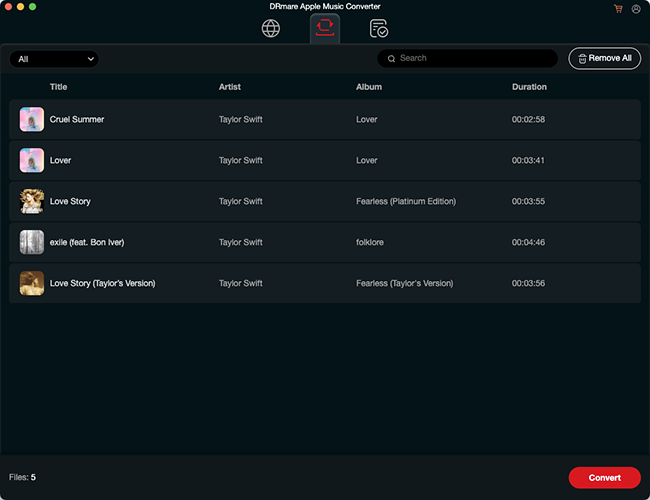 Part 3. Top 5 Unblocked Music Websites at School
Though many hot music are blocked in the strict work environments like schools, companies, colleges, there are free music websites without any restrictions.
Besides unblocking Spotify or unblocking Apple Music, another best work-around is to find a free unblocked music streaming website. Following is a roundup list for your reference.
Slacker Radio
Slacker is the top unblocked music sites with millions of songs. You can listen to a wide variety of genres from Pop to Rap to Electronic songs..
SoundCloud
SoundCloud is another best music streaming platforms just like Spotify, Apple Music. It enables users to upload their own songs, so the library it has is pretty large compared to any other services.
Grooveshark
Do you want to get access to music from your school, workplace or college? Look no further. Just try the Grooveshark. You can easily to search and play your favourite songs. Also, you can create multiple playlists.
PureVolume
This is one of the best music sites which are not blocked in school. It is not only good for music lovers but also artists. It enable artists to find any new music as well as promote their music.
Jango
If you are looking for an unblocked music website, Jango is a best bet. It has an intuitive interface, you can easily create your favorite playlist to listen freely.