What player do you use to play videos on Windows computer? Windows Media Player or VLC player? If you just tried of these players, you may give the PotPlayer a try.
PotPlayer is one of the most popular multimedia players for Windows out there. There are lots of features and benefits with it. The primary one is that you can run just about any types of video content with it. Also, it offers great performance with the help of CUDA, DVXA and QuickSync. You will have immersive experience when playing 3D, 4K movies. It surely will suit your needs and expectations.
For common videos, PotPlayer play all of them effortlessly. But you may not watch iTunes movies with it, please continue to read to find out why and the alternative solution.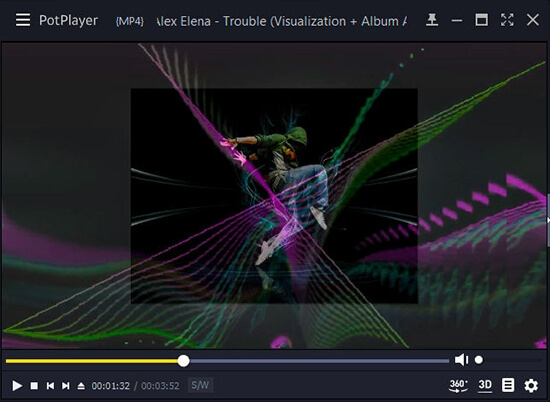 Part 1. Can You Play DRM iTunes M4V Videos on PotPlayer
If you want to play iTunes video on PotPlayer you will hit a wall. The reason is simple. iTunes videos have DRM protection which stops you from making any type of playback with any players. You can't do that unless you find a good solution to remove DRM protection.That is a shame, because PotPlayer is indeed one of the best multimedia players that you can use on the market at this particular time.
Fortunately you don't need to worry about this problem. Since the release of DRM, it has caused much controversy all over the market and many innovative companies have released multiple easy-to-use DRM removal software to remove DRM from digital media files. You just need to get one for your daily use.
When it comes to converting iTunes video, DRmare iTunes Video Converter for Windows/Mac offer really solid features and it is highly recommended.
DRmare iTunes M4V Video Converter
Part 2. Remove DRM Encryption from iTunes Digital Media Files
Though DRM removal is a very complicate job, the entire converting process is designed to be very simple. With the smart DRmare M4V Converter, it did all the converting job under the background automatically. What you need to do is just let the DRmare software know the how you want to convert the videos.
Step 1

Prepare iTunes rentals and purchases

It is not possible to convert iTunes movies online without downloading. So please make sure to download and authorize them to play on iTunes first. Then it is a cinch to import the files to DRmare software by dragging & dropping.
Step 2

Customize output file you want for PotPlayer

As a comprehensive DRM converting software, DRmare offers plenty of options to make the output movies meet users special requirements better. For example, some users want the files with smaller size or want a specific output format. It is not a must-do step though. Actually keeping the default MP4 format and parameters should work perfectly for PotPlayer. Even if you don't customize the output settings, you can customize the videos later when playing on the PotPlayer.
Step 3

Remove DRM copy protection

After the 2 steps above, your files are still not changed. To apply the changes, please click 'Convert' button in the low right. DRmare will transcode your movies to the one you set already. When converting, iTunes will play your videos in the mean time. It is normal because DRmare need to get access to the videos to help you decrypt the files.
Part 3. How to Use PotPlayer to Play the Converted iTunes Movies
Once you have the converted video ready, you can go to the directory where you stored that video. Then drag and drop the movie into your PotPlayer for playback. You can play any iTunes digital media contents as long as you use DRmare to remove the DRM from them.
PotPlayer will offer you many options to customize the output files including audio equalizer/volume, video brightness/contrast/saturation/color, subtitle font/position/sync, playback speed and son on. Just do everything you want to make your watching a better experience.
In the end, learning how to use PotPlayer play converted video is really easy. But you do need to learn how to use the DRmare app first so you can get the unrestricted files. Should you have any questions, you can submit your comments below, we will try our best to help you.