With the popularity of iTunes store, one of the biggest digital online stores allowing users to download, play, organize digital media files, more and more people turn up to iTunes store for purchasing and renting movies and TV shows from overwhelming variety of digital files.
In order to make you enjoyable iTunes digital files more convenient and easier, Apple allows iTunes users to share purchased and rented movies at up to five devices with iTunes-linked Apple ID while connecting with the same Internet. Beyond all questions, Apple's iPad is great tablet for watching movies with a big screen and easy to carry, whether you're on the couch or wrapped up in bed.
If you are the newbie using iTunes store on iPad, you might have no idea about playing iTunes videos on iPad directly and streaming iTunes movies from computer to iPad. No worries! Here are different ways of copying iTunes purchases and rentals to your iPad for playback.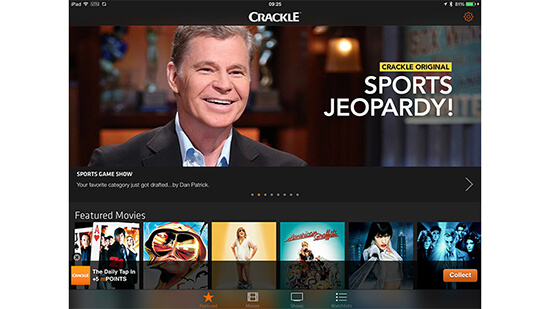 Part 1. How to Play iTunes Movies on iPad Directly
As a professional media player, iPad has been thinner and lighter over the years and gives viewers an extraordinary virtual experience. The biggest advantage is that iTunes store is available for iPad directly meaning iTunes addicts can use their favorable iPad to purchase, download, as well as play videos with ease.
Tablets, include iPad can't work alone without Internet connection. But fortunately, videos are allowed to download from iTunes stores directly on your iPad, even without connecting your tablet to your computer. Once downloaded, you can freely play iTunes purchased videos without any limitation. Following is the simple guide of buying and downloading movies from iTunes store on your iPad for playback.
Step 1. Double click to launch iTunes store application on your iPad.
Step 2. Choose the Movies section from the top menu bar in the iTunes store screen.
Step 3. In the new screen, there are various iTunes videos you can choose to rent and purchase.
Step 4. Once found out favorite video files, you can select Buy Movie or Rent Movie option to begin the iTunes movie download. You can enter into iTunes library to play downloaded films even offline.
Part 2. How to Watch iTunes Movies on iPad via Home Sharing
Alternatively, Home Sharing is also an easy solution to stream iTunes purchased and rented videos on iPad. Home sharing is also suitable for all iOS devices. No matter which Apple's mobile device you have, iPad, iPhone, iPod Touch or others, you can follow the basic steps to watch iTunes purchases and rentals as below.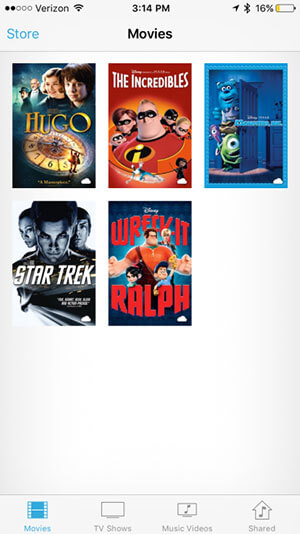 Step 1. Launch your iTunes on Mac or PC computer-> Go to File-> Home Sharing-> Turn on Home Sharing in iTunes firstly. A new window will show up a confirmation message of turning on Home Sharing function, please click the Done button simply.
Step 2. Enter into iTunes store app on your iPad-> Navigate to the Settings-> iTunes Videos. And now you can scroll down to the heading called Home Sharing.
Step 3. If required to sing in iTunes account, you need to enter the same Apple ID and password used on your computer using Home Sharing. Please make sure that your iPad and computer are under the same home network.
Step 4. Navigate to the Video app, and then you can tap the Shared option to choose shared iTunes library from the list of shared items and tap Done button again.
Step 5. Now, you can choose wanted movies from shared iTunes library to play on your iPad.
By the way, if you would like to use iTunes Home Sharing to stream iTunes purchases and rentals to other Apple devices, there is a useful tutorial for your reference: How to Share iTunes Movies via Home Sharing.
More Tips: Watch iTunes Purchases and Rentals Offline without Any Limitations
First of all, we can't deny it's really convenient thing that Apple allows us to share iTunes purchased and rented movies and TV shows with up to five devices. But because of the DRM protection, we are limited to play iTunes video files on Apple's ecosystem only by authorizing iTunes movies online.
Download Movies to iPad to Watch Offline
If you are using iPad on the go outside without Wifi, you may fail to play iTunes videos on iPad due to the DRM protection. To get out of this trouble, you can turn to some third-party iTunes DRM removal tools like DRmare M4V Converter for help.
This software can not only remove DRM protection from both iTunes purchases and rentals but also convert iTunes DRM M4V to other common formats compatible with non-Apple devices and media players. It can keep 100% original quality in converted iTunes DRM-free videos.
You can follow the tips to convert iTunes M4V to MP4 files first. After that, you can go ahead to sync the MP4 movies to iPad via iTunes. You won't need to worry about the playback issue anymore.
To sum up, by using the DRmare software, you can enjoy iTunes movies on both Apple and non-Apple devices, such as Android phones, Windows phones, and smart TVs. That is amazing, isn't it?
Let's know if you have any comments below.