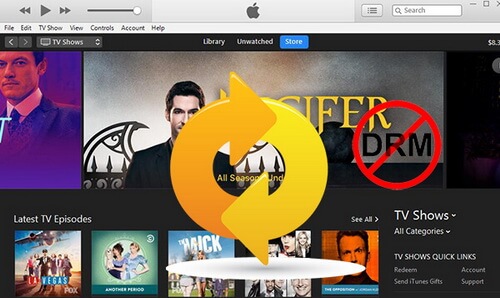 As one of the biggest providers of digital media content, iTunes offers almost any movies, TV shows, Apple Music, Audiobooks we need and it has become the best entertainment choice of plenty of users.
Speaking of iTunes files, one thing we can't ignore is that they are combined with FairPlay Digital Rights Management for preventing piracy. But this DRM copy protection also cripples the freedoms of users to play the videos outside of Apple's ecosystem. For instance, you might be stuck when trying to play iTunes movies on an Android home theater.
If you are a movie lover cares about watching experience much, you surely don't like this limitation. Good news is that ever since the DRM appears, numerous of DRM removal tools have came out. Up until now, there are hundreds of DRM software with different features, performance, usability, price in the market in 2019.
To save your time and make the right decision, we have spent several days to test and reviewed the top 6 Best DRM iTunes Video Converters of 2019 here.
Top 1. DRmare M4V Converter (Windows & Mac) - $44.95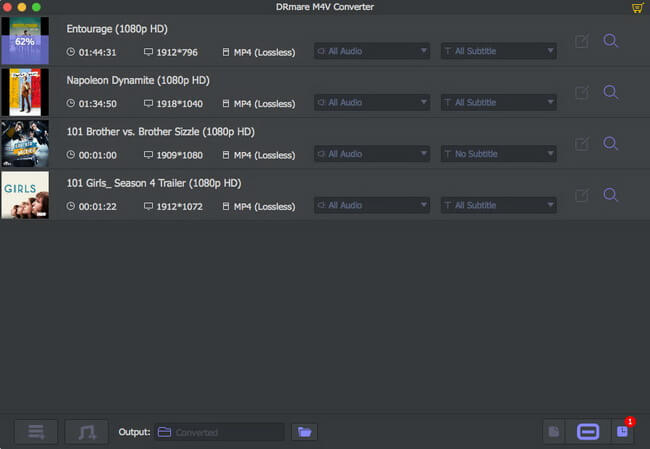 DRmare M4V Converter for Mac/Windows is a clean yet powerful iTunes M4V video converter revamped with the latest technology in 2019. It supports any iTunes movies, TV shows, Extras you throw at it. The output profiles cover almost all the audio and video formats like MP4,MKV, AVI, WMV, 4K, DivX, FLV, AAC, MP3, AC3, FLAC and latest devices like iPhone X/8/8 Plus, Galaxy Note, Galaxy S8 and so on.
Besides, it has been optimized on the workflow with multiple parallel converting threads. When it starts to convert videos, the converting speed could reach up to 20X faster. And you don't need to worry about the output quality, everything will be kept 100% as original.
Pros:
* Easy and fast converting, lossless output quality
* Free trial version is readily available and refund guaranteed
* Support Windows XP/Vista/7/8/10 & Mac 10.8~10.12 with latest iTunes 12.7.2
* Support multiple output formats and devices
* lifetime free update and instant technical support
Cons:
* Lack the feature to convert audio files
Top 2. Aimersoft DRM Media Converter (Windows) - $35.95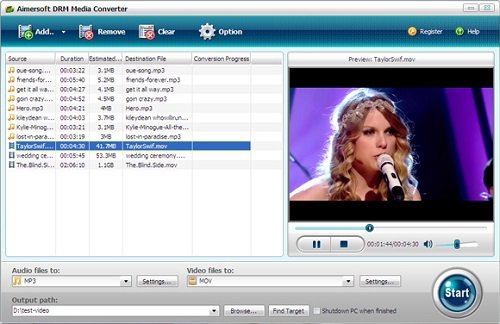 Aimersoft DRM Media Converter has been a well-known Windows DRM removal software for converting videos and audio files from many differences sources like iTunes, Windows Media Center, Amazon Instant Video, Napster, Pandora, Audible etc.
However, it uses the traditional recording method to crack DRM. Sometimes the output media quality maybe reduced and the converting speed is relatively low. That is why we don't rank it as top 1 best DRM removal software of 2019.
Pros:
* All-in-one DRM audio and video converter
* Compatible with all the hot devices
* Free trial version available and 30 days refund guaranteed
Cons:
* Support Windows system only
* The output quality may be reduced and the converting speed is low
Top 3. TunesKit DRM Media Converter (Windows & Mac) - $44.95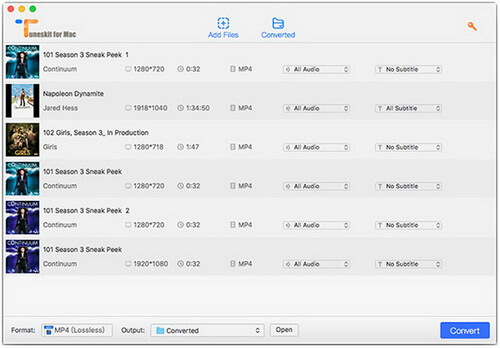 TunesKit DRM Media Converter is probably the most professional DRM tool for bypassing DRM protection. I am impressed with its great design the moment I used it. Everything is so intuitive. You can choose any profiles for your devices, players, game consoles or editing software on the Mac version.
Further more, it also offer plenty of options to customize the audio tracks, subtitles, Dolby 5.1 Audio, AD and so on. Of course, the converting speed and output quality is also high.
Pros:
* Beautiful and intuitive screen
* Super high converting speed and quality
* You can try it out for free and 60 days refund guaranteed
* Wide compatibility with both Windows and Mac systems
Cons:
* Only convert iTunes rentals and purchases
* The Windows version output formats are limited
Top 4. AppleMacSoft DRM Video Converter (Windows & Mac) - $44.95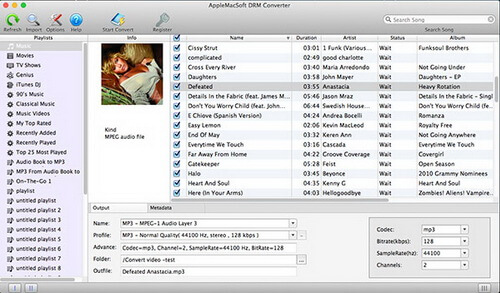 AppleMacSoft is a dedicated software for converting iTunes m4v files on Windows 7/8/10 and Mac 10.8~10.12. It supports both iTunes rentals and purchases. Just click 'Add files' button and click 'Convert', it will quickly batch strip DRM and create new DRM Lossless free files to play on multiple hot mobile devices and game consoles.
But it doesn't offer the option the customize your output profiles. The only output format it supports is MP4. In case you want other formats, you have to try again to reconvert the videos to other formats by HandBrake free video converter after removing DRM.
Pros:
* Easy to use
* Fast converting speed and high output quality
* Free trial version available

Cons:
* Only support to import M4V files
* No option to customize the output profile
Top 5. NoteBurner M4V Converter Plus(Windows & Mac) - $44.95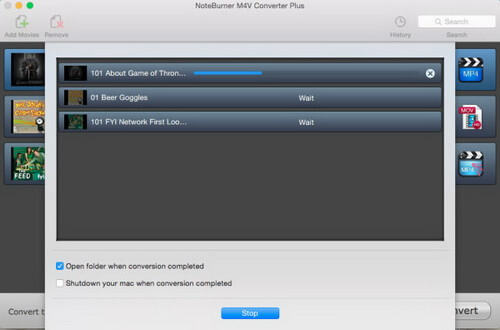 NoteBurner M4V Converter Plus is another software similar to TunesKit for unlocking DRM copy protection.
It originally used a virtual burner to remove DRM but have changed to the deciphering technology on the later version. It supports lots of devices such as Motorola, Sony, BlackBerry, Samsung Galaxy, HTC, Nexus, iPhone, iPad, iPod, PlayStation, Xbox and so on. The converting features are really robust and powerful. On the media importing screen, it categorizes the movies with detailed tab info for each video.
However, according to our test, the design is outdated. Sometimes I found it difficult to locate the features and just not so smooth to use.
Pros:
* Show video tab info on the importing screen
* Convert iTunes videos to multiple types of files
* Batch decrypt iTunes movies and TV shows
Cons:
* The interface and design is a little confusing
* Some errors may occur when importing iTunes movies
Top 6. Pavtube ChewTune (Windows) - $29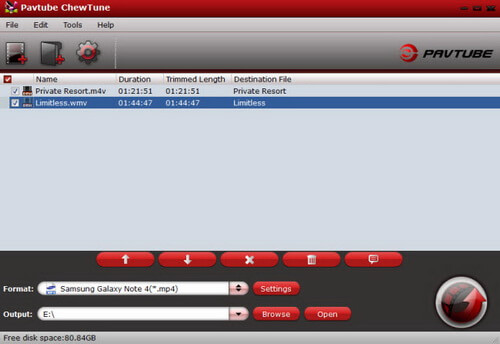 Pavtube ChewTune is a comprehensive DRM audio and video converter. It takes the recording technology to decrypt the copy protection so it works for any video and audio files from different sources like Blueray, DVD, digital copy, iTunes movies/TV shows/music videos, Amazon Instant, BBC iPlayer and more. Although it is not updated in 2019, it is still loved by a lot of users. The system it supports are Windows XP/Vista/7/8/8.1.
Also, since it uses the recording method, so the output quality and converting speed will be affected too. The bottom line is that if you do want a comprehensive tool on an old Windows computer, Paytube ChewTune could be one of the good choices.
Pros:
* Support Blueray and DVD
* Support to convert both audio and video files
* Multiple customization options
* It is at a low price
Cons:
* Take a little long time to load
* Only support Windows system
* Output quality will be reduced
Summarize
In short, these are the best iTunes DRM M4V converters we pick among hundreds of DRM video converters in 2019. These converters mainly adopt the technology decyphering or recording to bypass DRM.
With the recording method, it makes it easy to work with more input files from different sources such as the Aimersoft DRM Media Converter and Paytube ChewTune. As for the decyphering technology, usually it doesn't work for files outside iTunes store. But it can keep the original lossless quality since the video won't be touched during the converting process.
If you are looking for such a converter with direct crack technology, DRmare M4V Converter is highly recommended for its overall features and performances.