This familiar song starts to play at a friend's party. You once heard the song sometimes back and just fell in love with the lyrics. But wait! You neither know the artist nor the title of the song. Again, you are at a flashy party and you have to act sophisticated like the rest. You are at a corner chewing your nails and wondering how the hell to know the artist of this song which its sentiments touch your heart. This is the time to opt for Shazam to Spotify. Luckily, this phone app uses song recognition technology to pinpoint a currently playing song.
Once you open the Shazam app, put it next to the music system and it will identify the artist, lyrics, and the name of the song currently playing. More so, all you need is to capture about 20 seconds of the song whether it's the chorus, intro, bridge, or verse, and the app will brief you of the necessary details. By this, you can search and play the song on Spotify as Shazam has integration with Spotify.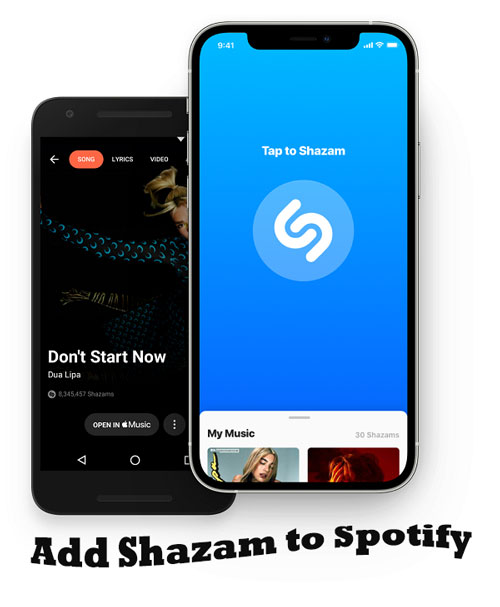 Part 1. How to Connect Shazam Spotify
Shazam can link to Spotify if you operate a Premium account. Check out these steps on how to connect Spotify to Shazam.
Step 1. First, ensure both Spotify and Shazam apps are installed on your phone or device.


Step 2. Then, launch the Shazam app on your device, swipe up to the "My Music" section, and tap on the "Settings" button.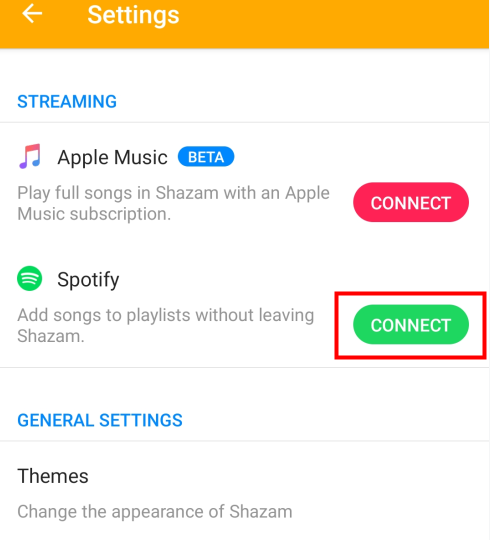 Step 3. Next, hit the "Connect" tab next to Spotify. Wait for the Spotify app to open, then, scroll down and tap the "Agree" button to authorize the link.
Step 4. Once the Shazam app has connected to your Spotify account, you can start listening to Shazams in full. Just tap the "Play" button next to a song to listen to a brief preview in Shazam. You'll then get more details and be able to listen to the whole song on Spotify.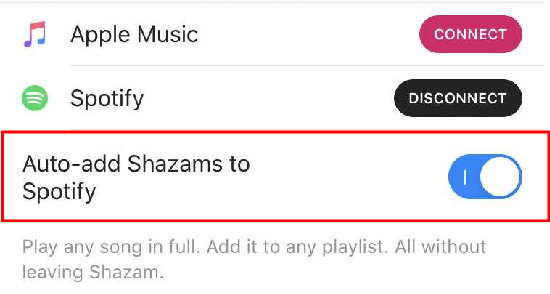 Note: You can also create a "My Shazam Tracks" playlist in Spotify. To do so, go into Shazam's "Settings" and toggle ON the switch next to the "Sync Shazams to Spotify" section.
Part 2. Shazam Songs Can't be Synced to Spotify: How to Fix?
Even though Shazam should be synced to Spotify seamlessly with a Premium subscription account, you may sometimes experience Shazam Spotify can't sync issues. You can arrest the situation by fixing it through these two solutions.
1) Reset Shazam and Spotify link
This solution will help in the case when you can sync a song from Shazam to Spotify.
1. Launch Shazam and head to the "Settings" option. Then, tap on the "Disconnect" tab to stop the syncing feature.
2. Next, open the "Spotify" app and go to "My Shazams Track playlist". Then tap the three dots in the upper-right corner to delete a song or playlist.
3. Finally, connect Shazam with Spotify.
2) Enable the "Auto-add" in Shazam
It is better to enable the "Auto-add" feature to make your playback in Shazam play automatically in Spotify.

1. First, launch Shazam on your phone then open the library.
2. Tap on the "Settings" gear and switch the "Auto-add" Shazam feature Spotify "ON". This will enable the feature for automatic playback.
Part 3. How to Get Shazam Songs on Spotify without Spotify Premium
With a Spotify Premium subscription, you can enjoy unlimited download and playing of songs offline. However, this will not be business as usual for free subscribers. Spotify encrypts its files and limits access. You, therefore, need to first download and convert your Spotify playlist before you add Shazam to Spotify. DRmare Spotify Music Converter will step in the gap, downloading and converting over 50 million OGG Vorbis playlists, albums, songs, etc to playable formats like WAV, AAC, MP3, among others.
This app will also keep 100% lossless quality ID3 tags and metadata information. These include genre, album, artist, title, etc. You can also change audio parameters like sample rate, codec, bit rate, among others. And once the conversion is completed, you can save and sync your albums, and playlists to any mobile device and player.
DRmare Shazam Spotify Music Downloader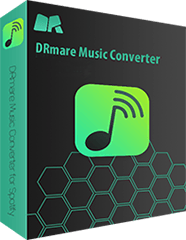 Keep and edit ID3 tags, customize output parameters as you like
Has clear interface and a safe and stable system
Convert Spotify to MP3, AAC, M4A, M4B, WAV, FLAC, etc.
Import songs directly by copying links or dragging, simple operation
How to Use DRmare Spotify Music Converter to Convert Shazam Spotify Playlist Offline
Follow these steps to download, convert, and enjoy Shazam Spotify in three steps.
Step 1

Download and launch the DRmare app on your device

First, download the DRmare app and install it on your Mac or Windows OS device. Next, launch the app and you will notice the Spotify app also loading immediately.
Step 2

Add Spotify playlist to DRmare Music Converter

To add songs, just drag and drop your favorite playlist from Spotify to DRmar's interface. You can, alternatively, copy and paste the Spotify song URL to the search box.
Step 3

Customize the output parameters for Shazam to Spotify

To adjust output settings, click on the "Menu" bar and select the "Preferences" option. Then, continue to adjust the output format and parameters like bit rate, codec, and channel, among others.
Step 4

Convert playlists to MP3 and add to Shazam

Confirm that your selections are as you need and then click on the "Convert" button. DRmare app will convert your files as set. You can then access the converted playlist by clicking the "Converted" icon at the left corner of the interface. When you add them to Shazam, you will then stream Shazam Spotify without Premium.
Part 4. Conclusion
That's it! How to get Shazam songs on Spotify has been proven easy via the aforementioned ways. More so, don't let any sync problems deter you from enjoying Spotify Shazam. Just solve the issues with the above solutions. And if you run a free Spotify subscription, you are not left out either. Use DRmare Spotify Converter to quickly convert your playlists to common playable formats that are compatible with any device or player.