Everybody knows about the boatload of songs available on Spotify. It currently boasts 300 million+ songs, and this should tell you why everybody wants to have Spotify. Moreover, Spotify makes searching for your favourite artists easy. But, do you wonder if you can play Spotify on Yamaha receiver? Those who have a Yamaha receiver may want to connect Yamaha with Spotify, and it makes sense since Spotify may have all the songs you listen to.
Here in this post, we will tell you about two effective ways that you can try to play Spotify on Yamaha 867 receiver. One will be the official way to connect Spotify with the Yamaha receiver, and the other will be to download Spotify songs offline and then play them on the Yamaha receiver. Both the ways are effective and easy to do. Keep reading to learn the process of Yamaha RN500 Spotify connect and other Yamaha receiver models.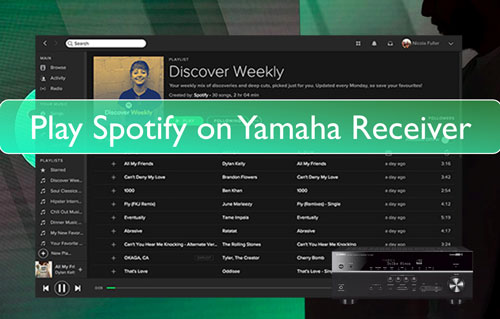 Part 1. How to Get Spotify Connect Yamaha Receiver via Spotify Connect
Yamaha receiver allows you to connect to Spotify effortlessly. And to stream Spotify to Yamaha receiver, you will need a Spotify premium account. This means that if the connection of Yamaha receiver Spotify is not working, you are probably using the free version of Spotify.
The Yamaha receiver offers a feature called MusicCast, which is needed to stream Spotify songs and other music streaming platforms. Now, follow the steps that we have shared below to play Spotify on Yamaha receiver.
Step 1: Launch your Yamaha receiver and connect it to the Internet. Please make sure that you are using a stable and robust Wi-Fi connection.
Step 2: Launch Spotify and use your login credentials to log in. As said, you will have to use Spotify Premium.
Step 3: Hit the Connection option and browse through the devices that Spotify shows. When you see the Yamaha receiver, please click on that to start the connection.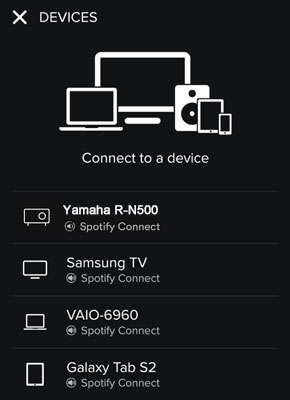 Once the connection is established, you can now start playing the songs that you want to listen to. Ensure that you are using a Premium account because if you aren't, Spotify will not connect to Yamaha receiver, and neither will it play any songs.
Part 2. How to Play Spotify on Yamaha Receiver without Premium
As you know by now, that it's mandatory to have a Spotify premium account to play Spotify on Yamaha receiver. So, for those who don't have the premium account but have a Yamaha receiver, there is an alternate way that you can try, which is downloading Spotify songs and listen to them on the Yamaha receiver offline whenever you want to.
And to download Spotify songs, you will need a Spotify converter and downloader. The recommended tool to go for is DRmare Music Converter. This robust music converter and downloader is used by many, and its easy-to-use interface makes downloading Spotify songs convenient.
DRmare Music Converter lets you download unlimited Spotify songs without premium, convert the songs into multiple audio formats, download the songs quickly, and retain its original ID3 tags.
To start using DRmare Music Converter, all you need to do is download the software from the official website and install it. Whether you have Mac or Windows, DRmare Music Converter is available for both.
Key Features of DRmare Spotify Music Converter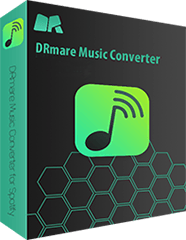 Download multiple Spotify songs at once
Listen to Spotify songs offline on Yamaha receiver
Convert Spotify to MP3, M4B, FLAC, and more various audio formats
Convert and download Spotify songs at 5X speed and retain ID3 tags
How to Use DRmare Music Converter to Get Yamaha Spotify to Work
Before you learn the steps to use DRmare Music Converter, it is recommended to download and install the software on your computer. Once done, follow these easy steps.
Step 1

Upload Spotify songs on DRmare Music Converter

Launch DRmare Music Converter and visit the Spotify app that will be opened automatically. Once you are there on the Spotify app, please browse through the song/songs that you want to convert and download. Then, you can drag the Spotify songs and drop them on DRmare. Else, copy the URL link of the songs and paste it on the search bar of the music converter.
Step 2

Customize audio parameter for Yamaha Spotify

Once the songs are added to DRmare, you need to click on the Menu bar. There, you need to choose the Preferences option. Here, you will first have to adjust the audio output format. Yamaha receiver accepts MP3, so you can select MP3 as audio output format. After that, you can modify other audio parameters, such as sample rate, channel, bit rate, and more. Then, choose the output destination folder where you want the songs to be saved.
Step 3

Convert and download Spotify songs for Yamaha receiver

Click 'Convert' to start the conversion. This is the last step that you will have to take. After that, the songs will begin to get converted at 5X speed, meaning you will not have to wait for long. The songs, after getting converted, will be saved in the output destination folder that you have chosen.
Step 4

Play Spotify on Yamaha receiver

Connect the laptop to the Yamaha receiver with the help of a USB cable and start playing the songs from there. Else, transfer the songs to your mobile phone and connect the mobile phone to the Yamaha receiver. Now, you can choose which song you want to be played, and that's it. Yamaha receiver will now play the Spotify songs without any difficulty.
Part 3. Conclusion
Now you have learned how to connect Spotify to Yamaha receiver. The only disadvantage of trying the first method is that you can only play Spotify on Yamaha receiver if you have the Spotify Premium account. But if you don't have Spotify premium, you can try the second method: converting and downloading Spotify music by DRmare Spotify Music Converter.
DRmare Spotify Music Converter will let you download all your favourite Spotify songs so that you can play them on Yamaha receiver offline and enjoy them. Not just Yamaha receiver, the downloaded Spotify songs can be played on multiple devices as well. To download DRmare, visit the official website today.