Tinder is an online dating platform for people to connect with others and make friends around the world. Moreover, as Tinder Spotify had integrated, now users can find others according to their music tastes. Also, you can share your favorite Spotify tracks with other users on Tinder.
If you are a newbie of Tinder and don't know how to connect Spotify to Tinder, then you can check this post and see how to add Spotify to Tinder.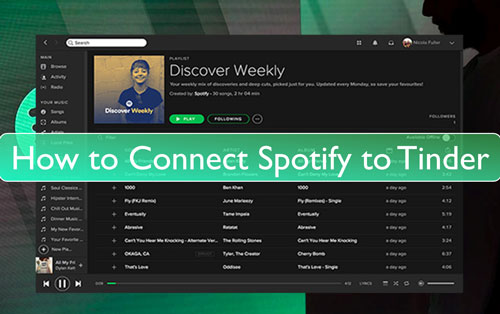 Part 1. How to Add Spotify to Tinder Officially
As we had mentioned above, Tinder Spotify is integrated. Thus, users can share their favorite Spotify songs and top Spotify artists on Tinder. Then other Tinder users can see their music taste on their Tinder profile. Now, let's see how to link Spotify to Tinder profile.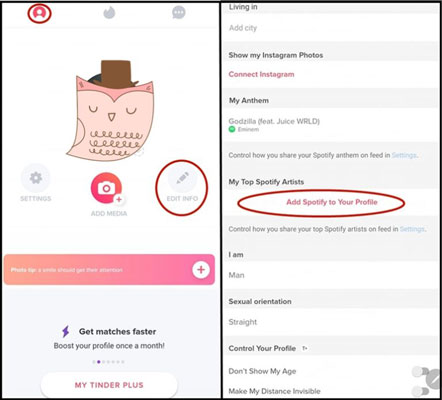 Step 1. Open the Tinder app on your Android or iPhone device.
Step 2. Hit on the 'profile' icon from the top left of Tinder main screen. Then go to the 'Account' option and click on 'Edit Info' button.
Step 3. Scroll down and find 'My Top Spotify Artists' section. Then hit on 'Add Spotify to Your Profile' option.
Step 4. Confirm and hit 'Agree' in the agreement page. That will allow Tinder to connect your Spotify account.
Once done, Tinder can access your Spotify account. Then Tinder Spotify top artist will display on your Tinder profile. By the way, you can customize the Top Artists you want to display at the 'Edit Info' page.
Part 2. How to Solve Tinder Spotify Not Working
In general, you won't meet any issue while connecting Spotify to Tinder. But, what if you face such issue one day? What would you do? Please no worry. In this part, we will show you how to fix Tinder Spotify not working.
To start with, we need to know that why you can't connect Spotify to Tinder. There are two reasons.
1. Tinder Spotify integration feature is not available in your location.
2. Your Tinder app or Spotify app is not the latest version.
If Tinder Spotify is not supported in your country, then there is no any way to solve. But if it is the app's reason, you can update your Spotify and Tinder app, then try it again.
Or the solution above still can't work, you can directly share Spotify with others via the Spotify tracks link. You can send the link to the chat and others will listen to the songs through the link.
Part 3. Best Way to Get Tinder Spotify Work
Besides sending the Spotify links to others, here is a better way for you. That is to download Spotify songs and then share them with other users on Tinder.
To download Spotify songs from Spotify, you need to use a third-party tool DRmare Spotify Music Converter. We know that Spotify music is protected, which can't be used directly on other devices and platforms. Thus, we need to use a tool to break this limitation.
DRmare Spotify Music Converter is a powerful tool to download Spotify music to plain audio files. With it, you can easily get Tinder Spotify work. It can help rip protection from Spotify tracks and save them as local files.
In addition, you can convert Spotify songs to plain MP3, AAC, FLAC, and more with lossless audio quality. Also, you can adjust the Spotify output audio quality if you want, such as the bit rate, channel, sample rate, and so on. Then you can save Spotify songs on your computer for use on any platform and device. You can then share your Spotify songs and music taste to your Tinder friends.
DRmare Spotify Music Converter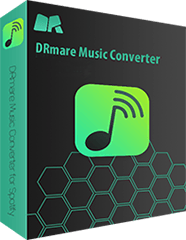 Convert Spotify playlists to MP3, and so on
Download lossless quality Spotify songs without Spotify premium
5X super-fast speed, save your time to download Spotify tracks
Allow you get Tinder Spotify work and share Spotify on Tinder
How to Add Spotify to Tinder via DRmare Music Converter
In this section, we will guide you on how to download music from Spotify on computer by DRmare Spotify Music Converter. Also, we will show you how to connect Spotify to Tinder in details. Here we go.
Step 1

Import Spotify audio tracks to DRmare

Download and then install DRmare Spotify Music Converter on your PC or Mac computer. And then open the DRmare program. At this time, you will see the Spotify app showed as well. Head to the Spotify program and find the tracks you like to share on Tinder. Then drag it and drop it to DRmare program. Or, you can get the link of the target track. And paste it to the search box on DRmare and hit plus icon. DRmare will upload the Spotify tracks for you for converting.
Step 2

Set Spotify output format for Tinder

Hit on the Menu icon on the top right of DRmare. From the list, please choose and click on 'Preferences'. Then you can get the setting window. Now, touch on the 'Convert' option. Here you can alter the audio format from MP3, FLAC, WAV, and more. Also, you can reset the audio channel, bit rate, and so on according to your own needs. After that, you need to confirm the settings by hitting the 'OK' button.
Step 3

Download Spotify for Tinder

Now, touch the 'Convert' button. DRmare program will start to convert and download Spotify songs for Tinder. Once done, you can go to the converted window by the 'converted' icon to check all the converted Spotify tracks. Then you can locate them on your computer via the 'search' icon. At last, you can upload and share Spotify tracks on Tinder while chatting with others.
Part 4. In Conclusion
In this post, you had known how to add Spotify to Tinder. You also learnt how to fix Tinder Spotify not working. Moreover, you got a better way to connect Spotify to Tinder via DRmare Spotify Music Converter. Here we would like to note that you can easily use Spotify songs with DRmare program. You can play Spotify music on multiple devices and other platforms offline without any limit.