"Is there any best Spotify ad blocker to stop Spotify ads?" Spotify free users need to listen to music with ads. This is an annoying thing and you will have a bad listening experience. While upgrading to the Spotify premium plan, you can block ads on Spotify. Yet, users who want to save budgets, they may not want to upgrade to premium. So, they are looking for some ad blocker for Spotify app. But which one is the best to use?
Here you can find the answer. In this post, we will introduce some Spotify ad blocker for iOS/Android/Windows/Mac for you. You can learn more about them in detail below and choose the one you like. Here we go.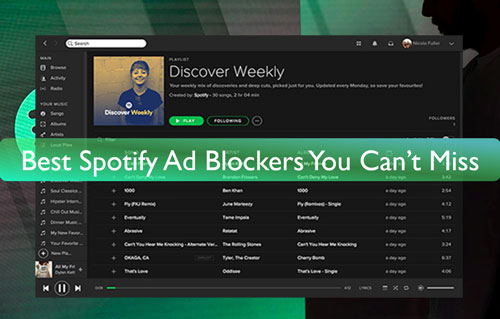 Part 1. Best Spotify Ad Blocker Windows and Mac - DRmare Spotify Music Downloader
The premium subscription to Spotify comes at $9.99 per month. This is not a large sum of some users. But for the others, it might be. DRmare Spotify Music Downloader could be the best and the most advanced solution for you. It could be a nice Spotify ads blocker for Windows and Mac. And it supports both free and premium users of Spotify.
This tool can download and convert Spotify to ad-free music with ease. Also, it can output Spotify playlists, songs, albums, and more to MP3, FLAC, M4B as well as other audio formats. Besides, it can preserve the original sound quality and complete metadata of Spotify content during the conversion.
This Spotify ad skipper also allows you to modify the sample rate, bit rate, channel and so on if you like. After the conversion, you will get no ads on Spotify music and then listen to Spotify music offline without ads.
DRmare Spotify Music Downloader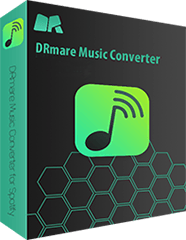 Download and decrypt all Spotify tracks, albums, artists, playlists, and more
Batch convert plenty of Spotify songs at a 5X faster speed
Convert Spotify music to FLAC, MP3, and so on while keeping the original quality
Keep full ID3 tag info, album cover, and other metadata for Spotify music
A great Spotify ad remover to get Spotify songs without ads
The process to use DRmare Spotify Music Converter is simple. Now please follow the steps to see how to block Spotify ads with this ad blocker for Spotify app PC/Mac.
Step 1. Download and install the DRmare Spotify Music Converter on your computer. After that, open it from your desktop.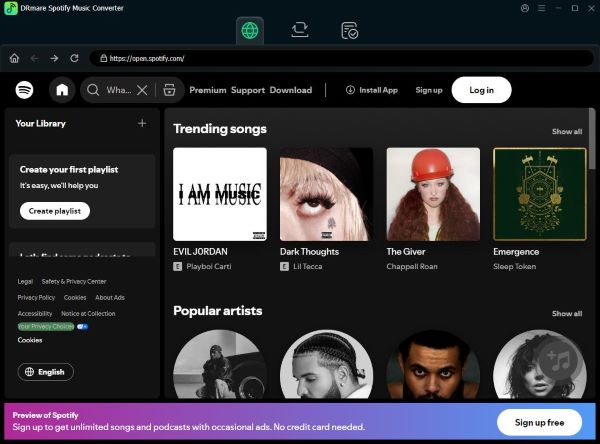 Step 2. Now, head to the Spotify app to locate any song you like to get rid of ads. Then drag and drop the song to the DRmare tool's main screen. Or you can get its link and put the link in the search bar on the DRmare program. And then, click on the plus icon to add a Spotify song to DRmare.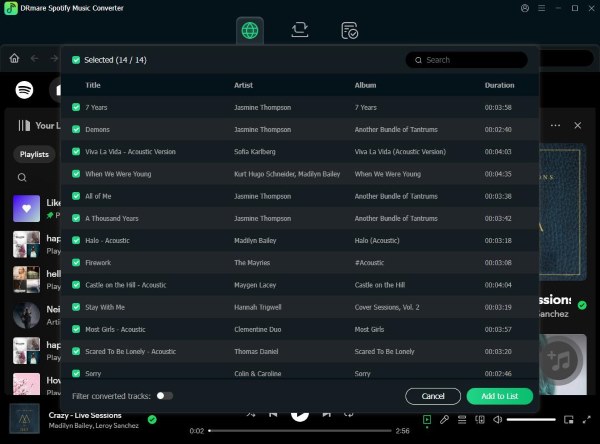 Step 3. Click on the Menu icon and then hit on 'Preferences'. It will then show a settings window for you. Then you can go to reset the output audio format and other audio parameters for Spotify music tracks. After that, you need to click on 'OK' to activate your settings.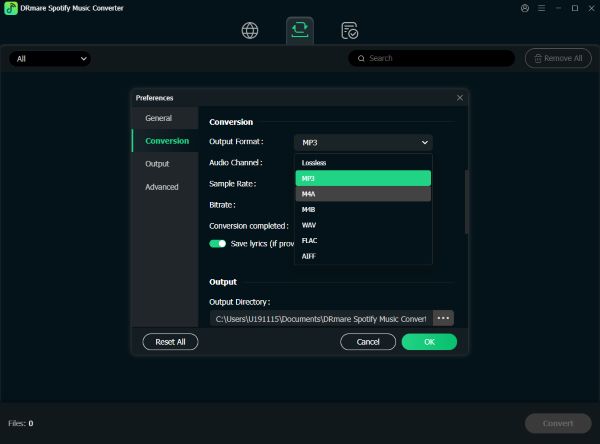 Step 4. Touch the 'Convert' button to start to convert songs from Spotify and remove ads from Spotify for free. Once it is done, you can check the converted Spotify music files in the 'history' tab on the DRmare tool. At last, you can locate them on your computer and begin to listen to ad-free Spotify songs anywhere and anytime.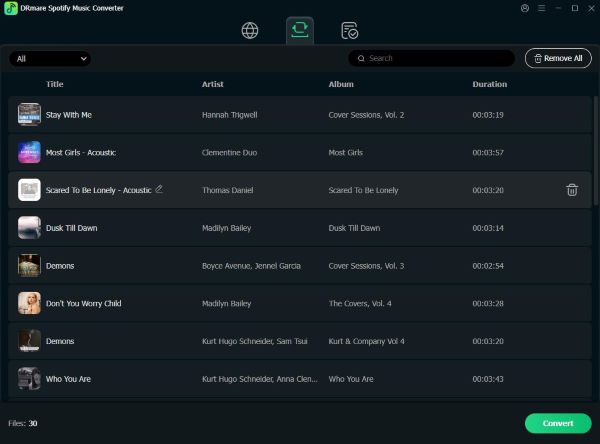 Pros:
Download audio tracks from Spotify without a premium
Convert Spotify audio files to multiple audio formats
Block Spotify ads for free without any limits
Support to reset output audio channel, bit rate and more
Keep the original quality as well as full ID3 tags
Cons:
Not free to convert a whole song
Part 2. Ad Blocker for Spotify App on Windows - EZBlocker
In this part, we will show a Spotify ad blocker for Windows for you. Now, check it out below.
EZBlocker is a famous program and there are tons of users who use it to block ads on Spotify. This Spotify ad remover is one of the best and most used programs that can get the work done well. As the most reliable software, there are no sounds affected once the ad is blocked.
There are no features in the program that can be regarded as additional. The best part is that the program is effective and allows the users to get the results. The program is to be dragged into any folder to continue with the adblocking.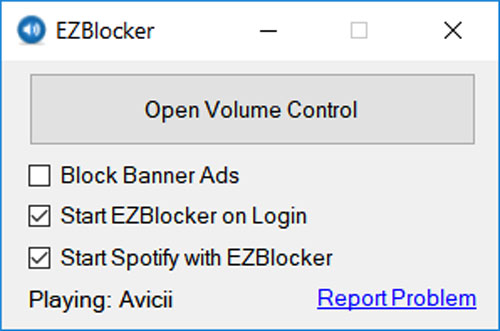 How to use:
Step 1. Download and then install EZBlocker on your computer. Please note that it can be used on Windows 7/8 with .NET Framework, or Windows 10/11.
Step 2. Run the program on your computer. Then tick the box next to 'Start EZBlocker on Login' and 'Start Spotify with EZBlocker'.
Step 3. Now, Spotify will load and you can choose to mute Spotify ads in the small dialogue box shown on the screen.
Step 4. At last, open Spotify and play any song you like. Then EZBlocker will run in the background and will mute ads from Spotify.
Pros:
Free of charge
Easy to use
Cons:
Doesn't support the Windows store version of Spotify
Can't be used on Mac computers
May be blocked by anti-virus programs while installing
Part 3. Ad Blocker for Spotify Mac - StopAd
StopAd is a Spotify ads blocker for Mac computers. It is free to use and helps remove Spotify ads with ease. Also, it can work on iOS, Android, and Windows. Here let's learn how to use it.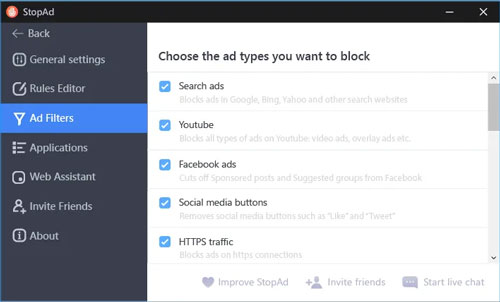 Step 1. Download and install the StopAd program on your Mac computer.
Step 2. Open it and go to the 'settings' on its main screen.
Step 3. Choose the 'Applications' > 'Search app' option.
Step 4. Type Spotify and tick the box next to Spotify. Then hit on 'Add to filter'.
After then, StopAd will block ads on Spotify while you are listening to music.
Pros:
Offer a free plan for users to use
Work on Mac, and other OS
Cons:
The Free version can only work with one app at a time
Part 4. Spotify Ad Blocker Android - SpotMute
This Spotify ad remover Android has it all. It allows users to block ads on the entire web without a problem. The extension is available on the Play Store in the form of an application and can be downloaded. It is also compatible with iOS and that version can also be downloaded for iPhones. This application is easy to use and install.
There is a separate section that has been dedicated to Spotify. Once you toggle the button on you are good to go. All the ads are blocked and there is no need for any extra step to be performed.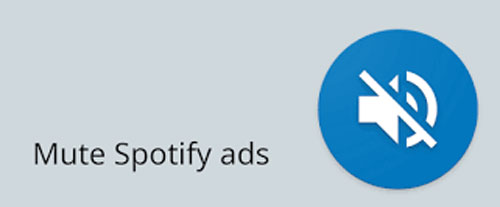 Step 1. Get the SpotMute tool on your Android device.
Step 2. Start Spotify and head to 'Settings'. Then activate 'Device Broadcast Status'.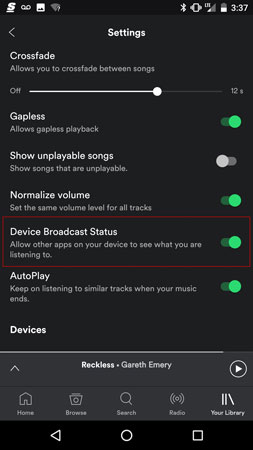 Step 3. Quite Spotify app and launch SpotMute. Then you will see a large toggle switch, just turn it on.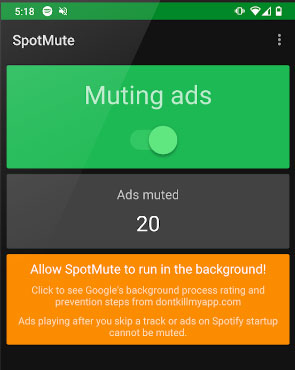 Step 4. After then, SpotMute will run in the background. You can play Spotify songs and it will mute ads for you.
Pros:
Free
Work on iPhone and Android
Cons:
Mute Spotify ads with a 90% success rate
Part 5. Spotify Ad Blocker iOS - TweakBox
TweakBox is an app on iPhone that allows you to download apps from App Store, Tweaked Apps and so on. So, you can download the Spotify app from TweakerBox in its Tweaked Apps category. And then you can install the Spotify app on your iPhone. In this case, you can enjoy Spotify songs without ads.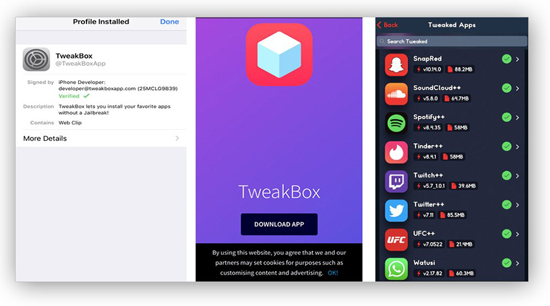 Step 1. Download and install the TweakBox app on your iPhone.
Step 2. Open the program on your device.
Step 3. Touch 'Apps' on TweakBox main screen.
Step 4. Hit on 'Tweaked Apps' on the Apps page. Then type 'Spotify' in the next page to go to install it on your phone.
Step 5. At last, you can log in to your Spotify account and listen to songs from Spotify without ads.
Pros:
Free and safe to use
Simple to operate
Support to download lots of apps and games for free
Cons:
Need to bear the ads within the app
Part 6. Spotify Ad Blocker Chrome
If you use Spotify web player to enjoy Spotify music, then you can check the two ad blockers for Spotify web player on Chrome. They are Spotify Ads Remover and SpotiAds. These two Chrome extensions can help block ads in Spotify while streaming songs. You can check how to use them below.

Step 1. Go to the Google Chrome web browser to find Spotify Ads Remover or SpotiAds.
Step 2. Once got, click on the 'Add to Chrome' button to install them to your Chrome.
Step 3. Open the Spotify web player to start playing songs. Then you can get ads-free Spotify music.
Pros:
Cons:
Your Spotify account may get risk
FAQs about Spotify Ad Blocker
Q1: Which Is the Best Ad Blocker for Spotify?
A: Among the tools above, DRmare Spotify Music Converter should be ranked top 1. It works on Windows and Mac computers for both Spotify free and premium users. And it supports to get Spotify tracks to local files without ads for free. Then you can listen to Spotify offline anywhere and anytime.
Also, you can check the comparison table below to learn more about them.
| | | | |
| --- | --- | --- | --- |
| | Supported OS | Way to Get Spotify with Ads-free | Price |
| DRmare Spotify Converter | Windows/Mac | Download Spotify songs without ads | From $14.95 |
| EZBlocker | Windows | Mute Spotify ads | Free |
| StopAd | Mac/Windows/iOS/Android | Block Spotify ads | Start from $9.99 |
| SpotMute | iOS/Android | Mute Spotify ads | Free |
| TweakBox | iOS | Block Spotify ads | Free |
| SpotiAds/Spotify Ads Remover | Online | Block Spotify ads | Free |
Q2: Is There Any Free Spotify Ads Blocker?
A: Yes. You can use EZBlocker, SpotMute and other tools for free.
Q3: How Can I Block Spotify Ads on Its Web Player?
A: To do that, you can install a Spotify ad blocker for Chrome and then you can stop ads on Spotify.
Q4: Is It Illegal to Use Ads Blocker for Spotify App?
A: Yes. But if you use it for personal use, it doesn't matter.
Conclusion
From the post above, we learned some Spotify ad blockers for Windows/Mac/Android/iOS/Chrome. You can check them in detail and choose the one you want. To make matters simple, DRmare Spotify Music Downloader is a good option for you to get ad-free Spotify music files. With this program, you can save Spotify music forever without ads and maximize your music listening experience.