"Is there a download limit on Spotify?" Yes. Spotify raised the song download limit from 3,333 per device for up to 3 devices to 10,000 per device for up to 5 devices. Yet, the Spotify library limit is still 10,000 and you can only listen to music on one device at a time.
But many users still want to download more songs from Spotify. So, is there a way to bypass Spotify download limit? Yes, please read the post here and learn how to make it.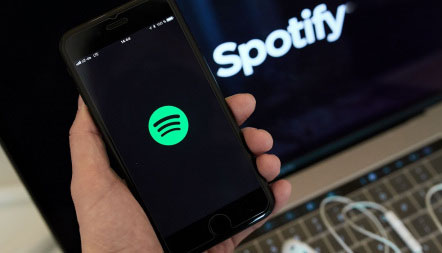 Part 1. FAQs about Spotify Download Limit
Q1: What Is Spotify Download Limit?
A: Spotify server contains over 40 million of songs. And only Spotify premium users can download songs on Spotify. Also, there is Spotify maximum downloads. So, how many songs can you download on Spotify? You can only download 10,000 songs per device on up to five devices at a time due to the protection. If you get the 'you've reached the maximum number of downloads Spotify' error, then you have to delete some of the previous downloads. Also, you have to log in to your account every 30 days to keep the downloaded files.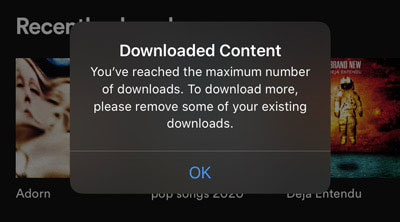 Q2: Why Does Spotify Have a Download Limit?
A: The Spotify song download limit is here to protect its music and its artists. And only Spotify premium subscribers can download Spotify music with limits. Besides, the downloaded Spotify files can't be used anywhere with ease.
Q3: Why Downloaded Songs Miss from Your Library?
A: There are some reasons that cause this issue. Here we list some and you can check them below.
The music is not available on the Spotify server any more.
You haven't log in to your Spotify account for 30 days.
You have downloaded songs to the 6th device without removing one from the offline devices.
If you store the songs on an SD card, maybe it is corrupted.
Q4: How Many Countries Have Spotify?
A: Spotify is available on 79 countries such as Canada, USA, Australia, Germany, Japan, HongKong and more. Yet, it is still not available on some countries like China.
Q5: Will I Lose My Downloaded Songs If I Cancel Spotify Premium?
A: Yes. Once you cancel Spotify Premium membership, you can't access the downloaded Spotify songs anymore offline. But you can stream songs online if you have the Internet connection again anyway.
Q6: Can I Distribute Spotify Downloaded Songs to Other Platforms or Devices?
A: Spotify songs are with encryption. You will only find the Spotify downloaded cache files. So, it is not possible to use downloaded Spotify music elsewhere.
Q7: What Is Spotify Library Limit?
A: On Spotify, users can only add up to 10,000 songs to their library. Yet, since May 2020, Spotify allows users to add up to 70 million songs to the library. And this is available for both Spotify free and premium users.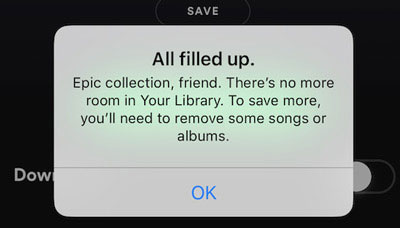 Q8: What Is Spotify Playlist Limit?
A: The limit of Spotify playlist is 10,000. You can only add no more 10,000 songs to each playlist. If you reach the limit, you need to delete some tracks.
Q9: Why I Got 'Spotify Device Limit Reached' Message?
A: With a Spotify premium account, you can download Spotify songs. But you can only download music at up to 5 different devices on an account. If you get device limit reached Spotify download, then you need to remove all downloads from an older device.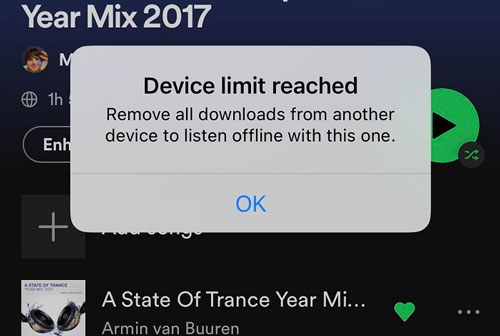 Q10: Can I Bypass and Increase Spotify Music Download Limit?
A: Yes, you can do that via a third-party tool like DRmare Spotify Music Converter. With it, you can remove Spotify premium download limit. And you can download any song you like without a Spotify premium plan. In the next part, you can learn more about this tool. Just move on reading.
Part 2. How to Bypass Spotify Download Limit without Premium
From above, we learn more about download limit Spotify. By subscribing to Spotify premium, you don't own the Spotify songs. You only have the right to listen to Spotify downloaded music. And you can only download limited songs from Spotify with limited devices. So, if you want to get more songs on Spotify, then check out this tool.
Here we recommend you use DRmare Spotify Music Downloader. This tool can help you bypass Spotify maximum downloads with using a Spotify premium plan. And it can convert Spotify music to MP3, M4A, M4B, AAC, WAV, and FLAC. Besides, you can change Spotify output bit rate, audio channel and more if you like.
After the conversion, you can keep Spotify songs forever and move them to any device for playing offline. The best part is that you can enjoy Spotify music without a premium membership.
DRmare Spotify Converter
Now let us show you how to break Spotify download limit reached with DRmare Spotify Converter. You can download and install either the Windows or Mac version of the tool on your computer. After that, follow us with the steps below.

Step 1

Load Spotify songs to DRmare

First, open DRmare Spotify Music Converter. On this tool, you can batch-import Spotify songs you want by dragging and dropping. You can drag song from Spotify to it. Also, you can copy and paste the link to the Spotify songs/playlists/albums into the top address bar. And then press '+'.
Step 2

Select output music format for Spotify

Spotify original audio format is in Vorbis OGG with encryption. To make Spotify songs available offline anywhere, you can choose one of the common formats MP3, M4A, M4B, or AAC. MP3 is highly recommended which is the most widely-used music format. To start, hit on the 'three-lines' icon on the DRmare tool. And then choose 'Preferences' to launch its window. And you can start to change the settings. Besides, you can alter Spotify output sample rate, bit rate and more. After that, click 'OK'.
Step 3

Download songs from Spotify and bypass Spotify download limit

At last, you can go to the 'Convert' button on the DRmare Spotify Converter screen and click on it. Then the songs will be converted in batches. After that, click on the 'converted' icon to check all the local Spotify songs on your computer. And then you can play Spotify music on multiple devices without any limits.