Marshall speakers are extremely popular, mainly because of the good quality sound it produces. If you already have a Marshall, well, a good choice. If not, and considering buying a new speaker, you should consider buying Marshall. Marshall is very popular among music enthusiasts, singers, and musicians. But have you tried to connect Marshall Spotify? If no, this post will help you understand how Marshall Spotify connect works.
Marshall now comes with wireless connectivity, which is why many Marshall and Spotify users try to figure out a way to connect both to enjoy music on the go. The good news is that Marshall now comes with built-in Spotify Connect, AirPlay, and Chromecast, which means you can easily connect Spotify with your Marshall speakers to start listening to your favorite songs. But other than Spotify Connect, did you know you can listen to your favorite Spotify songs on Marshall without Spotify Connect as well? Keep reading to find out how.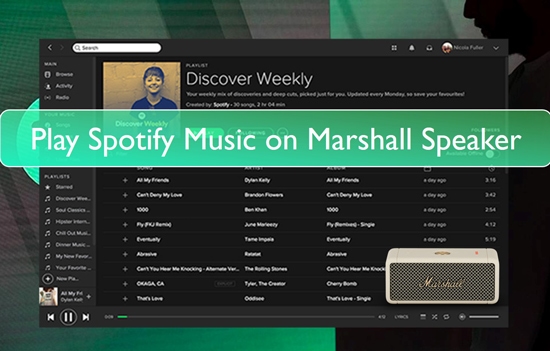 Part 1. How to Get Marshall Spotify to Work without Premium
Before telling you the steps to follow to connect Spotify to Marshall, here's the easiest way to play Spotify songs directly on Marshall speakers without paying for the premium subscription. To be able to play via Spotify Connect, do note that you will require a premium subscription to Spotify. Unfortunately, if you don't have one, you won't be able to play the songs. So, what you can do instead is get a Spotify converter and downloader and play the songs on Marshall speakers and other devices effortlessly.
And the recommended tool to go for is DRmare Spotify Music Converter. DRmare Spotify Music Converter is a professional tool and has thousands of users from all over the world. This tool converts and downloads Spotify songs super-fast. And it can convert the Spotify songs to multiple audio formats and retains ID3 tags. You can download DRmare Music Converter on your computer by visiting its official website and installing it. And then you can start downloading your favorite Spotify songs for use on Marshall and other devices.
Key Features of DRmare Spotify Music Converter
How to Convert and Download Spotify Songs for Marshall by DRmare Spotify Music Converter
Before we begin the steps, please ensure that you download DRmare Spotify Music Converter from the official website. Once done, follow the steps below to download Spotify songs free to make Marshall Spotify connect.
Step 1

Upload Spotify music tracks to DRmare

Launch DRmare Spotify Music Converter on your computer and you see the main interface and Spotify app popping up, find the songs you want to dow nload on the Spotify app. Once done, drag and drop the Spotify songs on the main interface of DRmare Spotify Music Converter. Also, you can get the Spotify song's URL and put it onto the search bar on DRmare. And then click on the '+' icon to get the music tracks loaded into DRmare.
Step 2

Reset audio format for Spotify Marshall

After the songs are added, click on the Menu bar on DRmare. There, you need to click on the Preferences option. You will have to choose an audio output format for Spotify on Marshall, such as MP3, M4B, M4A, AAC, WAV, and FLAC. Other than that, you need to customize the rest of the settings, such as channel, bit rate, and sample rate. Also, you can choose an output folder where the songs will be saved.
Step 3

Convert and download Spotify music for Marshall

Finally, move the cursor towards the bottom right on DRmare program and click on the Convert button. The songs will start getting converted fast and will be saved in the output folder that you chose in the second step. When the downloading finishes, you can listen to Spotify offline easily.
Step 4

Play Spotify music on Marshall

Now that the Spotify songs are saved on your computer and you are ready to get Marshall Spotify connect. Please establish the connection between your PC and Marshall by enabling Bluetooth feature. You will first have to turn on the Marshall speaker to do that. Push the WAKE button and select Bluetooth. Go to your computer or where you have saved Spotify songs and enable Bluetooth. On your device, click on the Pair option to establish the connection. Once done, you can start playing the Spotify songs. And the songs will be streamed on Marshall.
Part 2. How to Connect Spotify to Marshall Speaker with Premium
If you want to go the Premium way and listen to Spotify music on Marshall speaker while paying the subscription fee, you will first have to connect Spotify to Marshall speaker. Now, let's see how to do that by following the steps below.
Connect Spotify to Marshall Speaker
Step 1: Launch your phone or PC where you have the Spotify app and then connect your Stanmore II Voice to the same network. Both the devices, one is the Marshall speaker, and the second is the device needs to be on the same WiFi network.
Step 2: Now, take your smartphone and launch Spotify app.
Step 3: Then, search for devices and see if you are able to see your Marshall device. If you do, the connection is established.
Play Spotify Music on Marshall Speaker
Step 1: If you can see Marshall speaker as one of the devices in the Spotify app on your phone.
Step 2: Select Marshall speaker as the output device.
Step 3: Now, play a song from Spotify app, and it will be played via the Marshall speaker.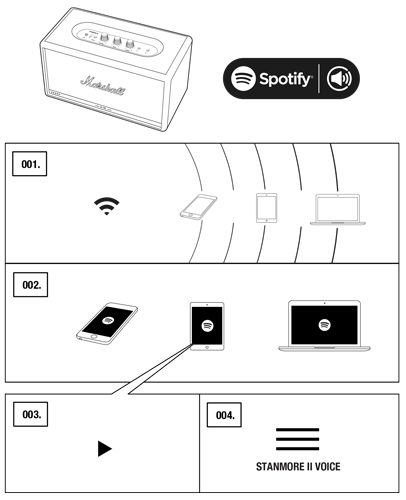 Part 3. FAQs about Marshall Spotify
If you are not familiar with Spotify and Marshall, here in this part, we will list some frequently asked questions of them. You can check them out and learn more.
Q1: Does Marshall Speaker Work with Spotify App?
Yes, new-age Marshall speakers come with connectivity features, such as Spotify Connect, AirPlay, and Chromecast. So, you can not only play Spotify songs but from other streaming platforms as well. But do note that if you want to play Spotify songs on Marshall speakers, you will need a Spotify Premium subscription.
Q2: How Do I Connect My Marshall Speaker to My Mobile Phone?
If you want to connect your Marshall speaker to your mobile phone, you will require Bluetooth connectivity. Nowadays, every smartphone comes with a Bluetooth feature. Just launch your mobile phone and turn on Bluetooth connectivity. Then, search for your Marshall speaker and click on the pair option. Your device will take a few seconds to establish the connection.
Q3: How Do I Play Spotify Music on Marshall Speaker?
So, there are primarily two ways to play Spotify songs on Marshall speakers. One is through Spotify Connect, and another is by downloading Spotify songs on your computer and then connecting your PC or mobile with Marshall via Bluetooth connectivity. It's just that if you go the Spotify Connect way, you will require a Spotify premium membership. If you want to download the Spotify songs, which we recommend, get DRmare Spotify Music Converter. The second option is better because it sets you free from paying for the Premium membership, and you can play the downloaded Spotify songs on any device you want.
Q4: Can Marshall Speaker Connect to Smart TVs?
Yes, you can connect the Marshall speaker to a smart TV. Yet again, you will require a Bluetooth-enabled TV, and Marshall's Stanmore Bluetooth speaker will easily get connected. Apart from this, you can connect Marshall to your TV via a USB cable. Whichever option suits you, you can try that.
Q5: Does Marshall Support AirPlay?
Yes, Marshall supports AirPlay. Along with AirPlay, it also supports Chromecast and Spotify Connect.
Part 4. In Conclusion
So, now you know how to get Marshall Spotify connect and how to play Spotify on Marshall. You can choose both the ways or just one. But the more practical option to go for will be getting DRmare Spotify Music Converter. That's because DRmare Spotify Music Converter allows you to play the Spotify music files not only on Marshall speakers but on any device. So, just go on and download DRmare Spotify Music Converter today and enjoy any Spotify song you like without limits!