"Why my Tidal app not work well? Sometimes it crashes while starting" After using the Tidal app on your device for a long time, you may find that the app may not work well as usual. That's because it will take up much of your device's storage space as Tidal streams high-quality music. If you want to make it work smoothly, then you need to clear Tidal cache on your mobile or desktop device.
If you don't know how to do it exactly, no worries, you can read this post. Here we will show detailed steps for you to see how to clear cache on Tidal on iOS, Android, Windows and Mac. Also, we will introduce an extra tip to you to enjoy Tidal music offline anytime and anywhere with ease.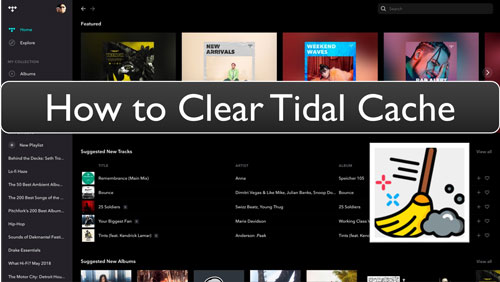 Part 1. How to Clear Tidal Cache on iPhone/Android/Windows/Mac
Now, let's see how to clear cache on Tidal on iPhone, Android, PC and Mac to free up storage space step by step.
On iPhone:
Way 1:
Step 1. Click on the 'Settings' app on your phone screen.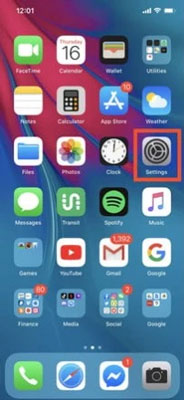 Step 2. Locate the Tidal app option and then click on it.
Step 3. Switch on the 'Reset Cache on next launch' option to clear Tidal cache.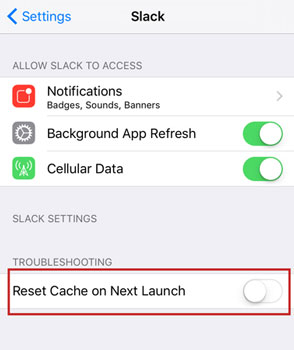 Way 2:
Step 1. Open the 'Settings' app from your iOS device.
Step 2. Head to 'General' > 'iPhone Storage'.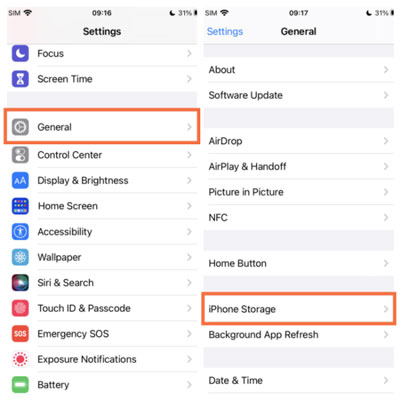 Step 3. Then choose 'Tidal' , and lick on 'Offload App' or 'Delete App'.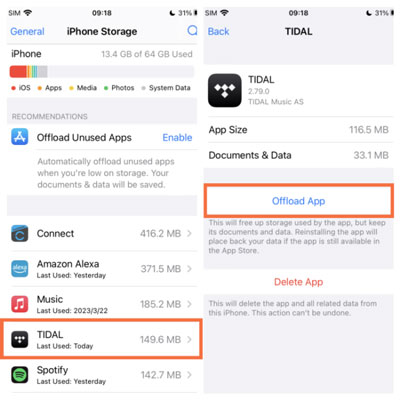 In this way, the cache on Tidal will be cleared while the Tidal documents and data will be kept well.
On Android:
Step 1. Locate the Tidal app on the screen. Then hit and hold its icon till you see a widget.
Step 2. Click on the 'i' icon to get Tidal app's detailed info.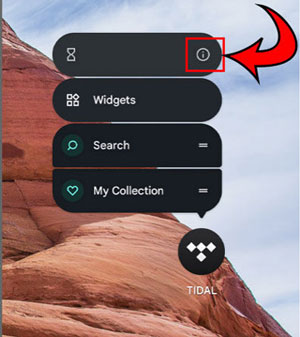 Step 3. On the new window, click on 'Storage & Cache' > 'Clear cache'.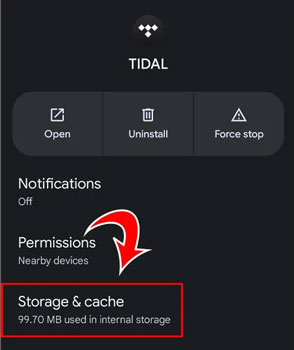 On Windows PC: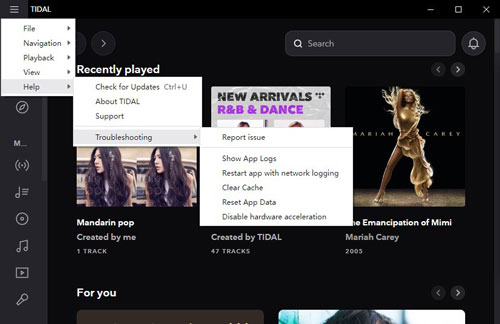 Step 1. Start the Tidal Windows app, then click on the Menu icon from the top-left corner.
Step 2. Click 'Help' > 'Troubleshooting' > 'Clear Cache'.
On Mac:
Step 1. Launch the Tidal app from your Mac computer.
Step 2. Find the 'Preferences' option from its menu section.
Step 3. Then tap on 'Cache' > 'Clear Cache'. And then click 'Clear' to confirm.
After the steps, then open the Tidal app on your device again. If Tidal no connection, then tap refresh to solve the issue.
Part 2. How to Download Tidal Songs for Offline Listening Anywhere
Once you clear cache on Tidal, you can then go on streaming Tidal music on your device. You can even download music from Tidal, including MQA, HiFi and other quality audio if you are a Tidal HiFi or HiFi Plus user. Yet, you can't move those downloaded content from Tidal to other devices for use directly as they are cached files on your device. As a result, your device will run out of space if you have lots of downloaded music files. In this case, you need to find a way to help move Tidal music to other devices for using and storing.
Here DRmare Tidal Music Converter can work for you. It can download any audio track from Tidal with your Tidal Free or Tidal Premium account. Also, it can convert Tidal songs to plain audio formats like FLAC, MP3, and so on. And it will keep the original audio quality of Tidal music files while working at a fast speed.
Besides, it will save all ID3 tags and allows you to change output audio channel, bit rate and so on. After the conversion, you will get local Tidal music tracks on your computer. Then you can transfer them to your mobile devices or other devices for use offline.
DRmare Tidal Music Converter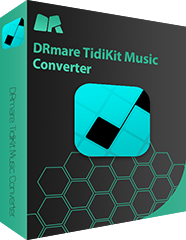 Allow users to customize Tidal music output preferences
Convert Tidal audio to multiple audio formats like FLAC, WAV, etc.
Convert Tidal songs with a 5x faster conversion speed
Preserve the original ID3 tags and quality of the Tidal music files
Support to move Tidal music to any device for playing offline
Now, check out the steps here to see how to use DRmare Tidal Music Converter to download music from Tidal as local files. Then you can transfer Tidal songs to other devices and platforms for use.
Step 1. Download, install and then set up the DRmare Tidal Music Downloader on your computer. Then you will see its main screen and the Tidal app on your computer's desktop.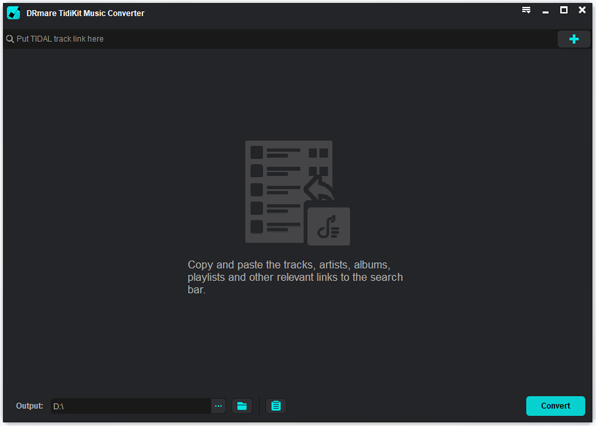 Step 2. Log in to your Tidal account on the Tidal app. Then find and drop your favorite song/playlist/album from Tidal to the DRmare program. Or, copy the URL of the song and paste it into the blank box on the DRmare tool. And then you need to tap on the '+' icon to load Tidal songs.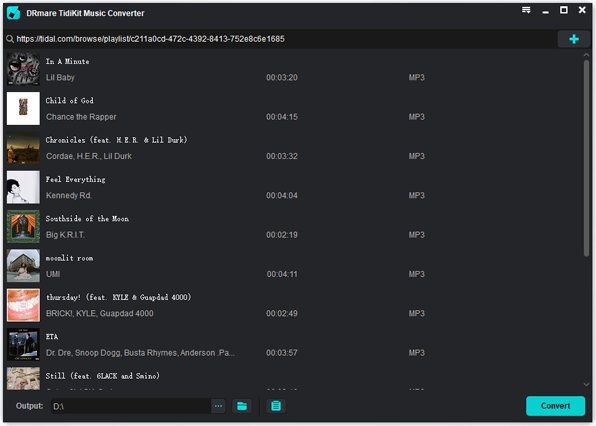 Step 3. Now, press on the Menu icon on the DRmare program and choose 'Preferences'. Then touch the 'Convert' option. And then you can click on 'audio format', 'channel' and more to set the output parameters for Tidal files. After that, click 'OK'.
See also: How to Convert Tidal Music to FLAC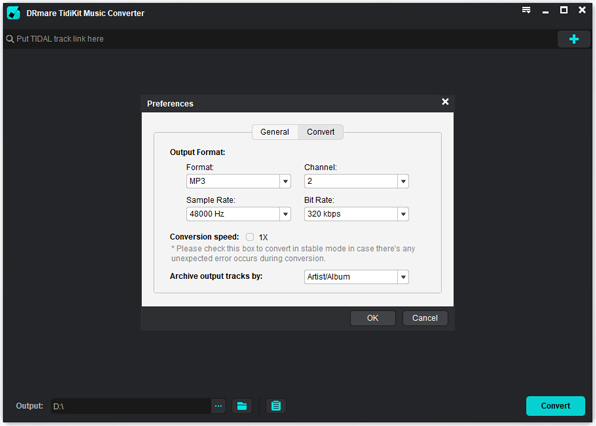 Step 4. Tap on the big 'Convert' button on the DRmare program to start the process. You can see the songs are being converted on the screen. Later, you can click on the 'converted' icon to check the Tidal files on your computer. And then you can connect your device to your computer and transfer Tidal music files at once.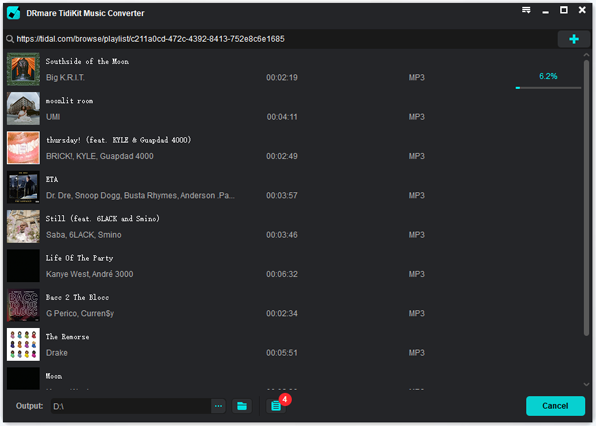 Part 3. FAQs about Tidal Cache
Q1: Where Is the Tidal Cache?
A: The Tidal cache location is differed from the OS or device you use. And the cache file will be stored in a temporary folder on your device. Here check the exact location path to find Tidal cache files on different devices.
On PC: You can find cache of Tidal in the 'AppData' folder in the User's directory.
On Mac: You can go to the 'Library' folder to get Tidal music cache.
On Android: Head to 'File Manager' > 'Music' > 'Tidal'. Or, go to the File Management app and click on the 'Android' folder.
On iPhone: You can find Tidal cache files within the Tidal iOS app.
Q2: How Can I Stop Tidal from Taking up Much Storage Space of My Device?
A: You can try to clear Tidal cache by following the steps in Part 1. Besides, you can use the methods below.
1. Delete downloaded Tidal songs
Go to Tidal mobile app and click on your profile. Then locate any song/playlist/album you want to delete. Next, click on the 'three-dots' icon and choose 'Remove from My Collection' > 'Remove'. Also, you can go to the Settings on your Tidal mobile app. Then head to 'My Content' > 'Delete Download Content'.
2. Adjust Tidal music quality before downloading songs
Head to the Settings section on your Tidal mobile app. Then choose 'Quality' > 'Download'. Next, switch download audio quality to 'Normal' under 'Audio'. Later, click 'Audio Only'.
3. Uninstall & reinstall Tidal app
You can uninstall and then reinstall the Tidal app on your mobile or desktop device to delete cache from Tidal.
Part 4. Conclusion
Now, you learned why need to clear cache of Tidal and how to clear Tidal cache on PC/Mac/iPhone/Android in detailed steps. After then, you can free up storage space on your device. Besides, here is an extra tip for you to listen to Tidal music offline on any device and platform. That's to use DRmare Tidal Music Converter to convert and download songs from Tidal as local files on the computer. Then you can move the Tidal music files to any device for playback with ease.