Long sessions of the presentation without some diversion could be too boring at times. Many scholars use PowerPoint Presentations for business plans, course works, and tutorials, just to mention a few. However, you can make your presentations very interesting by adding music to PowerPoint from YouTube. This will capture the attention of your audience, remove boredom and make your point reach home as desired. How then, do you add music to your PowerPoint presentation, and what kind of music is ideal? Scroll through for more insights and tips to choose the right music.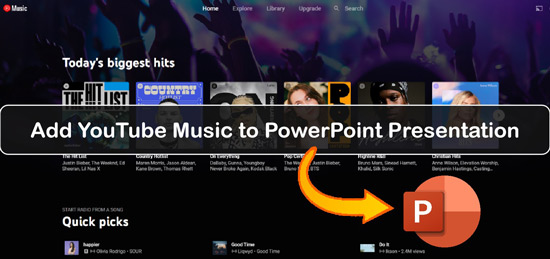 Part 1. Download Music from YouTube to PowerPoint Presentation - Tool Required
You ought to be a Premium subscriber to get music from YouTube. However, you can engage the best tool, DRmare Audio Capture, to extract any music from YouTube Music for offline use. It will freely capture any YouTube Music playing and save it in any common output format such as AAC, M4B, MP3, WAV, or FLAC.
DRmare Audio Capture will batch record your files, saving you time during the recording and download. Simply play various songs via the YouTube Music web player or the desktop app and this software will detect the tracks equally well. Likewise, you can edit the extracted YouTube Music songs to your preference by trimming, cutting, or merging them.
The output quality is remarkably well placed, giving you a lossless output format that's complete with ID3 tags. These include album cover, artist, title, and genre. More so, you will then manage to add and play YouTube Music offline as background music in your presentation.
DRmare Audio Capture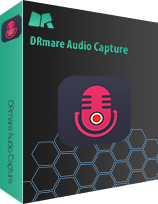 Record and save YouTube Music to MP3 or common output formats
Retain ID3 tags and metadata information of YouTube songs
Batch records multiple YouTube Music songs simultaneously
Edit your YouTube Music files to your preferences
How to use DRmare Audio Capture to Record and Download YouTube Music
Follow these steps to put music from YouTube into PowerPoint with DRmare Audio Capture. It supports both Windows and Mac OS computers.
Step 1

Install and Launch DRmare Audio Capture

Download your preferred version then install it on your computer. Then, launch it and you'll be ready to record your music from YouTube Music web player or application. If YouTube is not available, just click on the "+" icon to add directly.
Step 2

Set Output Parameters of YouTube Music for PowerPoint

DRmare Audio Capture supports several output formats that you can set your files into. Choose which output format supported by PowerPoint to set such as WAV, MP3, AAC, and M4A, among others. You can also go on to tweak other settings like channel, sample rate, bit rate, and codec.
Step 3

Play and Record YouTube Music to PowerPoint-supported Files

Start running YouTube to play the music you want to capture and DRmare Audio Capture will detect it immediately for recording. It also supports multiple tracks recording while using web player to play YouTube Music and it will download your songs in batches as well. You can repeat the process to turn on more browsers to download simultaneously.
Step 4

Edit your YouTube Music songs for adding to PowerPoint

Once the playback of the selected song stops, the recording will also stop automatically. You can then continue to edit the YouTube Music from the editing icon. These include rearranging your tracks, trimming, and cutting, among other functions. It will aim to add the most suitable background music to PowerPoint from YouTube.
Step 5

Save the recorded YouTube Music tracks

Hit on the "Save" icon to save the recorded YouTube Music on your computer. Just click on the "Converted history" icon to find the tracks you have downloaded. You can also use the "Search" icon to find the song you want to save. Now, it's able to add music from YouTube to PowerPoint even without premium accounts.
Part 2. How to Add Music to PowerPoint from YouTube
Once you have recorded music from YouTube, you can go on to add it to PowerPoint with ease and adjust YouTube Music settings according to your special needs in the PowerPoint slideshow. Let's see how to do them below:
2.1 Insert Music into PowerPoint from YouTube
Your files are downloaded and you can now freely insert music into a PowerPoint from YouTube.
Step 1. From the "History" icon, click on the "Folder" option to find the downloaded YouTube Music tracks.
Step 2. Then, open your presentation project on PowerPoint. Go to the "Menu" tab and click on the "Insert" > "Audio" > "Audio on My PC" option. Go to the "File Explorer" and find out the downloaded YouTube music and hit on the "Insert" option.

Step 3. Likewise, you can play YouTube Music in the background of PowerPoint from the beginning by clicking the "Sound" > "Playback" icon in the menu. Next, open the drop-down menu next to the "Start" option and select the "Automatically" option.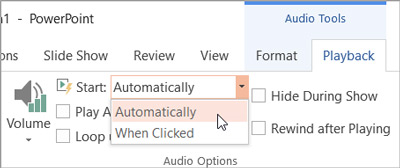 2.2 Adjust YouTube Music Settings to Fit Your PowerPoint Slideshow
After adding music to PowerPoint from YouTube, you have the option to adjust the music settings to fit your PowerPoint slideshow.
Step 1. Click added YouTube Music to select it. And then click on the "Playback" tab in the top menu.
Step 2. Under "Audio Options", select "Play in Background" and "Loop until Stopped" to ensure the music plays continuously throughout the slideshow.
Step 3. Adjust the volume of YouTube Music by moving the slider under "Volume" to your desired level.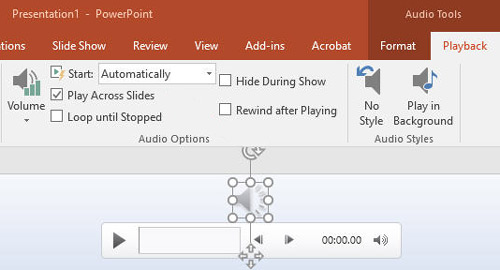 Part 3. Tips for Choosing the Right Music for Your PowerPoint Presentation
It is ideal to get the right music for your audience. These tips will guide you.
1. How you want your audience to feel should set the theme for your presentation. Choose a tone that rimes with your topic. Decide whether you want them to experience calm background music or something electronic.
2. Check that the music you choose doesn't compete with your voiceover.
3. Make sure you have a permit to use the track of choice. You may be sued for using someone's copyright.
4. Keep in mind that the background music is there to support your presentation and not to compete with it. Otherwise, it will distract your audience from what you are saying.
Part 4. Final Words
You've learnt how to add YouTube Music to PowerPoint slideshow to complement your presentation. Background music will engage and keep your audience attentive by capturing their attention. More so, you can capture your music in any format via DRmare Audio Capture and add them as background music for your PowerPoint presentation.