Picking up a gift for your family or friends is really time consuming, you need to think about what to give, then buy and wrap it yourself. Yet the gift you sent out may not fit your recipient well sometimes. If you are tired of malls and holiday traffic, why not send them some digital media files online instead of buying physical items like CDs, DVDs on the street?
As one of the largest online marketplace for Apple, it offers all kinds of digital media files such as songs, audiobooks, movies and cards such as iTunes gift card and Apple Music gift card. Generally you just need to send the cards out and your friends can redeem and use them to buy any items they want with the card certificates. But if you want to be more personal, you can also choose the media files for your friends. Here I will focus on how to gift music on iTunes.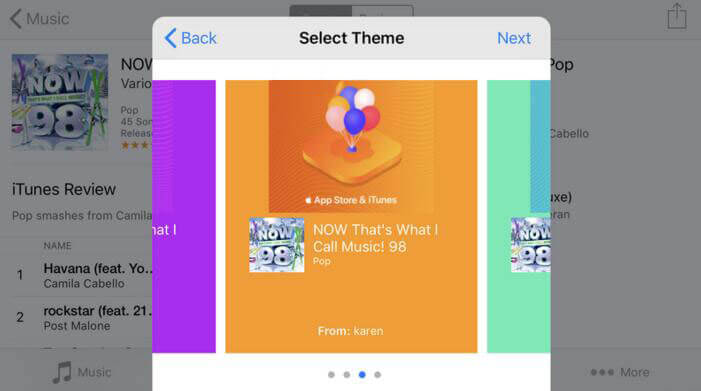 Part 1. How to Gift a Song on iTunes
To send out gifts on iTunes, you just need to browse the iTunes and do several clicks on Windows PC or mobile devices such as iPhone. Depending on the versions of iTunes, the instruction maybe different but the main steps are same.
Computer
Step 1. Launch iTunes, if you haven't logged in the account, please just simply input your Apple ID and password to log in.
Step 2. Choose the "Music" category and click "Store" to find the single or album you want.
Step 3. Tap on the downward arrow icon besides the price icon of the song or album and choose "Gift This Song" or "Gift This Album".
Step 4. It will prompt you the window to input the recipient email, an up to 200 word message and select when you want to send the gift as well.
Step 5. Select the theme and tap next. If you are OK with it, please tap on "Buy" to pay for it.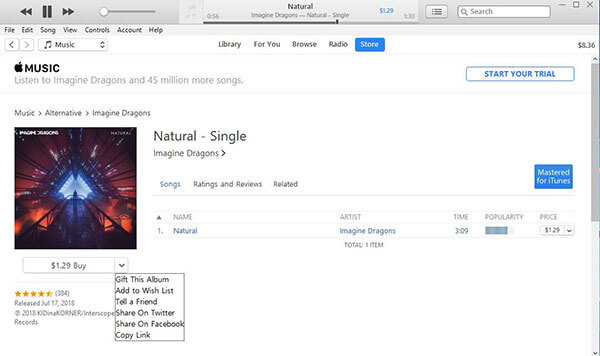 Gift a Song on iPhone
The instruction to gift iTunes music on iPhone is similar to computers. Just open the iTunes store to locate the song or album first, then you can follow the screen wizard to click the gift button to give the song/album to your friends. It is relatively easy and convenient, I won't illustrate it any more here.
Part 2. How to Gift an iTunes Playlist You Already Own
Sometimes you may just want to share your favorite curated playlist to your friends. Previously there is an option to gift any playlist you want from iTunes by clicking the "Share Playlist" > "Gift" button. This was really gorgeous. Unfortunately, Apple have removed this option, making it difficult to send iTunes playlists. You have to gift them one by one.
But don't worry about that, there is also an option to copy and send the songs to your friends via Email or USB as your purchased songs don't have the DRM protection any more since 2009. The new songs after 2009 are all in M4A formats with AAC codec, they can be sent to elsewhere for playback without iTunes.
Step 1. Make sure the entire songs from the playlist are downloaded completely from iTunes.
Step 2. Right click on the playlist from the iTunes, then choose "Reveal in Finder" or "Show in Windows Explorer" to locate them on your local computer folder.
Step 3. Copy and transfer the songs to your friends via USB or attach them by Email.
More Tips: Is It Possible to Send the Protected M4P Songs as a Gift
What if you have a bunch of the old iTunes M4P songs which you want to share? These kinds of files combined with the Apple digital rights management protection. They can't be played unless you input the the original account name and password to authorize them on iTunes. So you have to break the encryption. There are two ways to do that.
iTunes Match
This is a service for activating and maintaining your iCloud Music Library. It costs $24.99/year. If you have the M4P songs on your iTunes, it can help you match all of them up to 100,000 songs to the DRM-free songs available on the iTunes. Then you can download the new version songs and send them to your friends.
DRmare Apple Music Converter
If you want to get rid of the DRM as well as encoding the format of the songs so that to make them compatible with more devices, DRmare Apple Music Playlist Converter is another best option. It supports much more output formats such as M4A, MP3, M4B, WAV, FLAC, AAC and so on. It adopts the direct decryption technology so the audio quality will be kept 100%. You can download and evaluate it for free yourself. When the DRM is removed, you can gift all the iTunes tracks to anyone freely. For more tutorial, you can visit: How to Convert iTunes Music to MP3 Songs.