There are many platforms where you can listen to favorite songs. iTunes is one such place to meet your valuable artist' productions as you listen to their songs. What then happens when you log in and suddenly realize that iTunes songs greyed out while you are trying to get access?
Many people feel locked out when such a scenario happens. They begin to wonder whether it is possible to turn back the clock and enjoy listening to those tracks one more time. Whatever the case, there are simple fixes that you can employ to unlock all those unplayable tracks. Let us first look at why are some songs greyed out in iTunes before diving into the solutions.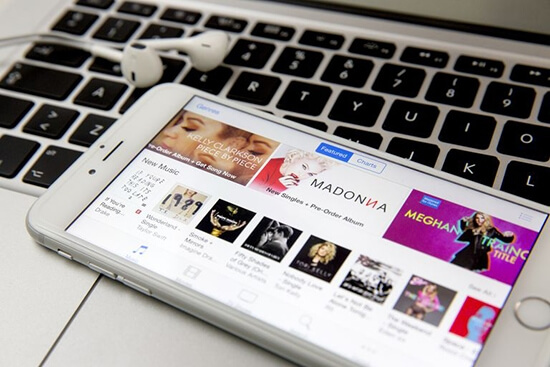 Part 1. Reasons Why Some iTunes Songs Are Greyed Out
1. It could be that your files are corrupt or unreadable due to a number of reasons ranging from virus attack, improper removal of your storage disk or incorrect file location.
2. iTunes sync error such that your phone has a problem syncing with your account or probably a lack of proper internet connection.
3. When the tracks you are trying to play are not currently available in your region then they may bring on the greyed out issue.
4. Again, if the songs you need to play are in an unsupported format then there will be a greyed out problem.
5. Another reason for the greyed out problem is when the songs are DRM protected, enabling you to use a reliable third-party tool to remove the protection.
Part 2. How to Fix When iTunes Songs Greyed Out
When faced with such mishaps, you just need a quick fix. Some of the issues may not even need high tech solutions. Instead, there are so many and easy solutions that can be of the essence when you decide to fix iTunes songs greyed out by yourself. Use any of these 4 ways to unlock your favorite songs.
Way 1. Check Audio Format
A problem with the audio format is the greatest cause of iTunes songs greyed out. It could be that the songs are protected by the DRM technique or their format is not supported.
Step 1. Check the audio format by first logging into your iTunes account.
Step 2. At iTunes, click on the track that is greyed out and then right-click on the song.
Step 3. You can then generate all the necessary information by selecting 'Get info'. You will then be able to know the song format from the information that is listed. Any song that reads "Protected" signifies it is DRM protected.
A DRM protected file cannot be played unless the DRM is removed from the song. Remember you need a third-party tool to carry out this. DRmare DRM Audio Converter gives you a quick solution to convert iTunes songs to DRM-free formats.
Step 1. Download and install the DRmare Audio Converter to your device. Launch the program and then drag your iTunes songs to the program screen window.
Step 2. Next, confirm whether those are the iTunes songs that you need to convert to the DRM-free version. If so, click on the "+" button to proceed.
Step 3. Hit the 'Convert' button to accomplish your mission. Once converted, import them in the desired format and listen to your songs without greyed out songs in iTunes anymore.
Way 2. Check iTunes Settings
There are some settings on iTunes which when turned on, may lead to songs in iTunes greyed out. You just need a few clicks to have the problem solved amicably.
Step 1. Check this by opening the iTunes library then right-click on the particular song that is greyed out.
Step 2. From the many options, check or tick the "Selection" option found at the bottom. This option will be able to unlock any hindrances that could be causing the greyed out songs in iTunes.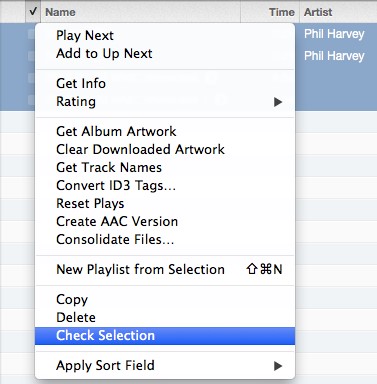 Way 3. Re-authorize Your Computer
Your computer may at times have a memory lapse, requiring it to be reminded of past events. Or maybe, it could be iTunes that has forgotten about your past songs. In such situations, it is better to re-authorize your computer and check whether the problem still occurs. Re-authorization will let your computer have a refreshed memory for greater output.
Step 1. Go to your iTunes account, log in and open the 'Store' from the menu bar.
Step 2. From the drop-down menu, chose the 'de-authorize this computer' button and then log out from iTunes.
Step 3. Wait for about 30 seconds and then restart your computer. When it comes on, log in once more to your iTunes account.
Step 4. Go to the menu bar and click on the 'Store' button. Next click on 'authorize this computer". You'll find this option at the drop-down menu that opens from the Store button.

Way 4. Re-download iTunes Songs
If it so happens that your song files are corrupted, it may result to the songs in iTunes being greyed out. To make such songs play again, you need to re-download them once more.
Step 1. Log into your iTunes account and go to the "Store" at the top right.
Step 2. Check your account information about the purchased files.
Step 3. All the files that you purchased will be listed. If you find iTunes songs greyed out with dotted circle then know that they didn't download correctly. You can delete them and then re-download them from iTunes for a better outcome.
Part 3. In Conclusion
It is now evident that playing iTunes songs does not necessarily equate to an easy ride. So many things are bound to happen, some of which may compel you to ask, "why are some songs greyed out in iTunes"? Well, this article has helped you get all the necessary answers.
Probably, all the solutions also lie here within. The most profound aid is being able to use a reliable DRM Audio Converter to convert your iTunes songs to a DRM-free format, which can keep you away from the disturb of 'iTunes songs greyed out' forever.