Any idea on how to connect Spotify to Nissan? If you need to search for all the relevant details related to this topic, then don't waste your precious time to find the correct information anywhere else.
Here we have done some detailed research for the sake of your ease, so you don't have to look elsewhere in search of the correct facts and will find all the essential details in a single place. In this article, we will let you know how to get Nissan connect Spotify. So, kindly read this piece of information till the end. We hope that by the end of this information, you will be able to find all the answers to your questions.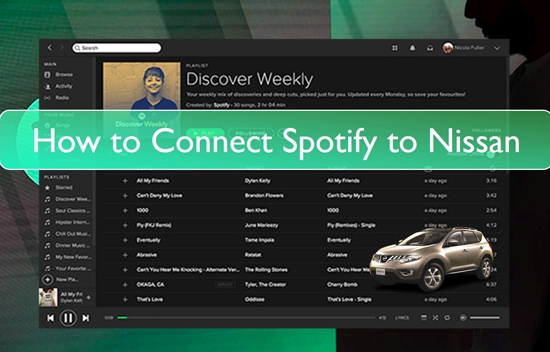 Part 1. Fixed Nissan Connect Spotify Not Working Issue with General Methods
Many users have complained that they are unable to connect and play Spotify on Nissan for some reason. Do you know what these issues are and how they can be fixed? Now, go for the following details to find out what common errors users encounter when resolving this issue.
1. Update the Android Operating System
Sometimes users encounter this error if their phone's software is acting up. By updating your phone's operating system and reconnecting your phone to your vehicle, you can probably fix the error of the Nissan connectivity issue switch Spotify on Android Auto. Remember that Android Auto will not work as it usually did if your Google Services are not up to date.
2. Restart Your Phone
At times, when your phone is not working correctly, a connectivity error might probably occur. To resolve Spotify not working with Android Auto, you need to restart your phone and connect it to your vehicle again. Most likely, it will fix the error.
3. Make Use of an Old Spotify Version
There are some users who have stated that by updating their Spotify application, they are facing this error where they are unable to connect it to the car. They say that the outdated version works best for them, so they have to go back to the previous version to fix this error.
4. Set Spotify as Your Default Music Service
Another common Spotify Nissan connectivity error can be solved is by making Spotify your default music service. There is this probability that you would like to change Spotify to your primary music source if you are having this trouble while trying to play Spotify music.
Following are the steps that can help you in fixing this error.
Step 1. If you want to use the music feature on your Android phone, you need to go to Google > Settings > Google Assistant > Service > Music.
Step 2. Now you are allowed to select Spotify as your default music service.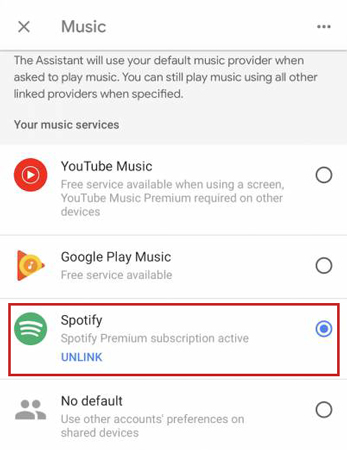 5. Remove Spotify's Cache and Reinstall the App
Sometimes, users are having some issues with the Spotify application, so clearing Spotify cache may help you delete the files that are the reason for the trouble in the first place. There is this chance that the Spotify application may be out of date, so you need to make sure that you have the latest version.
6. Force to Close the Spotify App
Users sometimes face the error of the Nissan connect Spotify app and need to forcibly stop the application if they are not able to play Spotify music on Android Auto.
To stop the Spotify application, you need to go for these steps.
Step 1. At the start, open the Settings application on your phone.
Step 2. Choose the option that says "force stop" in Spotify in Applications and set Spotify apart from optimization.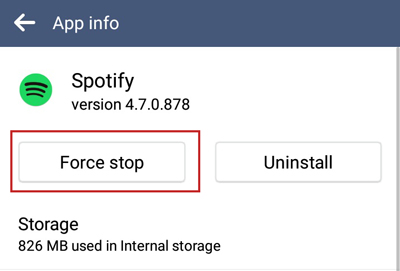 Part 2. Get Spotify Nissan Connect - Best Solution
Is there any other solution to get Nissan Spotify connect? Sure. Here let's check it out. DRmare Spotify Music Converter is one of the best music converters that allows you to gain access to its unlimited features in the best way possible.
With the help of this tool, you can easily resolve Nissan Spotify-related errors without much trouble. All the users who are worried and looking forward to ways to convert Spotify music into other audio formats without losing the quality should rely on this fantastic music converter.
It doesn't matter in which audio format you are supposed to convert or download the music, and this tool can help you convert the songs in multiple formats, including FLAC, MP3, M4B, M4A, WAV, and AAC. Without having much trouble, you can download all Spotify songs, podcasts, audiobooks, and albums using DRmare Spotify Music Converter. By using this tool, you can easily deal with the issues of Nissan connect and Spotify instantly.
One of the best features that can't be overlooked is that users can easily play the Spotify songs even if they are offline. The quality of the music will remain the same as the original, and you would not have to compromise on the very essence of the actual song. You can list your music by arranging them into the album, year, and more. By doing that, it would be easier for the users to find their favorite song instantly without searching for it in the playlist.
How to Download Spotify Music for Nissan via DRmare Spotify Music Converter
To download Spotify songs with the help of the DRmare Spotify Music Converter, the following are the steps that one needs to execute one after another. By doing that, Spotify Nissan connect issue can be resolved easily.
Step 1

Install the DRmare program and add Spotify music

At the start, open the DRmare software and look for the music you like to convert in the Spotify application. Then drag & drop the Spotify songs to the converter's main interface, or you can copy the link to the music and paste it to the search box of DRmare software. Now it is time to tap the "+" button to convert music through the Spotify link to MP3. By using this tool, you can also copy Spotify URI and convert Spotify URI to MP3.
Step 2

Select output formats for Spotify Nissan

Then go to the menu icon and pick the option of "Preferences" to open the setting window. From here, you can get to set the output format for Spotify to MP3 for downloading. Apart from that, there are sample rates, bit rates, and a lot more to customize.
Step 3

Convert music from Spotify for Nissan

In the end, click the option that says "Convert" and the program will begin to download Spotify music to MP3 instantly. Now users are allowed to locate all Spotify to MP3 files in the output folder. Just press the 'Converted' button and you can find the Spotify cache to MP3 audio files on your computer.
Part 3. Final Words
All the music lovers know how important it is to fix Nissan connect Spotify errors for different reasons. In case you are also having trouble with the connectivity, then we hope this article would probably have enlisted all the details above and now you are positive and can fix the issues on your own without any trouble.
We have mentioned multiple methods for fix Spotify Nissan connect issue. So, if one way doesn't work for you, you can go for the other options to resolve it. By the way, if all the common ways still don't work for you, you can try the DRmare Spotify Music Converter. Then use it to download music from Spotify to computer offline and put the songs into Nissan for playing without any limit.