On Spotify, users can access lots of features to enjoy music better. Do you know Spotify Blend? Have you ever tried it? It is a new feature from Spotify which can let you make a Blend playlist on Spotify. And you can connect to your friends, families and even artists.
In this post, we will introduce what is Spotify Blend to you. Also, you will learn how to use it and how to download Blend playlist from Spotify without a Spotify Premium account. Now, let's move on.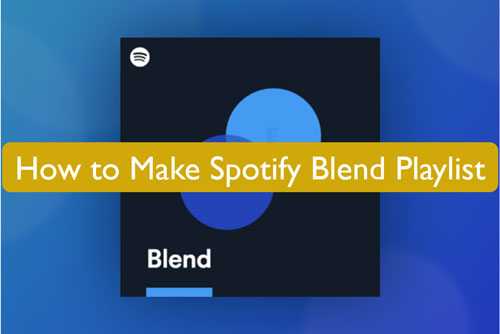 Part 1. What Is Spotify Blend
Spotify Blend is a new function on Spotify for all its uses. It was released in August 2021 and can be found in the 'Made for You' section. It is aimed to blend your music tastes and preferences with your friends and families. You can even add your favorite artists to shared playlists. Also, you can blend a playlist on Spotify on different devices and share playlist to various social media platforms.
How does Spotify Blend work? In fact, Spotify will create a Blend playlist to you based on its algorithm and collaborative playlist function. And it allows you to send invitation and invite your friend or family who has a Spotify account to join in your Blend playlist. When they accept your invitation, Spotify Blend will update your playlist by collecting songs that match their musical tastes and yours. After that, you can see the data/activity on Blend like you can review this year's songs you streamed, the synchronized streaming activity and habit with Blend members and so on.
View also: How to See Spotify Listening History
Besides, users can Blend with official artists on Spotify There are almost 20 artists that Spotify has signed up, including BTS, Lauv, Camilo and so on. It will match your music tastes with their artists and only you can enjoy this Blend playlist.
Part 2. How to Make a Blend on Spotify
Now, let's check out how to make Spotify Blend playlist step by step. You can do that with friends, family members and artists.
How to Make a Blend Playlist on Spotify with Friends/Family Members on Mobile/Desktop
There are two ways for you to create a Spotify Blend playlist with your friends and families on Android, iPhone, Windows and Mac. Check them out as below.
Way 1. Via 'Made for You' Section
Step 1. Start the Spotify desktop app and click on the 'Search' option from the left side. Or hit on the 'Search' option at the bottom bar on your Spotify mobile app.
View also: How to Fix Spotify Search Not Working
Step 2. Locate the 'Made for You' section and tap on it.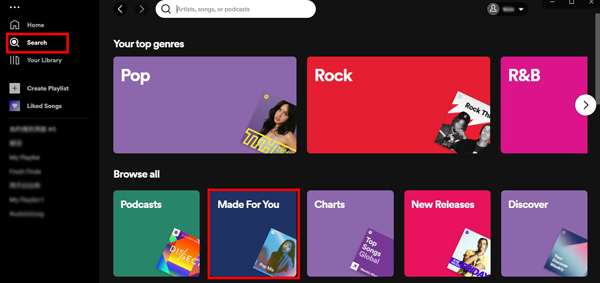 Step 3. Choose and click on 'Create a Blend'.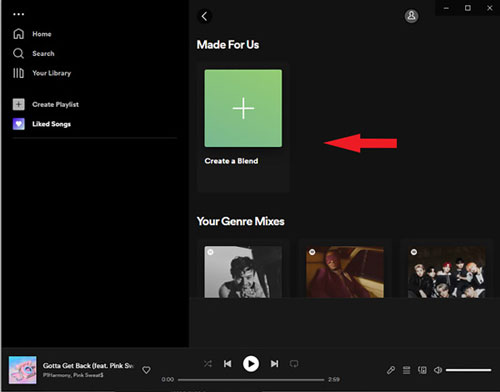 Step 4. Click on the 'Invite' button. Then pick up friends, families, or artists you want to invite to the playlist.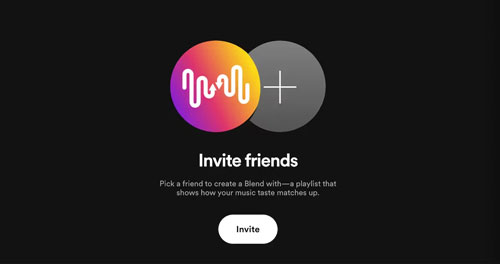 Step 5. Select one of the social option to share the Spotify Blend link.
Step 6. Once they accept the link, you will get a blend of both of you under the 'Made for Us' section.
Way 2. By Inviting Collaborators to Your Playlist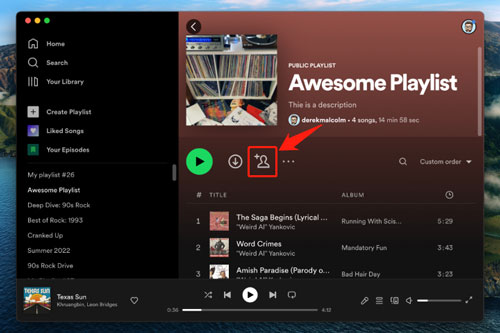 Step 1. On the Spotify app, locate and open one of your Blend playlist.
Step 2. Click on the plus icon near the 'download' icon under the cover of the playlist. Then you can head to invite and add more collaborators you want to your playlist.
View also: How to Make Spotify Collaborative Playlist
How to Create a Blend on Spotify with Artists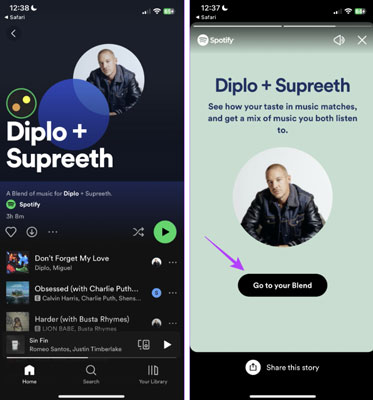 Step 1. Go to the Spotify app on the computer or mobile device. Then click on 'Search' and type the artist name in the search box.
Step 2. Click on the artist from the result and you will get a generated playlist
Step 3. Now, click on the 'heart' icon under the playlist to like it and add it to your Library. Later, you can do Spotify Blend playlist with artist.
Tip: You can touch the circle with two dots on the playlist screen to preview the blend.
Part 3. How to Download Blend Playlist on Spotify for Offline Listening
After making a Spotify Blend playlist, you may want to download it for listening offline anytime. If you are a Spotify Premium user, you can do that without any problems. While for Spotify Free users, you need to look for another way to do that.
But don't worry. Here DRmare Music Converter will help you. You can use it whether you are Spotify Premium or Free users. With this tool, you can download any audio content from Spotify without premium, including Spotify Blend playlists and so on. It can help convert and output Spotify track into plain audio formats like FLAC, WAV, MP3 and more. In this case, you can put Spotify songs on any device or platform for playing offline.
Besides, this program allows you to modify bit rate, audio channel and so on based on your preferences. What's more, it can run the conversion with a fast rate which will save time. Later, you will get Blend playlist from Spotify and other audio tracks on your computer. And you can move them to other devices for your own use.
Key Features of DRmare Spotify Music Converter
Here you can learn how to download Spotify Blends by the DRmare Spotify Music Converter. To do that, you have to download & install the Spotify official app and this DRmare tool on your computer first.
Step 1

Open DRmare Music Converter and import Blend Spotify playlist

Open the DRmare Spotify Music Converter for Windows or Mac on your computer. You will see the main screen of it and the Spotify app. Then go to the Spotify app to locate your created Blend playlist on Spotify. Next, drag it to the blank area on the DRmare tool. It will then load. Or, you can get the Spotify Blend link and then paste it into the search bar on DRmare. Later, you need to tap the 'plus' icon to import the playlist for converting.
Step 2

Reset output format for Blend playlist from Spotify

To enjoy Spotify Blend songs/playlists anywhere, you need to set an audio format for them. Here please click on the Menu icon and choose 'Preferences' on the DRmare tool. Then you can head to reset audio format as MP3, FLAC and so on. Also, you can change channel, sample rate and more for your playlists. After then click the 'OK' button at the bottom on the Preferences window.
Step 3

Download Blend playlist on Spotify as local files

Now, tap the 'Convert' button to download Blend playlist from Spotify. It will then convert Spotify to MP3 or other audio formats you set. Later, move to the 'converted' section to check the local Spotify playlist on your computer. Then you can go to move them to your device from computer and start playing offline.
Part 4. FAQs about Spotify Blend
Q1: When Does Spotify Blends Update?
A: The Spotify Blend will update daily with new songs according to your listening activity and habit.
Q2: How Many People Can Join a Blend?
A: Blend supports up to 10 users in the same group to create a shared playlist that merge their music tastes.
Q3: Can I Rename My Blend Playlist?
A: Yes. You can open the Blend playlist and click on the 'three-dots' icon. Then hit on 'Edit name'. You can retype the name for your playlist and then tap on 'Done'.
Q4: Can I Hide a Song in Spotify Blend Playlist That I Don't Like?
A: Of course. Just click on your Blend playlist and touch the 'three-dots' icon next to the song title that you want to hide. Then click on 'Hide Song' and the song will be hidden. And it will be greyed out in your playlist.
View also: How to Fix Greyed Out Songs on Spotify
Q5: Do I Need a Premium Account to Create Spotify Blend Playlist?
A: No, you or your friends don't need a Spotify Premium account to make Blend playlist on Spotify.
Q6: How to Leave a Spotify Blend?
A: Head to the Spotify Blend you joined and click on the 'three-dots' icon. Then choose 'Leave your Blend'. Please note that it will delete the playlist for both users.
Q7: Why Spotify Blend Not Working?
A: You need to ensure that whether the Spotify app on your device is the latest version or not. Also, try to clear Spotify cache, sign in to your account again, reinstall the app, or delete the existing Blend playlist and create a new Blend with the some tracks.
Q8: Why Spotify Blend Not Updating?
A: If Spotify's algorithm can't get enough info about your recently listening activity, then the Blend may not update every day.
Part 5. In Conclusion
After following this post, you may know what is a Spotify Blend and how to make it on Spotify. And then you can share and blend playlist with your friends, families and even your favorite artists. Besides, you can download your created Blend playlist on Spotify as local files on your device via DRmare Music Converter. Later, you can put and enjoy Blend songs/playlists from Spotify on any device offline without a Spotify Premium.