California, USA, May 23, 2019 – After many rumors, the streaming music global giant Spotify is now testing its first hardware called "Car Thing", making its foray of hardware devices.
Car Thing is a smart gadget which can be controlled through voice and connected to car stereo or mobile phones via Bluetooth.
View also: How to Transfer Spotify Music to USB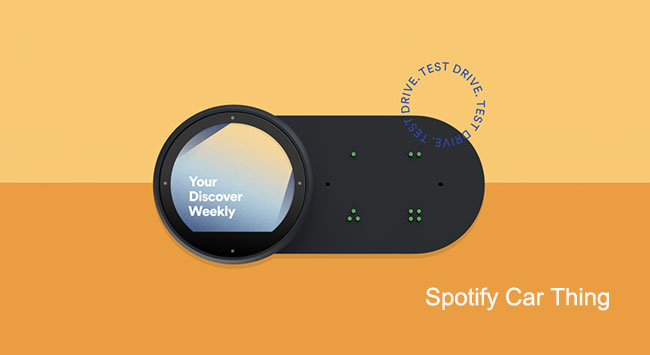 Spotify Joins Competitors In the Car Entertainment System
As one of the top streaming music services like Amazon Unlimited, Apple Music, Google Play Music, Spotify is the only one that doesn't offer hardware solution for vehicles as of now. This causes a lot of disadvantages when competing with other rivals.
Apple has CarPlay platform while Google has the Android Auto platform. Users can easily listen to Apple Music by asking Siri or Google Play music by asking the Google assistant directly during driving. Amazon don't have such car stereo infotainment system, but it has the Echo Auto which enables you to bring Alexa to any vehicles.
Will Spotify Focus on Hardware Development
The Spotify's main competitor Apple makes a large amount of revenue through its hardware devices. And the car music entertainment while driving is really a big market. So will Spotify follow Apple to release a mass of hardware gadgets? The answer is negative.
"Car Thing is specially developed for helping us learn more about how users listen to Spotify music. So we don't have a plan yet to release a large volume of such hardwares for every users yet. Our focus remains on becoming the world's largest music and podcast platform. " Said a spoken person from Spotify.
According to Spotify official, there is not an expected time when Spotify Car Thing will reach common users. Right now, it will be only available to a small group of invited Spotify Premium users only. Also, they may test some other smart voice-controlled devices for home as well.
How to Use Spotify Car Thing
Spotify Car Thing has simplified design. It works in the similar way like Echo Auto. Please just follow the steps to use it:
Step 1. Plug in the Car Thing into the vehicle's 12V outlet for power.
Step 2. Next you can connect both the car stereo and the Car Thing via Bluetooth.
Step 3. Car Thing has a few preset buttons, you can follow it to control music playback as you want. Or you can control it through voice. For example, you can activate the music player by saying "Hey Spotify".
Is there Other Alternative Ways to Play Spotify In Car
Spotify don't have its own hardware devices yet, but it supports to connect to a list of devices such as Android Auto, Apple CarPlay. Instead of waiting for the Car Thing to be released, please try the following solutions to play Spotify music in the car.
Play Spotify on Android Auto
Step 1. Launch Spotify app on your Android phone.
Step 2. Connect your phone to your Android Auto compatible stereo.
Step 3. If your Spotify is already playing, it will continue to play on your car stereo. Else you can simply open the Spotify from the car stereo display and choose a song or playlist to start to play.
Note: You have to have Android Lollipop, version 5.0 or higher and the Spotify Premium membership to make it work.
Play Spotify on CarPlay
Step 1. Make sure you have downloaded and installed Spotify on your iPhone.
Step 2. Plug in your iPhone to the USB port of your CarPlay system.
Step 3. The Spotify app should show up on the car stereo screen and you can open it to play the song you like. If you didn't see it, please click the CarPlay icon to open the home screen.
Note: You need to have an iPhone 5 or later to use and the Spotify Premium membership is required.
Besides, you can connect Spotify to your car via Aux cable, Bluetooth and so on. One thing you need to note is that all these methods require you to have a mobile phone. If you'd rather play Spotify songs directly on your car, you'd better download Spotify songs as MP3 by DRmare Spotify Song Converter for Mac and transfer the local MP3 songs to your car stereo system. For more tips, you can also check the top 5 ways to play Spotify in the car.
About Spotify
Spotify is the pioneer and the king of streaming music. It has more than 100 million paid users worldwide. Compared to other streaming services, it offers both free tier and paid tier services, making it accessible by any users. Besides, Spotify is well-known for its music discovery algorithm. It can correctly recommend the right songs that you already like. What's more, Spotify has been betting big on its podcasts for a long time and it is dedicated to become the largest audio platform in the world.