Q: "I am a DJ beginner. My friend recommends me to use PCDJ DEX 3 for DJ learning. I have searched much info about it but still puzzled about something. Where can I get the music resource for DJing? It seems that none of the streaming services work with it. I have been subscribing to Apple Music for a long time. So my question is - how can I mix Apple music with PCDJ DEX 3? The features in DEX 3 are fine and I don't want to give it up. Any suggestions are welcome. Thanks in advance."
In fact, Apple Music can't work with most of the DJ programs, including PCDJ DEX 3, Rekordbox, Ableton Live, and so forth. It is due to a particular reason. But it doesn't prove that there is no workaround to get Apple music used in PCDJ. In the next paragraphs, you will know what the particular reason exactly is, and learn the best way to use Apple Music with PCDJ DEX 3.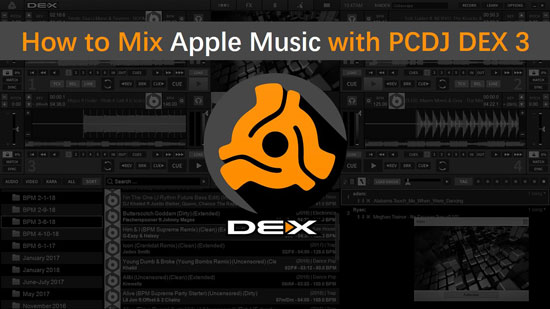 Part 1. Import Apple Music to PCDJ DEX 3: Best Solution
Why can't mix Apple song with PCDJ DEX 3? If you are familiar with the streaming music service, you will think of it soon. Right, the copyright protection. Almost all streaming sites use it to prevent the songs from being pirated and distributed. And so does the Apple Music. The downloaded Apple tracks are all protected that you can't transfer them to DEX 3 or other unauthorized DJ software.
Well, you might think that this problem is easy to solve as long as you buy your favorite Apple songs. For the starters, you may only need a few tracks to practice DJing. That is not a big deal to pay the song directly. But if you want to promote the capability of DJing, it is inevitable to use multiple tracks to make more remixes. And buying Apple tracks is a huge expenditure without doubt by then.
For the sake of saving money in the long term, here I would like to recommend a great tool for you, which names DRmare Apple Music Converter. It is independent of Apple and PCDJ but works as a bridge between Apple Music and DEX 3.
DRmare Apple Music Converter
Designed to convert Apple Music streams to MP3, AAC, FLAC, WAV, M4A, M4B, this tiny smart tool can keep 100% sound quality and 100% raw parameters. You can take a visual look at artists, albums, album art, track numbers and other basic info in the converted Apple files. With the help of the DRmare, it is simple to get any music resource from Apple Music and mix it with PCDJ without spending too much money.
Part 2. How to Transfer Apple Music to PCDJ DEX 3: Tutorials
Please notice that to DRmare Apple Music Converter is only available to personal and educational use. Any pirated and distributed behavior is forbidden.
Step 1

Add Apple playlists to DRmare

Download your favorite Apple songs to your Apple Music library first. Then download and install DRmare Apple Music Converter on the computer. The Apple Music app will relaunch automatically. Then click the first "Load Library" icon in DRmare's interface. In the new box, select the track you that you have downloaded and load them to DRmare.
Step 2

Edit the output settings for PCDJ DEX 3

For the Windows users, please hit the first menu icon from the top title bar of DRmare. Then choose "Preferences" > "Convert". For the Mac users, please find "DRmare Apple Music Converter" from Mac's menu on the top left corner of the screen. Then click to "Preferences" > "Convert". In the "Convert", you can reset the output settings by changing the output format to MP3, bit rate to 320 kbps, sample rate to 48000 Hz.
Step 3

Convert Apple Music to MP3 for PCDJ DEX 3

Tap on the huge "Convert" button to start the conversion. After the converting process is over, please hit the red spot to open the local catalog. In there, you can check if there is an omission of the selected Apple tracks.
Step 4

Stream Apple songs to PCDJ DEX 3

Please update to the latest version of the PCDJ DEX 3. Open both DEX 3 and the local catalog. Then drag and drop the track you want to mix to the automix list or the active lists. Now you are able to practice mixing Apple music with PCDJ DEX 3.
Tips: Please pay attention that you can't play your Apple remix in the public places. Just listen to your masterpieces at home with your family and friends.