Are you in need of a solution that can help you know how to import Spotify music to Lightworks? Although you will find numerous apps that can help you with this work, it is tough to pick which tool is the best as a newbie. If you are an expert, it is easy for you to choose the best tool out of the many. Yet, if you are a newbie and looking for the best solution, you have landed in the right place.
In this article, we will let you know how to add music in Lightworks from Spotify. Just read this article until the end without skipping anything, and we hope you will learn how to add Spotify to Lightworks for use with ease.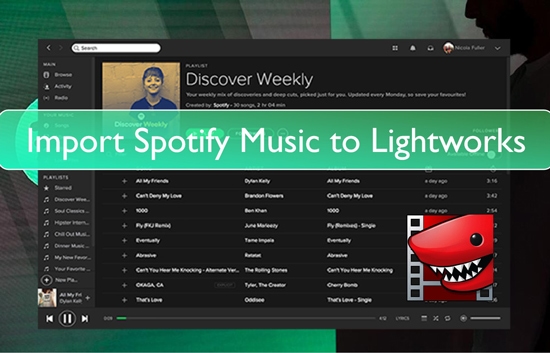 Part 1. Can You Add Music to Lightworks from Spotify?
Before we answer your question about how to add background music in Lightworks from Spotify, users need to know what Lightworks is. Lightworks is one of the best world video editing tools that are easy to use for everyone and there is no technical know-how required to make the tool work according to your needs. Now the main question arises whether or not you can add Spotify music to the videos of Lightworks, so it's a yes.
Why you can't add music to Lightworks from Spotify? As Spotify's contents are copy-protected, it utilizes robust anti-piracy technology. The music available on Spotify is highly protected and has copyrights, and that's the reason you can't gain access to them without involving third-party software.
For that purpose, users need DRM removal software that can help them remove DRM from Spotify music, extract their chosen songs from the Spotify platform and download them first, and then you can add them to the video you need.
Because of that technology, the users of Spotify can't play all the music, and the number of these songs you can gain access to is also limited. Its premium version saves songs for offline playback. Yet, the audio files are saved in caches, and you cannot share or play them on any other device or application. That's the reason you need third-party software to do the work for you.