Are you in need of a solution that can help you know how to import Spotify music to Lightworks? Although you will find numerous apps that can help you with this work, it is tough to pick which tool is the best as a newbie. If you are an expert, it is easy for you to choose the best tool out of the many. Yet, if you are a newbie and looking for the best solution, you have landed in the right place.
In this article, we will let you know how to add music in Lightworks from Spotify. Just read this article until the end without skipping anything, and we hope you will learn how to add Spotify to Lightworks for use with ease.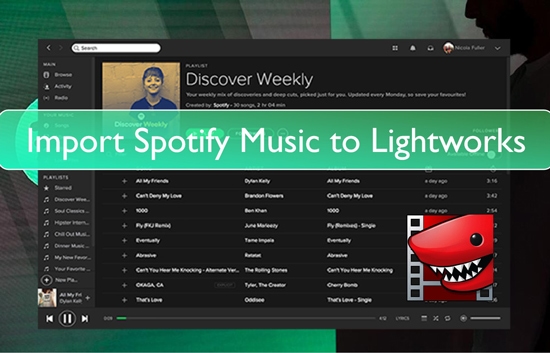 Part 1. Can You Add Music to Lightworks from Spotify?
Before we answer your question about how to add background music in Lightworks from Spotify, users need to know what Lightworks is. Lightworks is one of the best world video editing tools that are easy to use for everyone and there is no technical know-how required to make the tool work according to your needs. Now the main question arises whether or not you can add Spotify music to the videos of Lightworks, so it's a yes.
Why you can't add music to Lightworks from Spotify? As Spotify's contents are copy-protected, it utilizes robust anti-piracy technology. The music available on Spotify is highly protected and has copyrights, and that's the reason you can't gain access to them without involving third-party software.
For that purpose, users need DRM removal software that can help them remove DRM from Spotify music, extract their chosen songs from the Spotify platform and download them first, and then you can add them to the video you need.
Because of that technology, the users of Spotify can't play all the music, and the number of these songs you can gain access to is also limited. Its premium version saves songs for offline playback. Yet, the audio files are saved in caches, and you cannot share or play them on any other device or application. That's the reason you need third-party software to do the work for you.
Part 2. Download Spotify to Lightworks via DRmare Spotify Music Converter
Although numerous music converters can help you convert the Spotify song for use on a video, nothing can beat the perks of DRmare Spotify Music Converter. This is one of the finest tools that offer unlimited features in a fantastic price range that you can easily afford without disturbing your budget.
It can help you add music from Spotify to Lightworks without any limit. The most appealing thing about this tool is that it will enable you to convert your favorite Spotify songs into various formats like MP3, AAC, FLAC and more.
Besides, there is no need to be worried about losing the sound quality while converting your favorite Spotify music track, as you can make the most out of your favorite songs behind the background without any issue.
With the help of the DRmare Music Converter, users can easily remove the protection of Spotify songs. And then you will have your favorite songs as local files on your favorite device.
Also, users don't have to be worried about downloading and converting the Spotify song as usually such a task takes some time. With DRmare, you can easily download and convert your favorite Spotify song in different file formats as everything is done quickly. You don't have to wait for a long time to make the download happen.
DRmare Spotify Downloader
Part 3. How to Convert Spotify Music for Lightworks - Detailed Guide
In this section, we will guide you how to use DRmare Spotify Music Converter to convert and download Spotify music to Lightworks. Then you will get how to add background music in Lightworks from Spotify. Now please go for the following steps to find out how it can be done.
Step 1

Open DRmare Spotify Music Converter and load Spotify songs into it

At the start, download and install the DRmare Spotify Music Converter to your computer. After that, run the tool, then you should see Spotify launched via automatic processing. Here you need to drag and drop the Spotify songs you like to have in the DRmare converter's main interface. If you have the link to the Spotify music, you can copy and paste it onto the search box on DRmare, then press the "+" option to add them into DRmare through the URL.
Step 2

Alter audio format for Spotify to Lightworks

The most important thing is to know the video applications where you like to utilize Spotify music; the formats can vary from one another. If you don't know how it works, you can always choose MP3. You can change the channel, bit rate, and a lot more for Spotify music to Lightworks video editor.
To set the output parameters for Spotify music for Lightworks in DRmare, please go to the menu icon and click on it. Then select the 'Preferences' and press on the 'Convert' in the new window. Then you can go on to reset the output format for Spotify music.
Step 3

Convert Spotify music for Lightworks

Now press on the "Convert" button to start to download music form Spotify to computer for Lightworks. To make this step function smoothly, you need to disable your antivirus and firewall. After converting, you can press the 'converted' icon to search for the local Spotify songs on your computer.
Step 4

Move converted Spotify music to phone

In the end, you can connect your phone to the PC through a USB cable, from where you can easily add music to Lightworks from Spotify on your phone.
Part 4. How to Import Spotify Music to Lightworks
Importing Spotify music to Lightworks is very simple and easy. Eager to know how to import Spotify songs into Lightworks? You can do it without much effort and by following a few quick steps. Check out the following details to find out how it works.
Step 1. At the start, you need to create a new project on Lightworks and import your video, which you would like to edit and trim.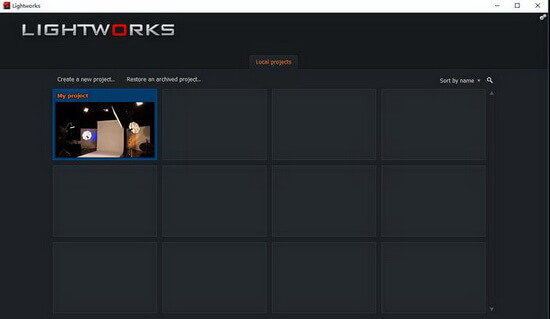 Step 2. After you are done adjusting your video on Lightworks, choose Spotify that you want to put at the bottom by double-clicking to your source viewer and continue to trim and organize your added tunes. That's all you need to do to import music from Spotify to Lightworks video.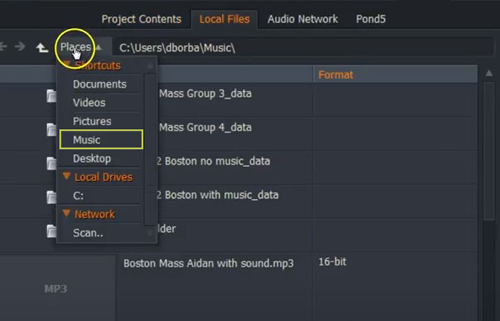 Part 5. Final Words
All those formerly asking from others, can you add music to Lightworks from Spotify will probably find all the answers to their questions. Just try the solution mentioned above to import, download, or convert Spotify music to Lightworks with the help of DRmare Spotify Music Converter. By using this tool, you can easily get Spotify music as common audio files for use on Lightworks and other platforms.