Music streaming has completely changed the way music industry works! As per a year-end report by RIAA, the revenues from streaming services grew to $8.8 billion showing a nearly 20% growth in 2019.
Though music streaming comes with its own set of challenges, the industry is witnessing a significant growth as a whole. Due to the popularity and growing demand for music streaming services, the number of streaming services available in the market has also grown. The companies continue to roll out new features to fight for attention of their users and prospects.
Tidal and Google Play are among the top music streaming services with millions of song tracks and active users. A detailed comparison of Tidal vs Google Play Music will allow you to compare the features, pros and cons of both platforms. Based on the comparison, you can make the choice of your preferred on demand music streaming service.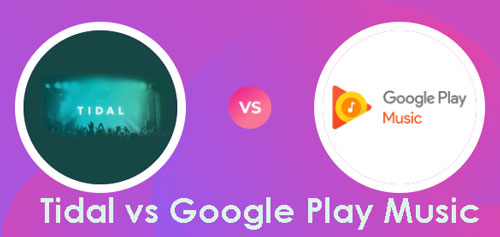 Part 1. Differences: Tidal vs Google Play Music
Here is a comparison of Google Play Music vs Tidal on factors that are important for on-demand music streaming services -
Music Library
Both Tidal and Google Play Music have an extensive music library. Google Play Music has over 40 million songs available while Tidal has over 60 million songs and 240,000 videos available.
Tidal is known to have more artists and songs beyond the known, famous ones, thus being a service that offers some exclusive material to its users. It is also a great service for R&B and hip hop fans. It gives users access to podcasts, video series and music journalists.
With Google Play Music, a user can upload around 50,000 songs from their computer to their Music Locker. They do not need a premium subscription to do so.
Audio Quality
Audio quality is a major deciding factor while choosing an online streaming service. The HiFi lossless audio quality of Tidal is its biggest feature. This feature is more evident when you use a high quality speaker system. In terms of sound quality, Tidal has an upper hand over Google Play Music. The latter is a good choice for a user looking for decent quality music, song library and an affordable plan for music streaming.
If high quality lossless sound is your priority, Tidal is your best option. It offers 1411 kbps AAC audio music streaming in HiFi and 320 kbps streaming in Premium plans. Google Play offers music streaming at 320kbps. So, comparing Google Play music quality vs Tidal, Tidal is a winner.
Available Platforms
When a music streaming service is available on multiple platforms, it brings ease of use and convenience. The user can enjoy his music while on-the-go with mobile or on his laptop/desktop. Google Play Music is available for Web, Android, iOS and Wear OS. Tidal on the other hand is available for Windows, iOS, Mac OS and Android. In Web, HiFi is only available for Chrome.
Music Discovery
Artist and music discovery is quite easy with Tidal. The app has got an intuitive, easy-to-use design. You can easily add songs to your playlist, collection or share with a friend. It is also possible to discover sounds similar to your preference by tapping on the contributor's name. The mobile app also offers a built-in audio search feature.
Google Play also shares a user friendly app design. It is quite easy to check the popular tracks, artists or albums. But, if you are looking for a specific track, you may not able to find it unless you type the exact name.
Price
Cost is surely a major factor in Tidal vs Google Play Music comparison. Google Play offers a free ad-supported version for users to access their music library for free. If you do not want ads, an ad-free access starts at $10 per month. They also offer a $15 per month family plan. The Music Locker feature is available to both free and paid users.
Tidal offers multiple tiers and plans to choose from. The basic plan starts at $10 per month and it offers standard audio quality. For HiFi lossless audio quality, the plan is available at $20 per month. One-month free trial is also available for Hi-Fi plan. It offers discounted plans for family, students and members of the military.
Free Offerings
Google Play Music offers an extra freebie to its users - option to upload up to 50,000 tracks to their music locker. Thus, users can not only use Google Play Music as an online streaming service, but also as a normal music player. Apart from discounts on plans, Tidal does not offer any freebie to its users.
Extra Bonus: Though Tidal doesn't offer the freebie to users, here is a powerful tool for you to get Tidal premium free. It is DRmare Tidal Music Converter, which is designed for Tidal music. It can convert and download music from Tidal with high quality and then you can use the Tidal music on any other devices with ease.
Besides, you can use it to get your Tidal music as MP3, FLAC, AAC and more plain audio formats as you like. And you can modify the audio parameters for Tidal music according to your special requirements.
Part 2. Common Things between Tidal versus Google Play Music
After analyzing their differences, it is also important to understand the common features of Tidal and Google Play Music. It includes -
Both the platforms support offline playback for paid subscription users.
Both the platforms do not have Artist social feed to allow artists to interact with their fans or update their profiles.
Both platforms offer a one-month free trial for users.
In terms of Bitrate of Google Play Music vs Tidal, both support 320kbps for paid users. Tidal has a separate plan for HiFi lossless audio quality.
Part 3. The Verdict
At the end of the comparison, the question surely "Is Google Play Music better than Tidal?" Well, there is no definite answer as both these platforms serve different needs and have their own pros and cons.
If you are looking for a regular streaming service with good quality, Google Play Music is what you need.
But, if you are looking for high quality audio with an extensive library that covers known and emerging artists, then go for Tidal. Also, in terms of cost, Google Play Music is more affordable compared to Tidal but Tidal offers discount plans for students, family and military members.
So, depending on your interest, budget and expectation of sound quality, you need to make a choice between these 2 platforms.