The tech giant Apple has been spending much effort in promoting its streaming service for years by offering free trial, giveaway, discount and so on. Only a few days after providing extra 3 months free trial to users who are not convinced, now Apple offers a new free giveaway to let subscribers send 1 month free subscription to their friends.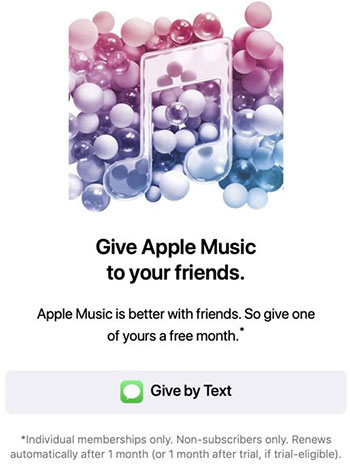 "Apple Music is better with friends. So give one of yours a free month, " a slogan reads on the notification reads.
For Apple Music subscribers, they should see this notification from the iPhone, iPod Touch, iPad. No need to spend any money on an Apple Music gift card but just send out the free subscription directly. Receivers who are eligible can redeem the offer to enjoy 1 month Apple Music premium service for free and it will automatically charge next month.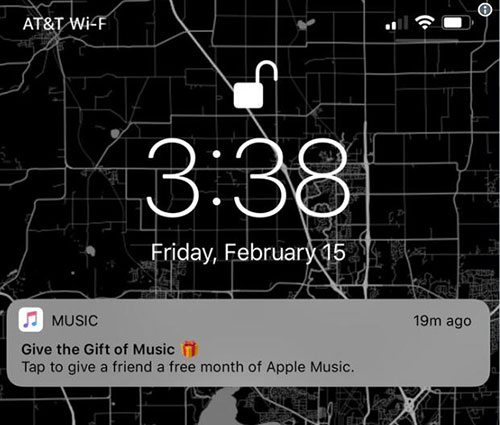 Who Is Eligible for Apple Music One Month Free Giveaway
It is good for all non-subscribers of Apple Music. If the user is new to Apple Music or still in the 3 month free trial period, he will get up to 4 months free subscriptions including 3 months free trial and an additional month as a part of the invitation. Else if he has used up the free trial before, he will be able to use the service for a month for free.
How to Send Out/Redeem the Invitation
The push notification is actionable. Users can tap it to give Apple Music to their friends via text. Just recheck the notification history to do that.
The receivers are required to input they credit card info to redeem such free offer. If they don't want to be charged next month, they must cancel it manually before it is expired.

Didn't See Such Apple Music Free Offer Notification
Apple Music was first introduced at Apple's WWDC 2015. In 2018, it first exceeded Spotify as the most popular streaming service in USA. As the end of November 2018, it had over 56 million subscribers worldwide.
Since there are so many subscribers, Apple didn't send out such free giveaway option to all. According to Apple official report, there are only about 5 percent of those people can take advantage of the offer.
If you miss such option, you don't need to worry either, just pay attention to Apple's official website for other future promotions.
By the way, to help your friends or yourself to get Apple Music subscription for free forever, you can also use the DRmare Apple Music Converter for Mac/Windows to get rid of the DRM protection and turn the M4P to MP3, AAC, M4A, M4B, WAV, FLAC and so on.
How to Disable Apple Music Notifications
Apple's promotion tactic is to get more free users to hooked up to its service and turn them into premium users. But this also annoyed many subscribers. Specifically, App Store guidelines prohibits developers from advertising by using Apple service.
To disable Apple Music Notifications, please follow the steps:
1. Open settings and click "Notifications" menu.
2. Scroll down to find "Apple Music" application.
3. Switch the toggle off besides the menu "Allow Notification".
What to you think of the Apple Music's free giveaway promotion? Please do not hesitate to share your comments with us.