Spotify is a large and popular streaming music platform. It offers plenty of tracks for users to listen to online. But with Spotify premium subscription, you can download Spotify songs for offline playback. While for Spotify free users, you can't do that. Besides, even premium users can download Spotify songs offline, they can't use them on other devices. That is because Spotify music files are protected.
Thus, you need to use a third-party tool to rip the protection from Spotify. Also, it need to help you download Spotify songs offline. There are lots of music converter for Spotify in the market. But today, in this post, we will introduce the best tool for you. It is DRmare Music Converter, which should be the best Spotify music converter for you. In this DRmare Music Converter review, you can get a comprehensive knowledge of it. Let's dive in and learn more now.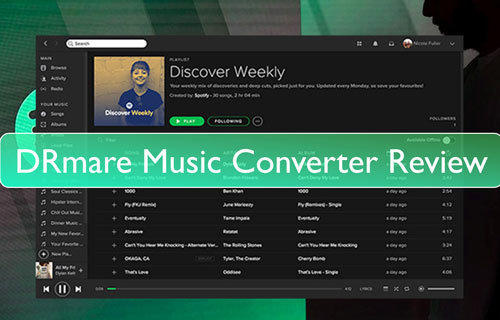 Part 1. What Is DRmare Music Converter
"Is DRmare Music Converter safe?" At this DRmare Music Converter review, we need to know more about this tool. DRmare Spotify Music Converter is a powerful and easy-to-use music converter for Spotify. It is designed for Spotify users - both free and premium users. It can help all Spotify users to break the protection from Spotify. And it can download songs from Spotify without premium. By using it, all the Spotify songs can be converted as MP3, FLAC, AAC and more audio formats. And it allows users to set the audio channel, bit rate, and more for Spotify music tracks.
With advanced technology, DRmare Spotify Music Converter can work at a rapid speed. It can download and convert multiple music tracks from Spotify at a short time. Moreover, it can keep lossless audio quality of Spotify songs during the conversion. Also, it can save all the ID3 tags of Spotify tracks, like title, genre and more. Then you can manage the tracks as you want on your music library.
The DRmare Music Converter for Spotify can work on Windows and Mac OS computer. You can download it to your computer. Then you can use it to download your favorite Spotify songs to your computer. After that, you can move the local Spotify songs to play on other devices offline without limits. You can enjoy Spotify on MP3 player, add Spotify music to video, smartwatches, and more.
Part 2. DRmare Music Converter: Key Features
In the second part of DRmare Spotify Music Converter review, we will show the main features of this tool for you. Please check them below. It will let you learn more about DRmare Spotify Audio Converter.
#1. Remove protection from Spotify tracks
We know that Spotify songs are with protection. We can't use the music files on other devices even we had the downloaded files. However, those Spotify music files are just the cache files, not the local files. Thus, we can't move them to any other device and platform for playing.
But with DRmare Music Converter, you can easily rip protection from Spotify. DRmare is the unique software. It uses the most advanced DRM crack technology to remove DRM from Spotify. Then you can get Spotify songs as local files on your computer. And then you can transfer Spotify audio files to any device you want for playing without any limit. You can even listen to Spotify music offline anywhere without the Spotify app.
#2. Lossless audio quality, keep the best listening experience
When it comes to music, the quality will affect the listening experience most.
If you search online, you will find that many software boast keeping 100% quality. That is not necessary true. Why? Because most Spotify music converter uses the same recording technology.
Thus, users can't hear the difference between the original songs and the converted songs on computer. To find out the difference, we'd recommend you use a HiFi headset. But with DRmare Music Converter, things changed.
DRmare Spotify Music Converter can download Spotify songs without any unnecessary encoding. The converting songs will be the same as the original ones except no protection. You can customize the output audio quality for Spotify as you want. DRmare software offers bit rate, sample rate and more for you to reset. You can adjust them to get a better listening experience of Spotify songs. Yet, you can keep all the ID3 tags, metadata, album cover, artist, author etc.
#3. Fastest converting speed, save your precious time
For the converting speed of the tool, it is also important. Our team had tested several such tools. After testing, we found that DRmare Spotify Music Converter for Windows/Mac is the fastest. It runs at 5X speed just as advertised. None of the other tools in the market come close to it. Following is a chart will show you the converting speed. This will save lots of your time to complete the Spotify music conversion.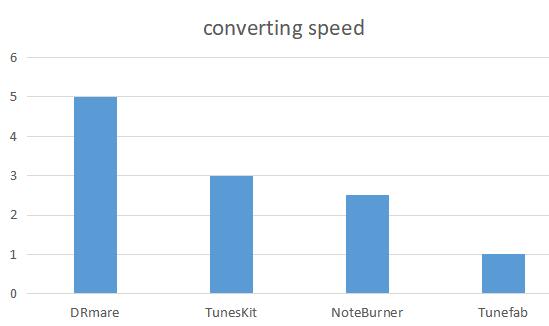 #4. Friendly user interface, get your job effortlessly
DRmare Spotify Audio Converter is based on the "Less is more" principle to design. It has no fancy rings and bells, only a few necessary buttons and text in the main screen. It is beautiful and easy to use. Even if you are old or without any computer technology, you can handle it at the first sight. In addition, it supports 4 different languages English, French, German and Japanese. You can switch to the language you want after installing.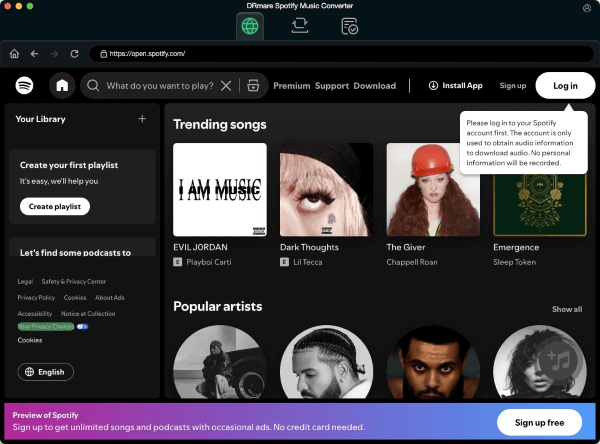 #5. Powerful features, meet all your requirements
Although DRmare Music Converter looks pretty simple, it contains powerful features. You can convert not only Spotify music, but also Spotify audiobooks, podcasts and so on. And you can customize the output format as MP3, M4B, M4A, FLAC, AAC, WAV. And you can change the channel, bit rate, sample rate. Also, you can choose to archive the Spotify songs by artists/albums after converting.
Note: Some other software doesn't have this awesome feature to archive your songs.
With DRmare Spotify Music Converter, you can ditch any other music tools in theory.
#6. Good Compatibility, free to use it anywhere
For compatibility, DRmare Spotify Converter works well for almost all Windows and Mac computers. Unless you use a computer more than 10 years ago, it should work perfectly.
For Windows: It can work on Windows XP/Vista/7/8/10 (32-bit & 64-bit).
For Mac: It can work on Mac OS X 10.8 to Mac OS 11 Big Sur.
Both Windows and Mac version needs to work with a 1G Hz processor or above, a RAM of 512MB or higher and a monitor with 1024x768 pixels or higher resolution.
Part 3. How to Use DRmare Music Converter to Download Spotify Music Offline
If you are a music addict, you shouldn't miss DRmare Spotify Audio Converter. It is such a powerful Spotify music converter for Mac/Windows. And it is easy to use and easily download music from Spotify to computer for you. With it, you can download any songs you want from Spotify without a premium membership. This means you can save your budget.
Are you excited about it? Just download the software by clicking the download button below. And please install the Spotify desktop app on your computer in advance. Otherwise, you can't use DRmare Music Converter successfully.
Best Spotify Music Converter
Easy Guide to Use DRmare Spotify Audio Converter
In this part of DRmare Music Converter review, you can see how to use DRmare Spotify Music Converter. Please follow the quick steps to use it to download and convert Spotify to MP3.
Step 1

Load Spotify songs & playlists to DRmare

DRmare Music Converter supports all kinds of audio files from Spotify. It can support music, audiobooks, podcasts and so on. Once installed the DRmare program on your computer, please launch it. You will see the Spotify app showed as well. Go to Spotify program. Find the music tracks you want to download. Then drag & drop the tracks or playlist from Spotify to DRmare Spotify Converter main screen. You can import up to 100 songs at a time. Or you can copy the track link. And then enter it to the box at the top of DRmare main screen. Next, you need to hit on the '+' button. DRmare program will load the music files for you.
Step 2

Set new output format for Spotify music as MP3

DRmare Spotify Music Converter is preset to download Spotify to MP3. And it is with the well-set channel, sample rate, bit rate by default. So, in general, you don't need tweak any settings. But if you do want to do that, you can head to Menu and then hit the "Preferences". Here you can reset the audio format and other parameters for Spotify audio tracks as you like. There is audio format like MP3, AAC, WAV, and more for you to choose. Also, you are allowed to reset the audio quality for Spotify music files. Once done, you need to hit the 'OK' button to confirm.
Step 3

Download Spotify music

Finally, you just need to one click on the "Convert" button. DRmare Music Converter will start to work for you. Within a short time, your Spotify songs will be downloaded offline without any problems. This is 5X faster than any other Spotify recorders or converters. After then, you can go to the 'history' icon to locate the local Spotify songs on your computer. Then you can move and play Spotify music on the music player or platforms you want offline.
Part 4. DRmare Music Converter: Price Plans
"Is DRmare free?" DRmare Spotify Music Converter is a freemium software. It offers free trial for all users, but has limitation. With the free trial version of it, you can only convert the first 1-minute of each Spotify track. To get all features of DRmare software, you need to purchase for its full version. Here we will list the price plans of DRmare Spotify Music Converter Mac/Windows for you. Please note that the price is the same for both Windows and Mac version.
Monthly License: $14.95/month for one computer
You can enjoy 1-month free update and support. DRmare supports 5-day money back guarantee. This plan will renew every month automatically. You can cancel it anytime.
Single License: $49.95/lifetime for one computer
You can enjoy lifetime free support and product update. Once purchased, you can use it for lifetime.
Family License: $69.95/lifetime for 2-5 computers
If you want to use DRmare Music Converter on more than one computer, you can get the family plan. It allows you to use DRmare software at up to 5 computers (5 Windows computers or 5 Mac computers).
Part 5. DRmare Music Converter: Pros and Cons
For the DRmare Music Converter review, here we will show the pros and cons of DRmare program for you. Below are the details pros and cons of DRmare Spotify Music Converter.
Pros of DRmare Music Converter for Spotify
* Easy to install and use
* A professional program to remove protection from Spotify
* Work at 5X faster speed with 100% lossless quality preserved
* Play Spotify music on any device and media player offline
* Batch convert Spotify to FLAC, WAV, etc. on Windows and Mac
* Download Spotify music with all ID3 tags kept
* No need a Spotify premium account to use it
* Support to customize output audio quality
Cons of DRmare Spotify Music Converter
* Only support to convert Spotify music
* Not free
* Not available for Android and iOS devices
Part 6. In Conclusion
In this DRmare Music Converter review, you had learned the details of this tool. DRmare Spotify Music Converter is a perfect and powerful music converter for Spotify users. It helps all Spotify music lovers to download Spotify music to plain MP3, and more audio formats. It can rip protection from Spotify tracks while converting. And then save the Spotify songs as local files on computer. Then you can enjoy Spotify songs offline on the device you want without any limit.
DRmare Music Converter is such a great tool that you can't miss. Now, just download it and test it at once.