When it comes to Spotify, it is noted that its songs are in OGG Vorbis audio format. Most of us should be familiar with kinds of different audio files like MP3, M4A, and so on. And you can convert them to another audio format you like via free audio converters online on Google. But what is Spotify OGG Vorbis and OGG? What are the differences between OGG and MP3? In this post, you will know more about them. Also, we will show how to convert OGG to MP3 and Spotify OGG Vorbis to MP3. Now, follow the guidance below and learn more.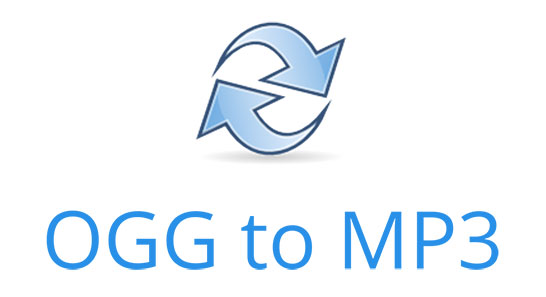 Part 1. OGG Vorbis: More You Need to Know
What Is OGG Vorbis?
OGG Vorbis or OGG is developed by Xiph.org. It is another compressed audio format with a higher compression rate and codec efficiency. So, the same quality OGG file will be smaller than an MP3 file. And then you will get a nice listening experience. And it is widely used in the media and gaming industries due to its high compatibility with different devices and OS. Although it is not as popular as MP3, it is still supported by a list of players like VLC, and so on. Yet, OGG is patent-free. Many commercial streaming platforms such as Spotify use the OGG format to store their music files.
What Is Spotify OGG Vorbis?
From above, we know that the original OGG Vorbis is in small size but with high quality. In this case, Spotify uses OGG Vorbis for its music. But Spotify OGG Vorbis is under Spotify's DRM protection. As a result, only Spotify Premium users can enjoy music in higher audio quality and download songs for playing offline within the Spotify app.
Where to Find Downloaded Spotify OGG Vorbis Files?
With the Spotify Premium subscription, you can download OGG Vorbis audio from Spotify. Here let's see where does Spotify download music to on desktop.
Step 1. Open the Spotify desktop app and head to 'menu' > 'Settings'.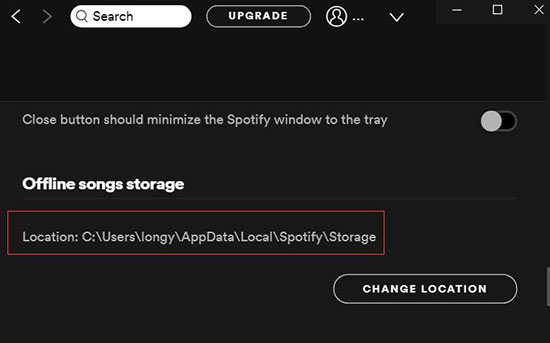 Step 2. Scroll down to find 'Offline songs storage'. Then you can see the path that stores the Spotify OGG Vorbis songs. And then you can locate them on your device's File Explorer.
Why Need to Convert Spotify OGG Vorbis to MP3?
The OGG Vorbis files on Spotify are cache files only. Besides, the audio tracks are encoded which can't be moved and used on other platforms and devices directly. While MP3 is short for MPEG-1 Audio Layer 3. Thompson Lultimedia and Fraunhofer-Gesellschaft develop it in the later 80's. As a lossy format, it can maintain high audio quality while keeping small sizes. It also can store audio offline and transfer them over the Internet.
In addition, MP3 is compatible with most devices and platforms though it has big file size and lower sound quality. That is why it has become so popular and many companies have manufactured different devices for such audio files. You can hardly find a media player which doesn't support MP3. So, it is better to convert OGG Vorbis from Spotify to MP3 for use anywhere.
You can check out the differences between OGG vs MP3 below.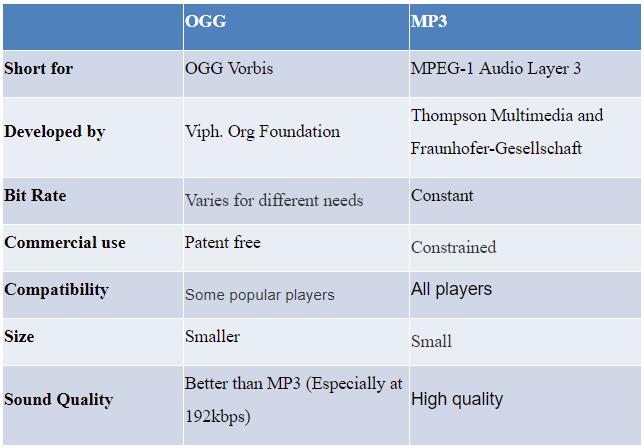 But how to get Spotify OGG Vorbis as MP3 format? No worries. You can get solutions in the following parts.
Part 2. How to Convert OGG Vorbis to MP3 from Spotify - Best Way
DRmare Spotify Music Converter is one of the outstanding OGG to MP3 converter which supports protected Spotify songs. And you don't need a Spotify Premium membership to convert any song from Spotify. Besides, it has a list of shining features. It can convert Spotify songs to other plain audio formats. They are WAV, FLAC, M4B and more. So, you can then use the converted Spotify music on any device you want. Moreover, in DRmare program, you can alter the output parameters like channel and so on. Then you will get a better listening experience of Spotify audio files on your device.
DRmare Spotify OGG Vorbis to MP3 Converter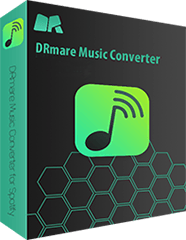 Download all kinds of OGG Vorbis tracks, albums, audiobooks, artists, and playlists from Spotify
Batch convert audio files with up to 5X converting speed while maintaining high quality
Support to convert Spotify to MP3 and other formats such as M4A, M4B, WAV, FLAC and more
The converted files can be distributed to any mobile device, portable player, speaker and so on
How to Convert Spotify OGG to MP3 by DRmare Music Converter
In this section, you will learn how to convert Spotify OGG file to MP3 via DRmare Music Converter. To start, you need to download and install the DRmare program on your computer. Besides, install the Spotify app from its official website. After then, you can go to the detailed tutorial below.
Step 1

Import the OGG Vorbis songs from Spotify to DRmare

Open DRmare software, the Spotify app will be launched on your computer. You can drop & drop the Spotify OGG playlists, songs or albums to the DRmare main screen. Or copy the Spotify link as DRmare supports to convert Spotify URI to MP3. And then paste it to the search box on DRmare. Next, press '+', DRmare will locate and add the OGG files from the Spotify server.
Step 2

Define Spotify OGG Vorbis file to MP3

Depending on your need, you can choose the formats you want such as MP3, M4A, and more. MP3 is a popular format with universal support and is highly recommended. So, just choose to convert OGG Vorbis to MP3 from Spotify songs. By the way, you can change the sample rate and more as you want for the Spotify songs. After that, tap 'OK'.
Step 3

Convert OGG to MP3 from Spotify

At last, you can click 'Convert' to convert Spotify OGG file to MP3 format. When it is done, you can find the downloaded OGG Vorbis to MP3 files via the 'converted' icon on DRmare. Then it will show you the target folder from your computer.
Note: DRmare software is for personal use only. So please don't try to sell the converted songs for making money online. Besides, the free trial version can only convert 1/3 of the songs. If you want to convert entire song, you can buy a license first.
Part 3. How to Convert OGG to MP3 Free
Here we will show some free OGG to MP3 converter to you. Also, check how to convert from OGG to MP3 with them step by step.
1. By VLC Media Player
VLC Media Player can help convert OGG files to MP3 or other plain audio formats. You just need to download the VLC program on your computer. Then follow the steps below and learn how to it works.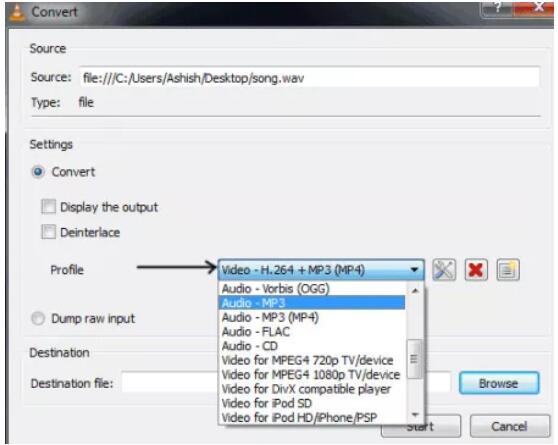 Step 1. Launch the VLC player from your Mac computer.
Step 2. Click the 'Media' menu and then choose 'Convert/Save'.
Step 3. In the Open Media dialog window, you can click the 'Add' button. And then browse to import OGG files from your computer.
Step 4. Tap the 'Convert/Save' button. Then follow the screen wizard to choose the new output format MP3, folder, and so on.
Step 5. Click 'Start', it will process your audio files. Within a short while, all the OGG files will be converted into MP3.
2. By Audacity
You can also convert OGG audio to MP3 by Audacity. It is an open-source program that can help convert audio files to other audio formats. Now, check how to use this tool.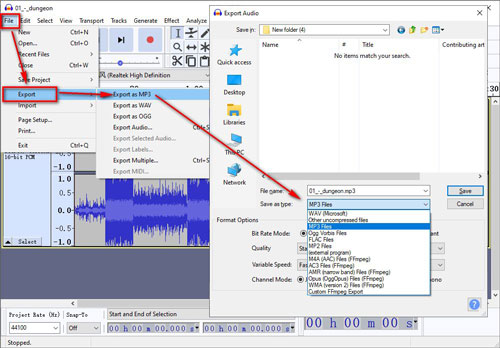 Step 1. Download, install and open the Audacity from your computer.
Step 2. Hit on the 'File' > 'Open' option to load your OGG audio files. Or you can drag and drop them into the Audacity interface.
Step 3. Edit the OGG files as you want. Then touch 'File' > 'Export' > 'Export as MP3'. And then choose 'MP3'.
Step 4. Press on 'Save' to convert OGG to MP3 free.
3. By FFmpeg
FFmpeg is a great free tool for technicians. It can work on Windows, Mac and Linux computers. You can use it to download videos, convert videos and audio and so on. Here let's find out how to use it to convert OGG file to MP3 for free.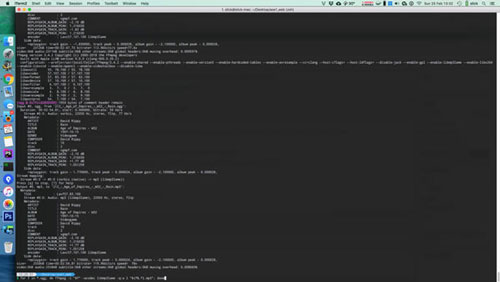 Step 1. Download and then install the FFmpeg program on your computer.
Step 2. Open a command-line prompt and type the commands. Then add the OGG files. To convert the audio files to MP3, please type the codec: FFmpeg -I audio.ogg -a codec libMP3lame audio.MP3.
Step 3. Now, FFmpeg will start to free convert OGG files to MP3 for you.
Part 4. How to Convert OGG to MP3 Online
In this part, you can convert OGG audio to MP3 online by using online converters such as CloudConvert and so on. Now, let's check out how to use CloudConvert to make it.
CloudConvert is an online audio format converter. It can be also used as an OGG to MP3 converter online. So, you can use it to convert your OGG files to MP3 with ease. It supports multiple output formats and input contents. You can use it to convert photos, eBooks and so on.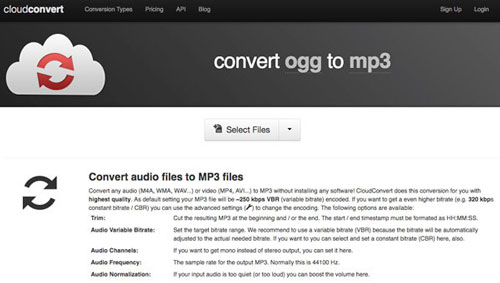 Step 1. Go to the CloudConvert official website. Then access the page for converting OGG to MP3.
Step 2. Press on the 'Select Files' tab to import your OGG files to it.
Step 3. Hit on 'Select Format' to choose the output audio format.
Step 4. Touch the 'Start Conversion' to begin to convert OGG tracks to MP3 audio format online.
Part 5. In Conclusion
From this post, you know that what is OGG and Spotify OGG Vorbis format. Besides, you get the tool DRmare Spotify Music Converter to help convert Spotify OGG Vorbis to MP3 or other common audio formats. This tool will also keep the original quality and complete metadata of Spotify music. After then, audio files from Spotify will be saved on your computer as local files. And then you can transfer and enjoy Spotify songs offline anywhere without any limits.