Smartphone manufactures have been aspiring to innovate their own technologies to improve phones' performance and quality, every year, even every season, smartphone manufactures will release new and advanced smartphones to attract customers and compete to rivals. As the two biggest giants in the field of Android smartphone, Samsung and LG are no exception to respectively unveil Galaxy S8 and G6 in 2017.
But when it comes to picking up a new Android flagship, Galaxy S8 or LG G6, there might be a dilemma for making a decision, since both smartphones are extraordinary high-end phones featuring slim bezel as well as waterproof.
So here, we will help you to figure out which one is better and smarter to buy. In all kinds of technology, time plays a large factor in the experience, especially for examining a phone. Therefore, we have spent one month to compare the pros and cons of Galaxy S8 and LG G6 to the following aspects: design, display, tech specification, value, etc.
View also: Enjoy iTunes Films on LG G6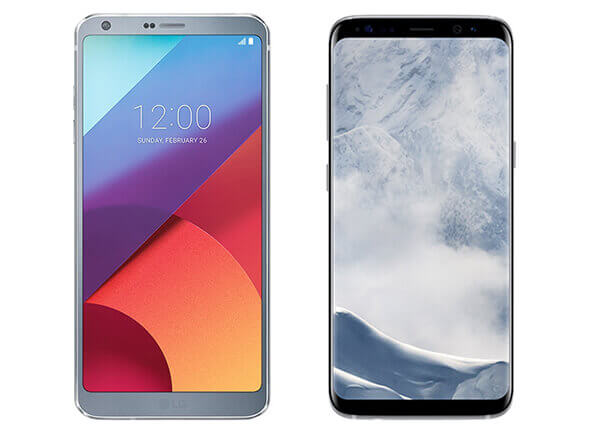 Part 1. Brief Overview of Galaxy S8 & LG G6
In the early part of this year, LG was launched its G6 Android smartphone on Mobile World Congress. As the flagship handset, the successor LG G6 is a marked departure from the excellent LG G5 of 2016. While, as a part of Galaxy S series, the high-end flagship Android mobile phone series, Galaxy S8 was released until March 2017 featuring with a similar all-screen front and widescreen aspect ratio. There is no doubt that Galaxy S8 brings a different visual enjoyment and digital entertainment. There is a list as below about the detailed parameters of Galaxy S8 and LG G6.
| | | |
| --- | --- | --- |
| | Galaxy S8 | LG G6 |
| Processor | Snapdragon 835 | Snapdragon 821 |
| Memory | 4GB | 4GB |
| Internal Storage | 64GB | 32GB |
| Display | 5.8 inches, 1440*2960 pixels | 5.7 inches, 1440*2880 pixels |
| Dimensions | 5.9 x 2.9 x 0.31 inches | 5.9 x 2.8 x 0.31 inches |
| Back Cameras | 12-MP | Dual 13-MP |
| Front Camera | 8-MP | 5-MP |
| microSD | Yes | Yes |
| Operating System | Android 7.0 Nougat | Android 7.0 Nougat |
| Battery | 3000 mAh | 3300 mAh |
| Price | $650-$720 | $720-$750 |
Part 2. Galaxy S8 vs LG G6: Which One is Right for You
From the above table, there are more or less differences and similarities between Galaxy S8 and LG G6. Both of them are integrating with water resistance and slim bezel and powered by the latest Android 7.0 operating system, so we are not sure which one is the smarter to buy. Therefore, I will give some detailed comparisons to design, tech specification, and value so that you can make the final decision.
Design: Galaxy S8 Wins
When I get the both two smartphones on hand, the first thing I start to observe is the design of Galaxy S8 and LG G6. As for the common design elements, both of them are rated IP68 for waterproof and have barely-there bezels. But with a 5.8-inch curved Infinity Display, S8 with a sex appeal is a little bigger than G6 with a 5.7-inch display. Although S8 has the slightly bigger display, to my surprise, it is also physically lighter, narrower, and thinner than the G6 paired with a new metal unibody design. In order to test the durability of G6 and S8, we have done a drop experiment. By adopting the stunning Corning Gorilla Glass 5, S8 performs better dropping from different high while G6 can't survive on the first try with coated Gorilla Glass 3. To be honest, S8 is slightly better than G6 in design. But the one disadvantage thing of S8 I must admit is that the awkward location of fingerprint sensor. LG G6 puts its fingerprint reader on the back of the phone, which is below the lens, while Galaxy S8's fingerprint reader is right next to the camera, which could result in smudging.
Display: Draw
As mentioned above, we already know that LG G6 has its 5.7-inch display, called Full Vision. As a matter of fact, this phone has only an 80% body-to-screen ratio with support the resolution of 1440*2280. When you use this smart phone to watch videos, you will find out that it will translate to an 18:9 aspect ratio, making a few of its own tweaks to Google's mobile OS. By contrast, Samsung S8 can support a more dense 1440*2960 pixel resolution, that's 567 ppi. G6 is the first phone to support HDR (h) officially, which is working with Netflix to support HDR content. Of course, the following S8 is also ready for HDR equipping with Mobile HDR Premium-rated display from the UHD Alliance.
More Tips: No matter how powerful your Android smartphone is, Galaxy S8 and LG G6 are not allowed to enjoy purchased and rented movies and TV shows on them, since Android smartphones are not compatible with iTunes videos currently. Although iTunes store is now selling 4K, HDR resolution videos, these digital videos can't be watched on non-Apple devices for playback. In order to avoid unlicensed sharing, Apple applied FairPlay DRM coryright technology to iTunes digital content. So, if you want to make iTunes DRM videos playable on S8 and G6, you should remove DRM restriction from iTunes purchased and rentals firstly with the using of DRmare M4V Converter. By the way, there are two simple tutorials for you to play iTunes movies on these powerful Android phones: How to Watch iTunes Movies on Galaxy S8 and How to Play iTunes Videos on LG G6.
Performance and Storage: Samsung S8 Wins
LG G6 is powered by Snapdragon 821 processor, since it was released on February, 2017, and at that time, the latest Android Snapdragon 835 was delayed. With the ROM of 4GB, you can also find out a 32GB of the storage with a microSB card. As a part of its manufacturing agreement with Qualcomm, Galaxy S8 comes with the latest Snapdragon 835 processor with better VR performance. Storage for the S8 starts at the bigger 64GB, which is twice that of the Galaxy S7 and LG G6.
Battery Life: Draw
As for the battery life, although Samsung Galaxy S8 Plus comes with a largest 3500mAh battery, Galaly S8 has a lower capacity with 3000mAh battery (compared to G6' 3300mAh battery). During the time with using G6 and S8, I was not surprise to discover that s both of them have the ability to seemingly always survive a full day of usage. Sometimes, G6 can last long time than S8 without recharging. But when we test to use these Android phones to play videos on Airplane mode, things have changed. The result implies that S8 can support 16 hours to play movies while LG turns off for 13 hours. In the spite of this, the battery life of LG and S8 are undoubtedly excellent.
Price & Value: LG G6 Wins
No matter where you are to purchase G6 and Galaxy S8, when you come to the offline store or just search on the online retailer, you will find out that the LG G6 is much cheaper than the S8, especially for the people who are on a tight budget but need to get a new phone. You can get a full G6 spending from $650 to $720, but when you turn to buy S8, you need to cost at a bit $720 to $750. Certainly, when you think S8 is too expensive than LG, please don't forget that the storage of S8 is 64GB compared to G6's 32GB.
Part 3. Summary and Suggestion
From what we mentioned above, we can make some conclusions on which one to choose: Galaxy S8 or LG G6. When taking tech specification and design to consideration, the S8 must be a smart choice here with a multifunctional performance, very big storage, and beautiful design. But G6 is also worthy consideration, because it has many same features as S8 and has a special Google Assistant. Besides, if you are on the budget, LG is a bit cheaper than S8. As for me, I would go with Samsung Galaxy S8, but if you purchase LG G6, it seems also a good deal.