As the rapid development of communication technology, almost all people have an own smartphones in hand to make a call for everyone they want, enjoy digital entertainment, such as watching videos and listening to music and take photos when travelling. Because of the huge demand in the market, smartphone manufactures are trying their best to innovate and create some enchanting designs, phone shapes, make phones with advanced materials so that they can breathe some fresh life into the field of phone industry.
The two giants of developing and marketing Android smartphone, LG and HTC have also fall into the line. As a consequence, HTC has released all-new U11 hero phone in June, 2017 while LG has launched its flagship handset, LG V30 in September. Both smartphones come with various features, but only one you can choose purchases.
Therefore, which one is better for you actually? Let's have a detailed comparison between LG V30 and HTC U11.
View also: Move iTunes Film to HTC U11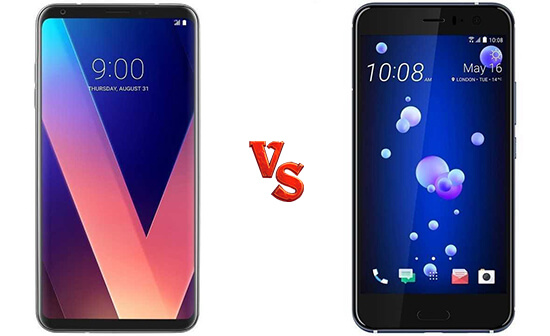 Part 1. LG V30 vs. HTC U11: Detailed Specification Review
Both equipped with the QHD display and Gorilla Glass 5, V30 and U11 have a lot of different features, but have a few things in common, such as the Qualcomm Snapdragon 835 processor, an Adreno 540 GPU for superior graphics, big memory, and long-life time no-removable battery, and more. For more clear specification comparison of both these handsets, you can have a quick glance at the chart below:
| | | |
| --- | --- | --- |
| | HTC U11 | LG V30 |
| Processor | Snapdragon 835 | Snapdragon 835 |
| Memory | 4GB/6GB | 4GB |
| Internal Storage | 64GB/128GB | 64GB |
| Display | 5.5 inches, 1440*2560 pixels | 6 inches, 1440*2880 pixels |
| Dimensions | 153.9 x 75.9 x 7.9 mm | 151.7 x 75.4 x 7.4 mm |
| Back Cameras | 12-MP | Dual 16-MP |
| Front Camera | 16-MP | 5-MP |
| microSD | Yes | Yes |
| Operating System | Android 7.1 Nougat | Android 7.1.2 Nougat |
| Battery | 3000 mAh | 3300 mAh |
| Price | $645 | $800 |
Part 2. LG V30 vs. HTC U11: Which One Is Better
From the comparison chart of specification, in our mind we have a rough knowledge of HTC U11 and LG V30. And from the price list, we will know that the price of V30 is close to $200 more than U11. So V30 really is worth so much money? Now, it's time for us to have a full look at each phone in every detailed aspect and give some pros and cons of two great Android devices.
V30 vs. U11: Design - Draw
When you search online or go to the real store to know more about U11 and V30, the first factor you will take into consideration is the design, since this is the most intuitive element and we can observe the subtle difference with the naked eye. And you will see that both phones are built very differently. The biggest reason is that LG has applied a super-wide display. If you are the one who like to use the fingerprint scanner, you will also find out these two handsets put fingerprint reader on totally different location. U11 puts its fingerprint reader on the under-the-screen orientation, while V30 chooses to locate it on the back of the phone. It's worth mentioning that with built-in Optical Spectrum Hybrid Deposition, it is provided with liquid glass surface with a gorgeous range of colors, which is one of the most attractive feature of U11 compared to V30.
U11 vs. V30: Display - V30 Wins
When talking about LG smartphone, even we have never purchased one on our hands, we makes deep impression on its innovative ideas and taking changes, just like the V30's display. Giving up the old 16:9 LCD display technology, LG V30 comes with the 18:9 OLED displays, which is the first time to use OLED technology on LG's flagship device. At the same time, HTC U11 keeps traditional and classic smartphone looks with 5.5-inch super LCD screen. As for the screen resolution, U11 can support a resolution of 1440*2560 pixels as well as a pixel density of 534 pixels-per-inch. In contract, V30 must also be a great media player, since it can play a 1440*2880 pixels resolution with a bigger touchscreen.
More Tricks: With the stunning display and long-life time battery, HTC U11 and LG V30 are both smart choices to purchase for watching movies and TV shows on them. But just like other Android smartphones, V30 and U11 have no right to access videos purchased and rented from iTunes store due to FairPlay DRM technology. So, if you usually purchase movies and TV shows on iTunes, and would like to buy a new smartphone to watch them for playback, you should remove DRM limitations from iTunes protected purchases and rentals firstly. You are not able to break iTunes DRM lock by your own, but you can use some third-party software, like DRmare M4V Converter to make iTunes DRM videos playable on U11 and V30. If you would like to play iTunes movies and TV episodes on these Android devices, there are two simple tutorials to guide you clearly: How to Play iTunes Videos on LG V30 and How to Play iTunes Movies on HTC U11.
V30 vs. U11: Performance & Storage: Draw
LG has released another wonderful smartphone, LG G6 that I have done detailed introduction before. There is no doubt that G6 is also an extraordinary. But the biggest disadvantage of this smartphone compared to others is the processor, because G6 went with the order Snapdragon 821. So this time, V30 comes with the latest and top-rated Sanpdragon 835 processor. Of course, HTC also runs this Qualcomm's hot new Snapdragon 835 chip in U11. When it comes to memory, both phones offer a minimum 4GB of RAM and the same 64GB base storage level. But U11 also provides an internal memory of 128GB. Both of them can get up to 2TB expandable memory.
U11 vs. V30: Special Features - U11 Wins
Here, the first thing I should point out is that although with a big and exclusive display of V30, V30's new screen is the absence of the secondary screen that we can get on the previous two generations of this hardware. So if you particularly love this extra feature on LG V series, you should keep in mind that in V30 you will miss it. While the good news is that even though V30 doesn't feature this iconic element, physical secondary screen, you can use the LG's software to access some of same functionality. After discussed the different V30 phone, let's turn to talk about the glamorous feature of HTC's latest Android handset, U11. Through phone hardware, U11 adds extra amazing features directly. Also, it is the first time of HTC to create a more intuitive way to interact with phone in U series, called Edge Sense. With a series of pressure sensors built-in the U11's edge, it allows you to trigger app shortcuts or activate special applications according to the different strength squeezing the phone.
Part 3. In Summary
To be honest, HTC U11 and LG V30 are both fascinating Android devices and it's really hard to make the final decision. From what we talked about the similarity and difference between V30 and U11, if you would like to use this smartphone to explore digital entertainment, LG V30 with the innovative OLED display and support high-definition resolution could be a little better than U11. But if you are interested in trying the unique Edge Sense feature of U11, you can keep HTC U11 in your hand. All things I listed above are available for reference. Before you decide that which one to choose: U11 or V30, you can go to physical store to compare them by using them realistically in advance.