M4V is a video container format developed by Apple under the standard of MPEG-4 which is optionally DRM protected. It can contain multiple audio and video streams in any number of codecs such as H.264.
Due to the great compression rate H.264 , M4V is a great option for DVD quality videos, full-motion videos while maintaining the size as low as possible. Users can produce M4V movies from many video converters and editors such as Handbrake. Also, M4V movies can be downloaded from iTunes or a wealth of online resource websites.
However, even without the DRM, M4V is not so popular yet, so not all the media players are compatible with M4V files so far. Here we have picked up the top 6 leading M4V movie players which have best overall ratings from features, performances, popularity and more.
View also: Top 8 Best Video Players for iPhone
No 1. iTunes (Windows, Mac OSX)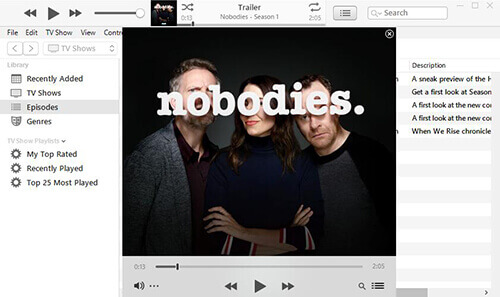 When it comes to M4V playback, the first one we can't ignore is the iTunes. It is not only the biggest place for downloading M4V titles, but also the top media player. You can download almost any videos, music, podcasts, audiobooks and so on. For DRM free M4V files, you just need to drag and drop them to iTunes library and double click the files to play directly. In addition, iTunes is optimized fro transferring files from your iTunes to Apple devices such as iPhone, iPad and iPod. You can connect your device and then choose the M4V files. After that, one click to sync from computer to the mobile device. It is a must-have tool if you enjoy iTunes digital media files. The drawback is that after many years' development, iTunes has evolved into such a bulky gadget that it may freeze low performance computer time from time.
Pros: 1. All-in-one place to buy and play media files. 2. High quality digital media files. 3. It is totally free as a movie player.
Cons: 2. Runs slow and may be stuck on low-end computers.
No 2. KMPlayer (Windows, Mac OSX)

KMPlayer is a versatile beautiful multimedia player which comes with its own internal codec such as the AAC, MPEG1, WMA, OGG. You don't need to install any other codec to play M4V, VCD, DVD, AVI, OGG etc. on Windows or Mac computers. The internal codec can be processed inside KMPlayer so it is safer and faster. Also, it supports 3D, 4K and UHD movies and the advanced options to control DVD selection, subtitle menus, brightness, contrast. Capture audio videos or screen capture is possible too. The KMP mobile app makes it easy to stream movies from computers to phones within 1 click. If you want to experience VR, the KMP VR Mobile App will offer you 360 degree full screen view.
Pros: 1. Good skins. 2. Supports 3D, 4K, UHD movies and so on. 3. Many advanced functions.
Cons: 1. Not so easy to use. 2. Video maybe stuck when changing playback speed.
View also: How to Transfer M4V Movies to KMPlayer
No 3. VLC (Windows, Mac)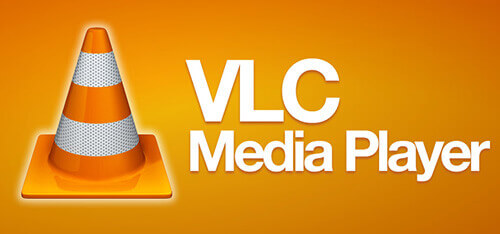 VLC has been known as a totally free M4V video player, it offers everything you need like playing, downloading, converting and more on every platforms. Compared to KMPlayer, it doesn't have so much skins but runs with faster speed. You can quickly tweak the toolbar to control your video playback and swap viewing mode. The common thing is that both have full codec support. You can use VLC to play everything like files, discs, webcams, H.263, MKV, WebM, WAV without any extras codec. Besides, it is also a video converter which can help you rid DVDs, convert M4V videos to new formats of films.
Pros: 1. Support plenty of media formats. 2. lightweight and easy to use 3. Supports to convert videos.
Cons: 1. User interface is so basic. 2. Sometimes there is a bug on displaying subtitles.
View also: Ultimate Guide to Play iTunes TV Shows on VLC
No 4. RealPlayer (Windows, Mac OSX)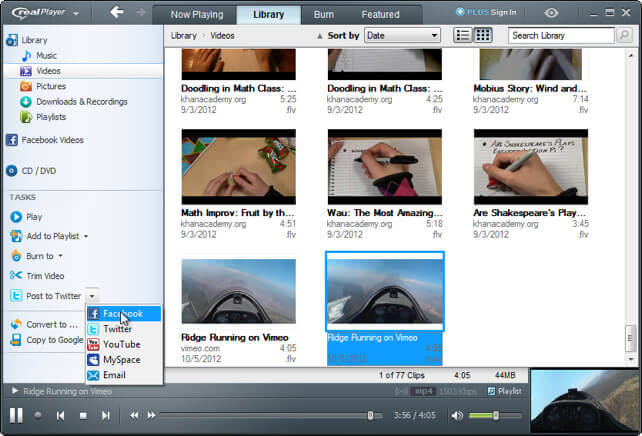 It has been 18 years since the inception of RealPlayer. The interface has been redesigned greatly, making it easiest for accessing. When you install the player for the first time, it will automatically locate the media files from your computer and group them under the tabs 'Music', Videos', 'Pictures' etc. It supports to play the formats like RA, RM, RV, RMVB, MPEG, MP4, M4V, AVI, WMA, WMV, FLV and so on. For audio files, it will show the visual effect during the playback process. RealPlayer don't have all the codec like VLC player mentioned above, so you may need to install some plugins when watching some movies such Flash ActiveX, QuickTime. If you are willing to pay to subscribe the premium features, you will get a large space to upload your videos online and share movies to your friends easily through the social networks.
Pros: 1. Automatically locate your media files. 2. Offer several visualization methods for listening.
Cons: 1. Requires to install third party components for some videos. 2. Not free, some features only exist on the premium account.
View also: How to Watch iTunes Films on RealPlayer
No 5. DivX (Windows, Mac)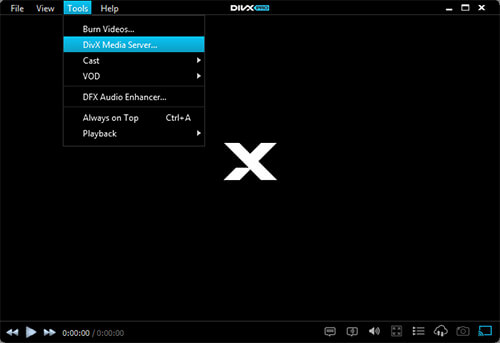 DivX the first award-winning player for free HEVC playback including ultra HD movies, TV shows and web video streams. The general formats include AVI, DIVX, MKV, MP4, M4V and more. DivX makes it easy for you to switch from different audio tracks and navigate to the scene you want directly without the need to fast forward or rewind. Furthermore, it can keep the recent playback history and the last playback position so you don't have to start from the beginning. Similar to the Windows Media Player, you can cast M4V videos, music and photos to any DLNA compatible devices in your home such as Xbox, Nintendo, PS4 by using the 'Cast To' feature. It works so stable and the watching experience is extremely smooth.
Pros: 1. Stream videos to big screen devices. 2. Keep playback history and progress. 3. Great watching experience.
Cons: 1. The program may freeze sometimes. 2. The converting feature only exists on the paid version.
View also: How to Convert DRM-ed M4V to DivX
No 6. Windows Media Player (Windows)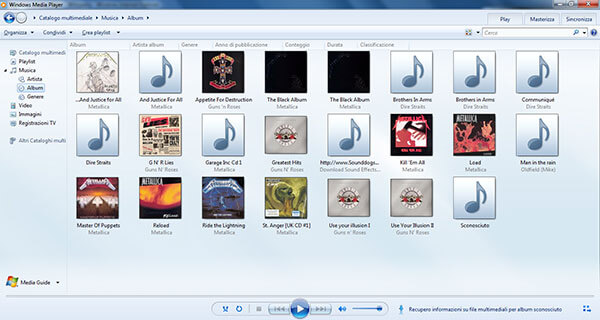 Windows Media Player is a default free player for PC users. It supports many popular audio and video format such as M4V, AAC, AVCHD, MPEG-4, AAC, DivX, etc. You don't need to worry about the codec of M4V files. Even if your M4V film is with a special codec, Windows Media Player will automatically search and download the related codec to help you decode your media files. On the playback screen, you can set up the playback mode, speed which is easy and fun. The 'Play To' feature allows you to stream music or videos to other compatible devices. Besides, it is also a media manager, you can import your CD, DVD collections, transfer them to your portable MP3 or MP4 players and so on.
Pros: 1. Full file formats support. 2. Great media managing features. 3. Stream videos to DLNA compatible devices.
Cons:1. Kind of cumbersome. 2. It doesn't update since the version 12.
View also: Tips to Play iTunes Episodes on Windows Media Player
Verdict
Now you have learned the details of the 6 cutting-edge M4V gadgets, which one do you think is best? In my view, iTunes takes the crown of best M4V player for its powerful capability of playing DRM-free and DRM protected movies. But anyway you can't go wrong with any one of these programs if you just want to enjoy DRM-free M4V files. You'd better try the default iTunes and Windows Media Player on your PC or Mac first. If both can't meet your requirements or you simply want advanced features, then KMPlayer, VLC, RealPlayer, DivX will be good options to consider.
Finally, if you do want to play DRM copyright protected M4V files on any devices freely, DRmare M4V Converter for Mac/Windows will do the magic to strip FairPlay DRM easily. Follow this guide to learn more: How to Remove DRM and Convert M4V to MP4. If you have any other thoughts, you can write your comments below immediately.